LEO rescues 14-year-old from Ill. house fire
Officer Bill Wise was one of the first on the scene Tuesday night
---
By Suzie Ziegler 
LISLE, Ill. — A cop in a small Illinois community is being hailed a hero after he rescued a teenager from a house fire Tuesday. 
According to the Lisle Police Department, Officer Bill Wise was one of the first on the scene. Bystanders told the officer that a 14-year-old boy was trapped in the basement of one of the units.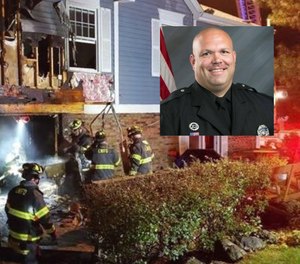 Wise forced entry into the home and was initially overcome by flames and smoke, the agency said. He rushed to the back of the unit and removed items that were blocking a window well. He was then able to pull the boy from the basement window. 
Lisle Police said both the officer and the teen were treated for smoke inhalation and exhaustion. Wise was taken to a local hospital for additional treatment and released Wednesday morning.