Stressed about the cop-killer commencement speaker? Try this...
Graduating students at Goddard College have made a terrible decision in inviting Cop-killer Mumia Abu-Jamal — I made the decision to use a stress management tool and take control of my emotional response
---
I want to share with you a personal stress management tool I developed — which I called the "Because of/In Spite of Exercise" — which I've used many times during my career. I've not had to use it once since I retired…until now. 
Cop-killer Mumia Abu-Jamal  has been invited as a commencement speaker for the Goddard College 2014 graduating class. This story created much internal stress for me.
Before I can demonstrate my stress management tool, I must first give you some facts about this story so that you also can have some stress to manage.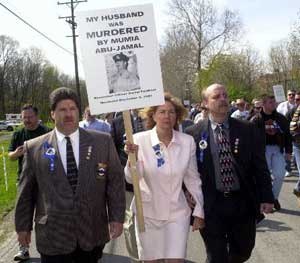 Murder of Officer Danny Faulkner
People who knew Officer Danny Faulkner were proud to know him. He served his country in the United States Army. He was a five-year veteran of the Philadelphia Police Department and madly in love with his wife Maureen. Danny organized a yearly Muscular Dystrophy Softball Marathon to raise money for research. 
On December 9, 1981 at 0355 hours, Officer Faulkner made a traffic stop at Locust near 12th. Danny placed the driver — William Cook — under arrest and was in the process of handcuffing him. 
William's brother — Wesley — suddenly ran up behind Danny, pulled out a .38 caliber revolver and shot Danny in the back. In spite of being shot, Danny reacted instantly by turning to face his assailant. 
As he did he drew his duty weapon and he fired a round into Wesley Cook's chest. Danny then fell as the effects of his wound overcame him. 
Danny may have recovered from this wound except for the fact that Wesley Cook then approached the wounded officer and shot him at point blank range four more times. 
The 'Birth' of Mumia Abu-Jamal
Wesley Cook was arrested, tried, convicted, and sentenced to death for the exceptionally brutal execution of Officer Faulkner. On appeal, his death sentence was reduced to life in prison.
In prison, Cook changed his name to Mumia Abu-Jamal. His defenders claimed Mumia to be innocent and that a "running man" came by and shot the officer. Abu-Jamal clearly hoped people would forget the fact that there were eye witnesses to his crime, and at the time of his arrest he was wearing a shoulder holster and was in possession of the murder weapon. 
Mumia has recently made the headlines again, as the 2014 graduating class of Goddard College invited him to speak at their graduation.
In a recent interview, Danny's wife Maureen was trying — unsuccessfully — to convince a Goddard College professor not to bestow such an honor upon the man who murdered the man she loved. In a final attempt to reach the professor, Maureen described how Wesley Cook (a.k.a Mumia Abu-Jamal) shot her wounded husband, "right between the eyes."
Unmoved by the courageous widow's plea, the Goddard College professor simply explained, "At Goddard, we encourage radical thought."
The Because of/In Spite of Perspective Exercise
Given the above news, I had to resort to my Because of/In Spite Perspective Exercise. The first step is to ask, "Is there anything I can do about this situation?" When the answer is yes, do what needs to be done. Since the answer here was "no," I began the exercise.
I developed a series of "Because of/In Spite of" statements that puts a situation over which I have no control into the proper perspective. Here are seven Because of/In Spite of perspective statements I made to manage the personal stress created by this outrageous act of insensitivity.
1.    In spite of the Goddard College outrage, I have been able to remind all of you of a true hero, Officer Danny Faulkner, because of the love of his life, Maureen, who shared her husband's cherished memory.
2.    In spite of the reminder of this society's tendency to make heroes and victims of thugs, I was given another example of indomitable spirit I can share with my students, because of Danny Faulkner, who kept fighting even though he was shot from behind.
3.    Because of the American soldier, freedom of speech is alive and well in spite of it being used in such an emotionally harmful way by Goddard College.
4.    In spite of the disheartening example set by the 2014 graduating class at Goddard College in Vermont, I am heartened because of the example set by the many wonderful students I had the pleasure of teaching at Fox Valley Technical College Law Enforcement Academies in 2014.
5.    In spite of the bad personal decision which led Goddard students to choose a cop-killer as a commencement speaker, I am hopeful because of the fact that most of them will mature enough to someday regret this incredibly bad decision.
6.    In spite of Wesley Cook's best effort to kill Officer Danny Faulkner instantly, Danny fired an accurate shot as a last act of defiance against criminal tyranny. Because of this shot Wesley Cook (a.k.a. Mumia Abu-Jamal) will be giving all of his commencement addresses for the rest of his life via live-feed from his residence, provided by the Pennsylvania Department of Corrections.
7.    This is the most important one and you must always end with this. In spite of the fact that this event is potentially troubling beyond comprehension, I will not let it impact negatively on my attitude, because of the fact that I am the only one truly in control of my attitude. 
Rest in Peace Officer Faulkner. Maureen has your six.