NYPD takes over after ASPCA closes enforcement unit
In December, the ASPCA laid off most of its 17 remaining law enforcement agents; small staff couldn't handle the volume of abuse reports
---
By David B. Caruso
Associated Press
NEW YORK — For all its 147 years, the American Society for the Prevention of Cruelty to Animals has been more than an advocacy group; it has served as the primary law enforcement agency for animal abuse and neglect in New York City.
That role, the first of its kind in the nation, led to a squad of uniformed agents who flashed badges, carried guns, made arrests, traveled in blue-and-white squad cars and, for years, starred in an Animal Planet reality TV show, "Animal Precinct."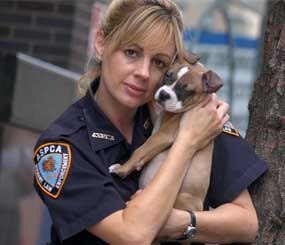 But now, that unit is losing its bite. In December, the ASPCA laid off most of its 17 remaining law enforcement agents. Their responsibilities will be left to the New York Police Department.
The change is one that has been sought for years by some animal advocates, who said the ASPCA's small enforcement staff couldn't handle the volume of abuse reports and was taking weeks or months to respond to calls regular police could probably get to in hours.
Others are concerned that without a team focused on animal abuse, it could be given a lower priority by officers dealing with a full plate of human-on-human crimes.
"If they think they can just give this to regular police officers and have them handle it, they're crazy," said David Favre, an expert on animal law at the Michigan State University. "It's hard work. It's different work. It's important work. And it's sad that the ASPCA isn't doing it anymore."
Over the past few years, the ASPCA's humane law enforcement division has handled about 4,000 investigations annually and made about one arrest per week, according to the nonprofit group. Tens of thousands of additional abuse reports came in through a hotline — with tips surging from 2001 to 2008, when "Animal Precinct" was on the air.
The changes were initially put into motion in August following the spring appointment of the ASPCA President Matthew Bershadker, who previously led the organization's anti-cruelty division. Bershadker has said the NYPD's more than 34,000 officers are simply better positioned to keep up with the huge volume of complaints.
The NYPD has always had the ability to investigate and make arrests in animal abuse cases, but it doesn't currently have a unit dedicated to that task.
As part of a pilot program, NYPD officers have been handling animal abuse complaints in the Bronx since September, said ASPCA spokeswoman Emily Schneider.
"During that four-month period," she said, "the NYPD has responded in a positive way that illustrates how their size and scope will allow them to enforce animal cruelty laws across NYC better than we could on our own."
Enforcement has been a primary part of the ASPCA's mission since it was founded in 1866. Founder Henry Bergh persuaded state lawmakers to enact the nation's first anti-cruelty law; they also gave his new organization unprecedented powers to police the new rules.
Much of the organization's early work involved horses, which was then the primary means of transportation in the city. But Bergh also personally led investigations of dog- and rat-fighting rings, even dropping in from a skylight during a raid on the city's most notorious dog pit, according to an ASPCA history.
Over the years, the unit has arrested countless people accused of beating pets and seized multitudes of mistreated animals. In 1995, in one of its biggest busts, ASPCA agents arrested nearly 300 spectators at a cockfight in a former Bronx movie theater. When the city began requiring dog licenses, ASPCA agents were responsible for checking collars.
As the ASPCA has grown into a national advocacy group, the New York City enforcement operation has become a smaller part of its operation.
Of the nearly $169 million the organization spent in 2012, the largest chunks went to animal health services and public education programs, according to the ASPCA's filings with the Internal Revenue Service. It spent $27 million on anti-cruelty programs, but only part of that amount related to the humane law enforcement department in New York City. The ASPCA also has a field investigations team that works nationally and will continue operating, as well as a cruelty intervention team in New York City that responds to neglect complaints, counsels owners and often takes custody of animals but has no enforcement powers.
Garo Alexanian, founder of the Companion Animal Network, an animal rescue group, praised the ASPCA's decision to shift law enforcement duties to the NYPD. He said the ASPCA didn't have the resources to do the job right.
"You're talking about 18, 19, 21 people trying to handle tens of thousands of calls," he said. The existence of the unit, he said, also gave regular police the opportunity to "pass the buck" on animal complaints, he said.
Several of the agents let go by the nonprofit in the past few days said they doubted their work would be folded into regular police operations.
"I think the animals are in trouble," said Joann Sandano, one of the dismissed agents.
She said that while she was sure that many police officers love animals and would tackle abuse complaints with enthusiasm, they will always be under pressure to deal with crimes against humans first.
"In the past, they just didn't have the manpower and the time to do it," said another former ASPCA agent, Debbie Ryan. "They're overwhelmed as it is."
An NYPD spokeswoman, Deputy Chief Kim Royster, said that officers in the Bronx were given training during the pilot program and have not been handling a disruptive number of animal-related calls. Expansion of that effort citywide, she said, wouldn't happen until a review by the city's new police commissioner, William Bratton.
"This is the police department's job — to handle criminal complaints — and now we're just expanding it to animal cruelty and animal abuse," she said.
She said the ASPCA was still taking possession of abused animals and was actively involved in gathering and analyzing forensic evidence.
"We get the complaint, investigate the complaint and then, if enforcement is necessary, make an arrest on animal cruelty-related charges," Royster said. "But the actual animals are still being handled by the ASPCA."
Copyright 2014 The Associated Press