Danner's Melee and Tachyon boots are lightweight, comfortable
If you're in need of some well-designed, lightweight boots for training or tactical ops, both the Melee and Tachyon deliver the goods
---
Like many veteran officers with considerable mileage on their personal odometers, I have grown very particular about footwear. Over the years, my tired dogs have been abused all sorts of ways, including running, hiking over rocky terrain, and on extended walkabouts through the urban jungle. 
To this day, I spend considerable time on my feet and can come to a pretty quick conclusion relative to comfort for everyday footwear.
I will confess to a certain bias toward boots crafted by Danner. While on the job, I actually preferred Danner boots over the agency-issued footwear.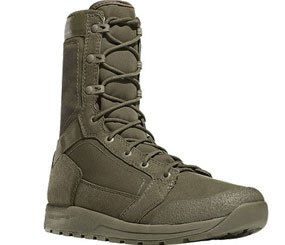 New Danner Designs
Of late, I have utilized a pair of Danner 8-inch Kinetic boots when conducting training, which have proved to be very comfortable. Recently, Danner introduced two new styles which caught my attention. I have had the opportunity to shake them out for a few months now and, to date, they have met my expectations.
First up for consideration is the Danner Melee. The Melee family is available in 3-, 6-, and 8-inch heights to meet a variety of needs.  
I opted for the 6-inch Melee Canteen, which features a durable 1000 Denier Nylon upper mated to an outsole with a unique, pentagonal pattern lug pattern for maximum surface contact.  Superior comfort is achieved by incorporating extra cushioning, with a polyurethane footbed and a wider toe box — a big plus when carrying a heavy load. 
An EVA midsole helps minimize shock transfer, further enhancing all day comfort. A breathable, moisture wicking liner and a water resistant exterior coating help to keep the feet dry.
I've worn my brown Melee Canteen boots in both casual and training environments and they have yet to disappoint me. In addition to boot height, Melee color options include tan, brown, black and multi-cam. 
A 6-inch Melee GTX Uniform Boot with full grain leather upper is also offered. In creating the Melee, Danner has successfully merged a high level of comfort and performance into a lightweight design.
Another new entry from Danner is the Tachyon. The Tachyon is the lightest 8-inch boot Danner has ever offered and it fills a niche in both the military and law enforcement training environments. At a flyweight 26 ounces a pair, the Tachyon maintains its durability through superior construction and materials.
Like the Melee, the Tachyon has a fully rubberized outsole with pentagonal lugs.  An abrasion resistant toe cap delivers superior surface contact and extends wear life.  
Racking Up Miles
Three layers of comfort include an open cell PU footbed, a cushioning EVA midsole and an integrated EVA Strobel board to create a more flexible platform. The 8-inch Tachyon is available in black, san and sage green.
As this is written, the warm weather has just set in and I expect my 8-inch Tachyon boots will be racking up the miles. These ultra-light boots have proven very comfortable and remain a top choice for hot weather.  
No one style of footwear will prove ideal for all missions, weather, or environments, but if you're in need of some well-designed, lightweight boots for training or tactical ops, both the Melee and Tachyon deliver the goods.
For further information, check them out at www.danner.com.