Fashion police: Cops ease rules on tattoos, turbans, beards
Police departments, compelled by a hiring crisis and eager for a more diverse applicant pool, are relaxing traditional grooming standards and getting away from old uniform rules
---
By Colleen Long 
Associated Press
NEW YORK — The Joe Friday look is out. Tattoos, turbans and beards are in.
Police departments, compelled by a hiring crisis and eager for a more diverse applicant pool, are relaxing traditional grooming standards and getting away from rules that used to require a uniformly clean-shaven, 1950s look.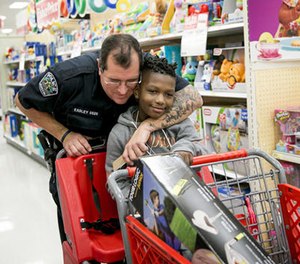 More officers are on the job with tattoos inked on their forearms, beards on their chins or religious head coverings like hijabs and turbans in place of — or tucked beneath — their blue caps.
"My turban is a part of me," said Mandeep Singh, among 160 Sikhs in the New York City Police Department who last month were allowed to wear navy blue turbans in place of the standard-issue police caps. "This opens a gate for other potential candidates who felt they could not be a police officer because they would have to choose either the job or their faith."
That followed a 2014 move by the St. Paul, Minnesota, police to create a special hijab for its first female Somali Muslim officer.
Muslim NYPD officer Masood Syed, who grows a beard for religious reasons, was suspended for its length and sued his department last year over a rule requiring beards to be trimmed to within a millimeter of the skin. As a result, the department changed the length to a half-inch and reinstated him. Syed's suit is still pending, though, because he said the length is arbitrary and it should be case by case, depending on the officer's needs.
"It's 2017," Syed said. "The police department is supposed to reflect the community that it's policing."
Many departments say it's tougher to attract candidates to a physically demanding job that offers low pay and is under increasingly intense public scrutiny. That has led many to make a nod to shifting fashion trends, particularly among millennials, and ease longstanding bans on beards and visible tattoos.
New Orleans; Portland, Oregon; Austin, Texas; and Pinellas Park, Florida, are among the departments that look the other way if a recruit comes in with visible tattoos.
"Modern practice is colliding with dress codes," said Will Aitchison, an attorney who represents police unions during labor-related disputes. "And what police departments really should be focused on is how the officer performs his or her job, as opposed to how they look."
In Kansas, state police did a public survey on whether officers should be allowed to have tattoos to help determine whether to change their policy after they couldn't fill about 100 trooper jobs.
Half of the nearly 20,000 respondents had tattoos themselves. Sixty-nine percent said the department shouldn't have a policy prohibiting visible tattoos.
"We were surprised by the response," said Lt. Adam Winters. "It just doesn't seem to bother people."
Still, the department's prohibition on visible tattoos has stayed in place, in part because of the potential challenge of regulating the content of tattoos that might be offensive.
In Philadelphia, the department is considering tightening its policy after photos surfaced last fall of an officer in uniform with a tattoo on his forearm showing a Nazi symbol: a spread-winged eagle under the word "Fatherland."
In Chicago, a federal judge threw out a lawsuit filed by tattooed officers — all military veterans — who objected to a new requirement that they wear long sleeves to cover up their inked arms during a sweltering Midwestern summer. The judge argued it would be too difficult for departments to determine what would be considered offensive and need to be covered.
But, the police brass recently started allowing them again — they said as a morale booster for a beleaguered force.

Request product info from top Police Uniforms companies
Thank You!