Privacy vs. protection: When police body cams should and shouldn't record
Police chiefs weigh in on their experiences with body cameras, and how the technology affects public interactions and officer safety
---
By Police1 Staff
One of the more highly debated topics in adapting body cameras and their policies is whether or not they should be recording at all times. Will officers be held liable for the periods of time their cameras are turned off? Will a continuously running camera tarnish relationships with community members and witnesses of crimes?
Policies differ from one agency to the next, and as we watch cases go to trial in the coming months and as more agencies adopt policies, you can bet those policies will evolve to reflect what works best for officers and the community.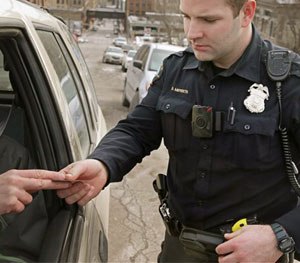 Here, we take a look at arguments for and against recording everything, from departments with experience deploying body cameras and their respective policies. These perspectives were collected as part of a study conducted by PERF with support from the Department of Justice's Office of Community-Oriented Policing Services (COPS).
Live Recordings, 24/7
Daytona Beach (Fla.) police drafted a policy that states turning off a body camera results in termination, and shared a story in which one problem officer repeatedly turned his camera off during encounters and claimed it was malfunctioning. A forensic review discovered the officer was intentionally turning off the camera, and he promptly resigned.
"You want officers to record all the situations, so when a situation does go south, there's an unimpeachable record of it—good, bad, ugly, all of it," said ACLU attorney Scott Greenwood. "This is an optimal policy from a civil liberties perspective.
"Mandatory recording is also what will protect an officer from allegations of discretionary recording or tampering," said Greenwood. "You want activating the camera to be a reflexive decision, not something that officers have to evaluate with each new situation. If officers have to determine what type of incident it is before recording, there are going to be a lot of situations in which a recording might have exonerated an officer, but the recording was never made."
The argument against recording constantly is that it potentially hurts community relations, but some agencies insist that isn't the case.  Major Stephen Willis of the Charlotte-Mecklenburg (N.C.) Police Department said, "We have had in-car cameras for many years, and in most instances the public has an expectation that they will be recorded. We encountered very little resistance from the public when we piloted body-worn cameras."
Rialto officers made 3,178 more contacts with the public (not counting calls for service) during the year that cameras were deployed than in the previous year, according to the study.
Police Chief William Farrar of Rialto (Calif.) concurred with the idea that the cameras didn't sway the public, saying "I disagree that cameras hurt community relationships. We have not seen any evidence of that. People will ask officers if they have a camera on, but it does not seem to bother them."
Protecting Privacy and Community Relations
PERF believes that requiring officers to record every encounter with the public would undermine community members' privacy rights and damage important relationships with them.
Daytona PD recently changed its policy to require that officers obtain consent, on camera, from all crime victims prior to recording an interview. "This new policy is a response to the privacy concerns that arise when you are dealing with victims of crime," said Police Chief Mike Chitwood.
Many law enforcement officials agreed with this sentiment, saying they believed body cameras had a negative impact on their intelligence-gathering activities, particularly when officers aren't allowed the discretion to turn off the camera.
 "If people think that they are going to be recorded every time they talk to an officer, regardless of the context, it is going to damage openness and create barriers to important relationships," said Chief of Police Ken Miller of Greensboro, (N.C.).
A survey found that although 70 percent of officers were in favor of using body cameras, most were opposed to a policy that would make recording all police contacts mandatory.  
Some police officials are finding it necessary to change their policies in order to protect their ability to gather intelligence. Take Oakland Police Chief Sean Whent, for example:
"Our policy is to film all detentions and to keep recording until the encounter is over. But let's say an officer detains someone, and now that person wants to give up information. We are finding that people are not inclined to do so with the camera running. We are considering changing our policy to allow officers to turn off the camera in those situations."

Request product info from top Police Body Cameras companies
Thank You!