PRESS RELEASE
Miss. police department chooses Getac Video Solutions after field testing
---
JACKSON, Miss. — Getac Video Solutions is proud to partner with the Jackson (Miss.) Police Department in its mission to improve department transparency and community relations. After months of field testing three different company's systems, the Jackson Police Department has selected Getac body-worn cameras and in-car cameras.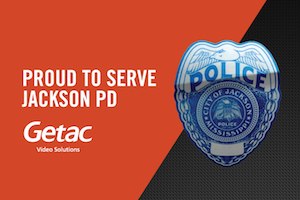 The city purchased 271 Getac Video Solutions body-worn cameras — enough to equip every patrol officer in the department. Officers will be trained on how to use the cameras in early July and equipped with the cameras shortly thereafter, according to Jackson Police Public Information Officer Sam Brown.
"With the addition of the body-worn cameras, the department is more transparent and more accountable to the citizens of Jackson. This will improve community relations," Brown said.
Getac Video Solution cameras include panoramic, full HD video, 12 hours of battery life and a wide range of communication features to include automatic triggering, in-field tagging, high-fidelity audio, and built-in WiFi, Bluetooth and GPS.
"It's a move to technology. We have to increase our technology to deal with this crime," Brown said. 
Brown said the Jackson PD wanted the cameras sooner, but that budgetary issues made it difficult. He thanked JPD grant writer Juan Gray for helping the department acquire a $300,000 grant from the U.S. Bureau of Justice Assistance.
"You have to find creative ways to make things happen, and that's what this administration did," Brown
said.
Premium performance features offered by the Getac Body-Worn Camera include built-in Wi-Fi, Bluetooth and GPS, high-tech sensors, low-light recording features, flexible mounting options, and a rugged and waterproof design. Because it's IP67 and MIL-STD 810G-certified, it can survive drops and impact and be used in the rain, dust and extreme temperatures. The cameras also offer a pre-record function up to 30 seconds and have a convenient in-field tagging system that allows officers to categorize video in the field with the category wheel on the front of the device.
Getac Video Solutions is proud to support the Jackson Police Department.
About Getac Video Solutions
Getac Video Solutions is a leading provider of rugged body-worn cameras and in-car systems with configurable solutions powered by Intel and Microsoft. Getac Video Body-worn cameras are built with remote uploading, flexible mounting, and automatic triggers, so you don't have to worry about turning it off and on or stopping to upload video data. The integrated in-car solution is comprised of body cameras, the powerful VR-X20 DVR, in-car cameras and a 5-inch HD display, giving you total connectivity and awareness. All video evidence collected can be sent straight to the Cloud or a self-hosted server.
Everything comes together with Getac Enterprise Data Management, one of the most powerful video management tools in the industry, helping you to easily and securely store, view, share and manage any type of digital evidence.
All solutions are fully integrated and connected in real-time, so you capture the evidence you need when you need it most.
For more information on our innovative solutions, visit GetacVideo.com.

Request more info from Getac Video Solutions
Thank You!