IACP Products: The pursuit ends here
---
You pull over a vehicle for a traffic violation, and do a background check. The vehicle's stolen; the suspect is wanted for armed robbery. It takes a split second to realize that this vehicle could take off at any moment, with you in hot pursuit. But what if suspect pursuits could be managed, tracked and streamlined so officers weren't put in high-risk situations? StarChase, LLC is specializing in just that. They have developed a hot new product that tags and tracks vehicles so that officers can catch the suspects faster, more efficiently, and with less risk to their safety.
StarChase is a real-time tagging and tracking tool that is making it possible for officers to reduce dangerous high-speed pursuits. I spoke with Amanda McCall, the COO of StarChase, at IACP.
"The system is a compressed-air launcher mounted in the grille of a police vehicle, and an officer pushes a button to deploy a GPS tracking tag that sticks to the suspect vehicle," McCall explained. The tracking tag then transmits location-based updates that allow dispatchers to track the vehicle's location.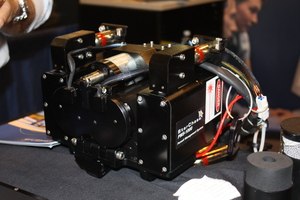 Right now, the Arizona Department of Public Safety (DPS) is the first department in the country to use the StarChase Pursuit Management System, and has used it in multiple situations where traditional pursuits might have occurred, leading to stolen vehicle recoveries, arrests and the discovery of 10 undocumented immigrants at the U.S.-Mexican border.
When I asked how it's working to keep officers safer, McCall said that it provides an alternative to high-speed chases, which will hopefully reduce damange to vehicles and save lives that might otherwise be lost in accidents resulting from pursuits.
"StarChase is doing so much to reduce risk," McCall said. "It's a tool there to use when cops need it - a 'silent partner' - that keeps officers calm during traffic stops and allows them to tactically pursue a vehicle without putting himself (or herself) in a dangerous situation."

Request product info from top Police Communications companies
Thank You!