PRESS RELEASE
Black Hills 5.56mm 69 Grain OTM Now Available
---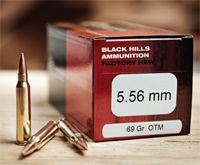 Rapid City, SD - For 2012, Black Hills Ammunition has added a 5.56mm load, the Sierra 69 grain OTM.

OTM (Open Tip Match) is the military designation for Match bullets such as the Sierra MatchKing design. The 69 grain Sierra is a bullet of long proven accuracy and is optimum weight and design for use in the 1/9" rifling twist rate found in the majority of the AR-15 rifles commercially available today.
This 5.56mm round provides a flat shooting, wind bucking 2875 fps from a 20" barrel, plus sub MOA accuracy. It's loaded with a powder selected for extreme temperature stability and is flash suppressed for use in low light conditions.
Black Hills Ammunition has added a special bullet cannelure to increase reliability without sacrificing the extreme accuracy of the Sierra MatchKing projectile. Black Hills 5.56mm- Military match toughness and precision for your sporting rifle.

About Black Hills Ammunition
We produce new ammunition for all four branches of the U.S. Military, including all current contracts for 5-56 match ammunition. We supply ammunition to most the U.S. firearms manufacturers and many custom gun makers. In addition, law enforcement agencies nationwide rely on our ammunition for duty and training. For more information visit www.black-hills.com.

Request more info from Black Hills Ammunition, Inc.
Thank You!