PRESS RELEASE
Outers® Introduces Affordable Line of Complete Gun Cleaning Kits
---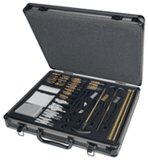 ONALASKA, WI—Outers®, a leader in the gun care industry for over 70 years, has developed another assortment of cleaning kits designed to meet the demands of today's shooters. The Specialty Kits line features complete, affordable kits.

These new kits will be a welcome addition to any hunter or shooter's cleaning bench as each kit is designed to work on all different calibers, gauges and gun types. From the basic 32-pc Universal Aluminum Gun Care Case (MSRP: $35.49), to the extensive 65-pc Wood Gun Maintenance Chest (MSRP: $99.95), these kits will ensure proper cleaning and maintenance.

"Shooters today have a wide-variety of needs, " said Jack Christnovich, Outers Product Line Manager. "The days of just needing cleaning supplies for the old 12-ga scattergun and .30-.30 brush rifle are gone. After 70 years in the business, we understand that there is more to hunting and shooting than just pulling the trigger. With the Specialty Kits, we've developed a versatile, affordable and high quality line of kits that should meet the needs of any shooter."

Under this new line of kits, there will be a total of 10 new offerings that come housed in clam packs, aluminum or wood box kits or wood chests. The aluminum cases provide shooters with a durable container that keeps everything organized and makes these kits very portable. Also easy to take with in the truck or store on the shelf are the aged oak wood box kits. Rounding out this line are two wood chests that feature integral drawers and/or gun vises for convenient storage and cleaning right at the work bench.

For more information on Specialty Kits, additional new products and the complete line of shooting accessories from Outers, visit us at www.outers-guncare.com.

About Outers
Outers is a leading manufacturer of gun-care chemicals and solvents. Vern Dale founded the Onalaska, Wisconsin-based company in 1936 with his innovative Gunslick lubricant, which has grown into its own, high-technology cleaning brand today. Outers remains a gun cleaning mainstay and is part of ATK's Ammunition Systems Group. For more information on Outers, visit www.outers-guncare.com.

About ATK Ammunition Systems Group
ATK is a $4.0 billion advanced weapon and space systems company employing approximately 16,500 people in 21 states. News and information can be found on the Internet at www.atk.com.

Certain information discussed in this press release constitutes forward-looking statements as defined in the Private Securities Litigation Reform Act of 1995. Although ATK believes that the expectations reflected in such forward-looking statements are based on reasonable assumptions, it can give no assurance that its expectations will be achieved. Forward-looking information is subject to certain risks, trends and uncertainties that could cause actual results to differ materially from those projected. Among those factors are: changes in governmental spending, budgetary policies and product sourcing strategies; the company's competitive environment; the terms and timing of awards and contracts; and economic conditions. ATK undertakes no obligation to update any forward-looking statements. For further information on factors that could impact ATK, and statements contained herein, please refer to ATK's most recent Annual Report on Form 10-K and any subsequent quarterly reports on Form 10-Q and current reports on Form 8-K filed with the U.S. Securities and Exchange Commission.