PRESS RELEASE
Trijicon® Pursues Legal Action Against ACOG® Patent Violation
---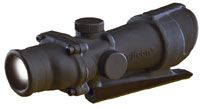 (Wixom, MI) Trijicon, Inc., the originator and sole marketer of the ACOG® riflescope (Advanced Combat Optical Gunsight) has promised to pursue legal action if necessary against New Century Science & Technology, El Monte, California (aka NcSTAR) to prevent that company from marketing a replica of Trijicon's popular ACOG®. Trijicon served NcSTAR with a cease and desist letter during the 2005 SHOT Show in Las Vegas, where NcSTAR was offering its unauthorized replicas for sale and representing them as "an exact copy of Trijicon's ACOG® scope". A Trijicon representative obtained one of the NcSTAR copies during the trade show and it was confirmed by examination that it was, indeed, a virtual duplicate of the ACOG®. NcSTAR agreed to cease distribution of the ACOG® replica was instructed to advise its Chinese supplier to discontinue manufacturing the product. Trijicon will conduct periodic surveillance to ensure NcSTAR upholds its end of the cease and desist agreement.
"We take great pride in our ability to produce high quality, unique optics", says Stephen Bindon, President of Trijicon, Inc. "We will vigorously pursue and prosecute any and all infringements of our intellectual properties."
The Advanced Combat Optical Gunsight ACOG® was designed by Glyn A. J. Bindon, founder of Trijicon. The company has been awarded a U.S. patent and several international patents on the ACOG®. The company also believes that the distinctive design and appearance of the ACOG® should be protected from duplication under current U.S. trademark laws. Therefore, Trijicon maintains that the Chinese-made clone constituted both Patent Infringement and Product Configuration Infringement, and promised to pursue legal action if New Century Science & Technology, Inc. continues to offer the ACOG® knock-offs for sale.
The Trijicon ACOG® is in wide use globally by military and police organizations as well as by discriminating sportsmen. Trijicon has issued a cautionary statement to its customers to beware of unauthorized ACOG® replicas which are neither endorsed nor warranted by Trijicon and have not been researched, tested nor manufactured according to Trijicon's stringent quality control standards.