UTM RBT unveils target shooting kit for at-home training
The new product is said to have all the accuracy, reliability and realism of live ammunition, but with the benefits of safety, virtually no live fire restrictions, no range needed
---
Tony Lambraia is known to most for his tactical videos on how to better integrate force-on-force training into a department's in-service training. In those video segments, Tony often uses the training equipment offered by his company, UTM Reality Based Training (UTM RBT).
UTM RBT has for years been selling training solutions to departments, and military units, but there has never been a solution for individual officers to take advantage of — until now. 
At SHOT Show 2015, the company unveiled the Civilian Target Ammunition (CTA) Target Shooting Kit and Ammunition for AR-15-style weapons.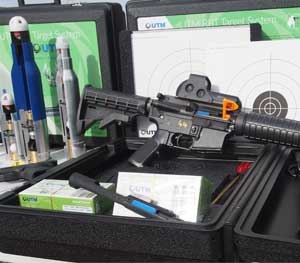 A Range in your Basement
The CTA Kit comes in a case smaller than a carry-on bag, and is packed with all you need to essentially set up a short range in any room in your house, from the living room to the 'man cave' in your basement (I'd imagine the latter would be more optimal). Here's a rundown of what's included in the CTA Kit:
•    1 universal AR-15 bolt carrier group conversion
•    100 CTA rounds
•    3 paper targets with nylon-coated vinyl target holder, steel projectile trap (Fits behind target)
•    2 Bungee cord target hangers
•    1 bottle of gun lubricant
•    1 cleaning kit - including chamber and bore brushes
•    1 projectile puller
This could be a game-changer. Officers often will not do as much marksmanship training (on their own time and their own dime) as they otherwise would because of the cost of ammo, as well as the perceived time investment of hauling all your kit to the range (which in many cases is not close to home). In reality, that time investment is minimal when you're talking about the return on your investment being the ability to win a gunfight, but the perception persists. 
This product has the ability to take those excuses and throw them completely out the window. 
The press release issued on the range stated that the training cartridges have a muzzle velocity of 375 feet per second, and that the ".223 civilian target ammunition has an outstanding accuracy of a 1.18" group at 32 yards," which "has a 99 percent reliability rating certified by the U.S. Army's Picatinny Arsenal. 
Anyone who has had access to UTM RBT ammunition during in-service training knows that because there's no gunpowder or lead in the rounds, you can practice without ear protection, and cleaning and restoring your weapon to live-fire capability is extremely fast and easy. 
LEOs an Obvious Customer Group
While civilians are certainly going to be in the market for this type of solution, individual officers will be among the core customer group (at least initially) because of the familiarity cops already have with the UTM brand. 
The CTA Target Shooting Kit and the ammunition will be available to pre-order in February, with delivery up to April. Delivery will most certainly be before April, due to anticipated demands, initial wait times could be up to 90 days.
The unit will initially be sold for $350 and a box of the 50 CTA rounds will run for about $30. 

Request product info from top Police Firearms companies
Thank You!