4 safety tips for force-on-force training
Instructors can create a safe, engaging and effectual scenario-based force-on-force training environment by following some basic safety protocols
---
By Chris Machavern, P1 Contributor
The number one priority of any force-on-force training is safety. Creating and maintaining a safe training environment is the fundamental underpinning of any successful training program. Instructors can create a safe, engaging and effectual scenario-based force-on-force training environment by following some basic safety protocols. 
1. Select the right location
Selecting the proper location is the first step in creating a safe training environment for force-on-force training. If your agency does not have access to a dedicated training facility to conduct force-on-force training, select a location that is secure, can be configured to have a single point of entry and exit, and allows for designated scenario and safety areas.
Effectively controlling the space where training is conducted is the most important part of creating and maintaining a safe training environment. Clearly mark the training area with visible signage that indicates police training is in progress and access is for authorized personnel only. Use physical barricades and caution tape to establish a perimeter if necessitated by the environment. Once the area is cordoned off it should be thoroughly searched for environmental hazards and/or prohibited items that could cause potential injury.
2. Designate two safety officers
Any force-on-force training should have a minimum of two instructors designated as safety officers. The safety officer is responsible for controlling and maintaining the integrity of the training environment by ensuring all safety protocols are followed. Training instructors administer the force-on-force training and are focused on the scenarios, observing the response of participants (officers involved as students), and teaching.
Safety officers and training instructors should be highly visible and easily distinguishable from participants and role players; traffic vests or red instructor vests work well for this purpose.
3. Implement a search and secure policy
All firearms, magazines, ammunition, impact/edge/chemical weapons and ECDs must be stored in accordance to department policy outside of the training area. 
Safety officers should search all participants, role players and instructors to ensure prohibited items do not enter the training area. Mark those who have been searched and permitted entry. Arm bands can be easily fashioned out of blue duct or painter's tape; two arm bands are a visual indication of redundant search by safety officers. If an individual must leave the training area, they may not be granted re-entry until a subsequent redundant search is performed by safety officers.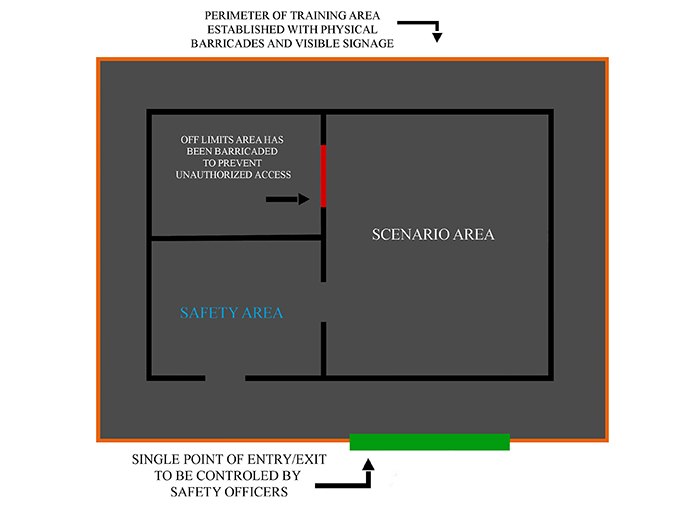 4. Supply key equipment
There are two basic categories of force-on-force equipment: safety gear and weapons.
All participants, role players, instructors and safety officers must have appropriate safety equipment. At a minimum this includes: 
Impact-resistant full-face protection (covering the forehead, eyes, nose, mouth and chin);
Throat, groin and female breast protection;
Long sleeve shirt, pants and gloves.
Participants must wear this equipment at all times in the scenario area and anywhere within the training area when force-on-force scenarios are being run.
It is imperative to have a medical kit with includes tourniquets, hemostatic agents and basic first-aid supplies like adhesive bandages, gauze and antiseptics. Centrally locate these supplies within the safety area. All participants, role players, instructors and safety officers should have an IFAK/trauma kit that includes at minimum a tourniquet and a hemostatic agent.
There are a number of options for force-on-force training weapons:
Dedicated marking firearms;
Airsoft-type products;
Firearms temporarily converted to marking weapons.
No matter which type of weapon is utilized, safety protocols are the same. Marking weapons must be thoroughly examined by at least two safety officers to ensure it is a marking firearm incapable of accepting live ammunition.
If dedicated marking firearms (which should be clearly marked as such) are not used, safety officers should install any distinguishing markings such as forearm bands, training magazines and other visual indicators after the firearms have been deemed inert by redundant search.
All magazines used for force-on-force training should be completely segregated as force-on-force magazines only. They should never be loaded or stored with live ammo, and should be clearly marked with blue paint indicating they are force-on-force magazines. If translucent magazines are used, mark them with blue base pads.
Dedicated marking firearms should be painted blue, which includes airsoft guns. Clearly marking force-on-force training weapons serves a two-fold purpose:
1. To ensure training weapons are highly visible within the training environment;
2. To help prevent a marking firearm or airsoft gun from making its way onto the street.
Take an inventory of all marking firearms, marking cartridges and training magazines prior to and upon conclusion of the force-on-force training. 
When conducted properly, force-on-force training is an indispensable component to any firearms, tactics and use of force training. Making safety the number one priority will ensure your officers can engage in countless training scenarios that will help keep them safer on the streets.
---
About the author
Chris Machavern has been involved in law enforcement since 2008 and holds a degree in criminal justice. He is a state-certified law enforcement firearms instructor and co-owner of Mastermind Tactics.

Request product info from top Police Training companies
Thank You!