PRESS RELEASE
Action Target PT Dueling Tree sweepstakes
---
Enter to WIN a PT Dueling Tree from Action Target
PROVO, Utah — Action Target Inc., the leading manufacturer of shooting ranges, today launched its PT Dueling Tree Sweepstakes, in which one lucky winner will receive an Action Target heavy-duty PT Dueling Tree steel target.
PT Dueling Tree Sweepstakes participants are required to join the Action Target email list and must "Like" the Action Target Facebook page. A winner will be selected and announced on July 29th. Participants can increase their chances of winning by sharing the sweepstakes on their social media channels.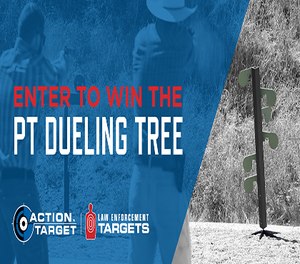 For a limited time, the PT Dueling Tree is also on sale with a 20% discount in the Action Target / LETargets.com online store.
Action Target PT Dueling Tree Sweepstake Rules:
• You must be a fan of the Action Target Facebook page to be eligible for the PT Dueling Tree Sweepstakes.
• Participants consent to receive email marketing communications from Action Target. Your email address will not be sold or shared.
• We will announce the winners name on our Facebook page. If you do not want your name published, please do not enter. Winners will also be notified by email.
• Participants must be at least 18 years of age to enter.
• Giveaway void where prohibited by law. Winners must comply with all federal, state and local laws.
• Taxes and fees will be the responsibility of the winner. Giveaway is open to U.S. residents only.
• Employees and agents of Action Target and Law Enforcement Targets are not eligible.
• No purchase necessary. Attention deployed military: Use stateside address!
• Sweepstakes items may have evidence of demonstration use or exhibit minor handling marks. Factory warranties may still apply.
• The PT Dueling Tree Sweepstakes prize is awarded only to the entrant drawn and will not be awarded if the prize item presented is illegal in the jurisdiction of the winner. An alternate, authorized winner will be selected.
• No substitutions or transfers to a third party are allowed.
• WE DO NOT SHIP PRIZES OUTSIDE THE CONTINENTAL UNITED STATES.
• This promotion is in no way sponsored, endorsed or administered by, or associated with, Facebook.
• Action Target reserves the right to cancel, update or change the sweepstakes at anytime without notification.
About the PT Dueling Tree
Train for speed and accuracy under pressure or just have fun competing against friends with the innovative PT Dueling Tree – the target made for two.
The PT Dueling Tree has six reactive paddles for interactive training and competitive fun. Designed to swing from one side to the other when hit, the paddles challenge shooters' target location and speed under the pressure of head-to-head competition. Because it's made of 3/8" AR500 armor steel, the standard PT Dueling Tree is designed for handgun ammunition up to .44 Magnum and .45 ACP. Whether it's intensive training you're looking for or just a way to have fun on the weekends, the PT Dueling Tree has exactly what you need.
The PT Dueling Tree consists of a forward leaning center stand which allows gravity to do the work as the six reactive armor steel paddles swing from one side to the other when shot. Because the target is gravity reset and doesn't rely on springs or mechanisms, the PT Dueling Tree gives you reliable results every time. A deceptively simple design also makes it easy to assemble and disassemble. Each target paddle slides into two rings on the back of the stand that hold it securely in place but still allow for unrestricted movement and easy assembly and disassembly.
Specifications:
• Height: 5'
• Weight: 110 lbs.
• Paddles: 6" diameter
• Steel Grade: 3/8" AR500
• Handgun Shooting Distance: 10 yards+ (This target is not rated for use with rifle ammunition) *
About Action Target
Action Target Inc. is a privately owned business headquartered in Provo, Utah. The US market leader for shooting range technology, Action Target's key markets include commercial, law enforcement and military. With over 4,000 products and 47 patents for the systems it designs and manufactures, Action Target differentiates itself from its competitors with its unique start-to-finish approach from engineering and manufacturing to range design and installation. Action Target also designs systems and conducts firearms training for law enforcement and various military divisions. For more information, visit http://www.actiontarget.com.

Request more info from Action Target
Thank You!