IACP Products: Chevy Caprice police car will be on duty in 2011
---
With all the talk of Ford stopping production of Crown Vics, it was no surprise that General Motors stole the show at IACP when they announced that they will be rolling out a new full-drive Chevrolet Caprice Police Patrol Vehicle.
The 2011 Caprice PPV is not based on an existing model, but was designed specifically for law enforcement officers as a patrol vehicle. By increasing interior room (to 112 cubic feet), it will become the most spacious patrol car on the market when it's released.
The Caprice was designed with complete officer protection in mind. One of the key features is a different driver's seat that will improve an officer's comfort with cutouts that allow for a tactical belt that has handguns, stun guns and other on-duty gear.
Dana Hammer, Law Enforcement Vehicles Manager for General Motors, explained another officer safety feature: the optional front-seat-only side air bags that allow for a full-width rear seat barrier.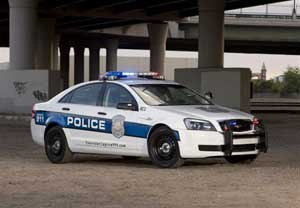 "When the barriers can't go all the way out to the side of the driver and passenger seats, it poses a risk to officers transporting suspects or prisoners," Hammer said. "If a guy gets out of his handcuffs, he can reach around and potentially hurt the officer. The solid barrier separating the back and front of the vehicle will protect the officer."
"The new Chevrolet Caprice police car is the right tool at the right time for law enforcement," said Jim Campbell, general manager for General Motors Fleet and Commercial Operations. "We asked for a lot of feedback from our police customers, which helped us develop a vehicle that is superior to the Crown Victoria in key areas."

Request product info from top Police Vehicles companies
Thank You!