Las Vegas police boast noticeable increase in recruitment
LVMPD's reintroduction of their cadet program and recruitment of military members were factors in increasing their recruitment numbers
---
By Ashley Silver
Police1
LAS VEGAS — The Las Vegas Metropolitan Police Department (LVMPD) reported an increase in recruits, with more than 70 students attending their police academy in September.
Sergeant of Recruiting John Deschutter told KVVU News that the rise in numbers is due to aggressive recruiting strategies, including outreach efforts to military members. LVMPD also reintroduced their cadet program, helping 18-year-olds learn more about law enforcement and land a job with the agency. Cadets are eligible to attend the police academy once they turn 21.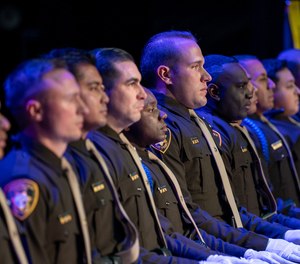 "We're seeing there's a lot of motivated people that want to join the police force at 18. By the time you go to the academy at 21, you're ready-made for the job. And we're not losing people at 18 to 21 to various other careers. We're keeping them local and keeping them in-house with us," Deschutter told the news platform.
Community partnerships and outreach events, such as Coffee with a Cop and Santa Cops, have been helpful in connecting with potential recruits as well: "Without the community support, we wouldn't be where we are in the recruiting numbers that we're at," Deschutter said.