Review: Is the Casio G-Shock watch tough enough?
I tested a dual-sensor watch in the Master of G series (an expansion of the G-Shock line), designated the GA1100-1A3
---
I wish I would have had a schedule over the years, one that would tell me what to expect for each shift. It would have looked something like this—at 1600 you'll respond to a river rescue and get soaking wet, but bring a family safely to shore, then after a uniform change, at 1930 you'll help EMS haul a gurney down a flight of stairs. Next, at 2300 hours you'll roll around on the ground in an alley fighting a drunk who doesn't want to go to jail. That information would have been handy.
Over the years I served in so many roles I really had to prepare for anything. Being a cop, firefighter, EMT, and SAR coordinator, I learned some powerful lessons; get all the training you can, and carry good gear. As an impressionable young man I had a sergeant give me a Casio Triple Sensor Watch. I wore it for years. Whether rappelling down mountains, quenching a lightning strike, or fighting behind a bar, my Casio watch never failed me. The Casio G-Shock line of watches is popular among first responders for that very reason. I recently learned the line was expanded and set out to learn more.
Right now, serving across America, an untold number of emergency personnel have G-Shock watches strapped to their wrists. A casual glance at many EMTs, firefighters, and police will confirm this. Standing for Gravitational Shock, the line was designed to withstand abuse. Being hardy and affordable, it makes sense first responders would gravitate to this quality gear. The line was introduced in 1983 and has served ever since, selling as many as 19,000,000 by 1998. There are literally hundreds of models with different features to choose from.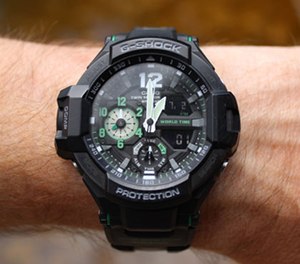 GA1100-1A3
Casio sent me a dual-sensor watch in the Master of G series (an expansion of the G-Shock line), designated the GA1100-1A3. This watch is a beautiful blend of liquid crystal display (LCD) and analog watch hands. The sensors themselves are a compass and thermometer, both still highly relevant to my current work. I do not call in helicopters anymore so I don't find myself frequently needing to know altitudes to estimate a landing zone. Laid out in a semi-chronograph, the watch face features two analog dials, and two LCD displays (black background with silver numbers/letters). The primary hands for hour, minute, and second still dominate the surface with a large, white '12' being the only referencing number at the top, hash marks delineate the rest.
Top right, the digital display references date for me since my weeks tend to run together. Bottom right, the seconds digitally tick by to an unknowable future. At the very bottom, an analog dial with an arrow indicates what mode you are in, and reminds you of the multitudinous features this watch has. Time, world time, stop watch, timer, alarm, and compass are all pointed to by a small arrow when the functions are activated.  World Time occupies the second and last analog dial which is a tiny clock in itself. A quick glance can remind you it is much later in Afghanistan. The timepiece evokes a handsome and tactical feel, with a nod to the future via LCD supplementing the overall analog temperament. Having used all digital for a few years, I loved looking down through the glass at how deep it seemed. The watch is a functional piece of art—all its dials, gears, and workings, ticking away under the clear glass.
Functions
This Master of G offers great functions that serve many walks of life. First and foremost, it is tough. I was lucky enough to test this watch for months before writing about it, and during the summer when my outdoor activity levels are at their greatest. It performed remarkably. The multiple functions are useful—Stopwatch, Alarm, Countdown Timer, World Time, Thermometer, Compass. The stopwatch, alarm, and countdown timer are all straightforward, and not being a jet setter, one might dismiss the world time feature. However, having family in different time zones may apply here. The thermometer is accurate, though should be taken off the body to get the truest readings. The compass is slick, activating the button causes the second hand to point to north. I found the buttons and functions to be intuitive and did not need assistance setting up the watch for use. The light button provides a good amount of light which also briefly charges the luminous hands on the watch face. The light comes from the bottom of the face and allows you to see the hands, though washes out the digital displays in dark settings.
Summary
I recall several people I worked with in the various emergency fields who subscribed to a philosophy: wear a cheap watch, if it breaks during the normal travails of the job, no great loss. I went the other direction. I invested in a good watch and was rewarded. Sure, I've had bands break or have gotten an occasional scratch to buff out of the glass, but all the Casio watches I've owned I have either passed on to other people or kept, and they are still running! This has been over a period of decades. I've gone through batteries, but to have a piece of equipment that provides such critical information continue to serve you reliably over years is the definition of value. I've had watches burned, banged on rocks, roughed up in fights or torn off during white water collisions. The Casios have survived all and continued to serve. The Master of G is no exception to this rule. To the contrary, it is the flagship example.