How joint training builds relationships and mutual understanding
S.C. National Guardsmen and Richland County deputies train for one of many worst-case scenarios
---
Special tactical units with the Richland County Sheriff's Department (RCSD) conducted a joint special-operations exercise with S.C. National Guard security forces at McEntire Joint National Guard Base near the town of Eastover, South Carolina on March 2, 2021.
The exercise – a response to an active shooter scenario – was not the first time RCSD has trained with military units on U.S. or state military bases. Nor is such training infrequent, say senior RCSD officers.
Twice each year, McEntire Joint National Guard Base (said to be "joint" because the base is home to both S.C. Army National Guard and S.C. Air National Guard units) conducts similar drills to test and hone the skills of the base's responding units. In this particular exercise, McEntire's security forces were tasked with responding to a mock active shooter located in one of the base's administration buildings.

"This played out as if it were an actual incident," said RCSD Deputy Chief Chris Cowan, who commands RCSD's Operations Division. "McEntire security was the initial responding element, and we were the supporting element."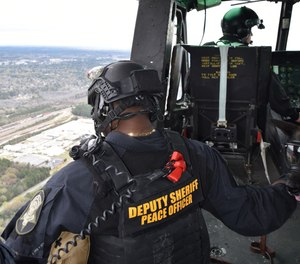 The RCSD presence at McEntire included RCSD's Special Response Team (SRT), known in common parlance as a SWAT or tactical team. Also participating were RCSD's Crisis Management Team (hostage negotiators) and the department's K-9 unit.
As the McEntire security force units moved toward the target on the ground, the RCSD SRT operators climbed aboard S.C. Army National Guard Black Hawk helicopters and flew in four "chalks" [heliborne teams] to the site.
"The idea was to simulate moving quickly from a staging area to the incident location," said Cowan. "Our teams need to be – and they are – highly mobile and able to respond to any situation whether it be an active shooter or hostage situation, a critical incident from a natural disaster or man-made, missing children, whatever. We have to be prepared at every level."
The SRT is composed of entry teams (tactical operators who are trained and equipped to breach entryways and enter and clear rooms), mobility support personnel (operators capable of bringing up gear and quickly setting security around the incident perimeter), and the Crisis Management Team. Many SRT members are formerly deployed U.S. Marines and Army Infantry and Rangers. All members of SRT are first and foremost RCSD deputy sheriffs.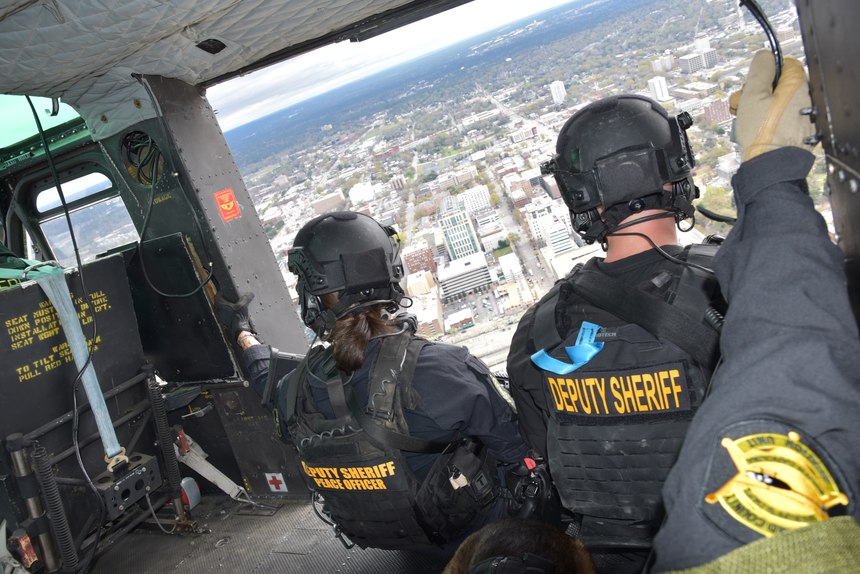 The benefits of joint training
Cowan said the importance of joint training is three-fold: Relationships, training and mutual understanding.
"First, we must be able to work closely with a partnering agency's administrative staff, as well as their operational personnel," said Cowan. "Second is the training piece so that we can understand how they operate and vice versa in a highly realistic scenario so that we can effectively respond whether it be on a military base, a school, a business. It gives us different training platforms in and upon which we can operate. Thirdly, is how we clearly and effectively communicate with others."
Cowan added, "We conduct this type of training all the time, and we do so for the safety and security of the communities and the citizens we serve."
Richland County Sheriff Leon Lott, who years ago served on one of RCSD's earliest SWAT teams, has always ensured that his SRT operators and other deputies train with and learn from those outside the department.
"This SRT is truly one of the best in the nation," said Lott. "It is so for several reasons not the least of which is we have uniquely experienced and very capable leaders. We have developed a culture of operational creativity. And no single person serving on the SRT believes themselves to be better or superior to another: They see themselves as just differently skilled and always with a 'capacity' for growth."
In addition to S.C. National Guard security forces, training has been conducted with other police SWAT teams, the FBI's regional teams, U.S. Army Special Forces operators and U.S. Navy SEALs.
---

4 qualities every SWAT team member needs
How do law enforcement supervisors shape and refine these necessary mental attributes for responding officers?
---