Wash. lawmakers OK change to police deadly force law
The legislature approved a bill that will change a state law that makes it difficult to criminally charge LEOs who might have inappropriately killed someone
---
By Walker Orenstein
The News Tribune (Tacoma, Wash.)
OLYMPIA, Wash. — Washington's Legislature has approved a bill that will change a controversial state law that makes it difficult to criminally charge police officers who might have inappropriately killed someone.
House Bill 3003 was passed by the House on Wednesday and the Senate on Thursday after law enforcement groups and backers of an initiative tied to the deadly force law reached a compromise deal this week. Gov. Jay Inslee signed it into law Thursday evening.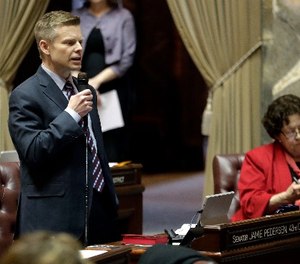 The measure is expected to stop Initiative 940 from reaching the November ballot and implement the new bill instead, which tweaks the initiative's sweeping reforms to lower the bar for prosecuting police who use deadly force.
The strategy took some legislative hopscotch to skirt constitutional rules restricting how lawmakers can amend initiatives to the Legislature.
While the policy in HB 3003 got strong bipartisan support, many Republicans objected to the process by which it passed.
Still, many at the Capitol celebrated changing the police shooting law after more than two years of contentious debate.
Supporters say the agreement also prevents what could have been an expensive, lengthy and negative campaign fight between minority groups and law enforcement over I-940.
"This is really a historic moment because we've been trying for years to bring law enforcement and aggrieved communities together," said state Rep. Roger Goodman on Wednesday.
Goodman, a Democrat from Kirkland, helped broker the negotiations.
Under current law, prosecutors must prove an officer who used deadly force acted with "malice" and without "good faith" in order to win a conviction.
The "malice" standard is unique in the country, and prosecutors say it effectively blocks them from charging officers with crimes for reckless and negligent shootings unless they acted with evil intent and are guilty of murder.
HB 3003 deletes the "malice" requirement and defines "good faith" as whether a reasonable officer would have used deadly force in the same circumstances.
The original initiative also deleted "malice" but had a two-part test to determine if an officer acted in good faith.
Lawmakers, police groups, prosecutors and I-940 backers said HB 3003 has a better legal standard than the initiative following group input in negotiations.
Supporters said it offers a chance to charge law enforcement officers with manslaughter in certain situations where an officer acted outside the bounds of training while also protecting officers who make honest mistakes in dangerous circumstances.
Rep. Dave Hayes, a Camano Island Republican and a Snohomish County sheriff's deputy, said on the House floor Wednesday that he doesn't believe the bill "is perfect by any means."
"But when it comes down to the good faith language that's in this bill, I think if an officer acts within that language which is based on national case law, then that officer will be protected," he said.
Hayes was a key negotiator for HB 3003.
Supporters of HB 3003 include the Washington Association of Sheriffs and Police Chiefs, along with the Fraternal Order of Police, an influential union of front-line officers that previously resisted change to the "malice" statute.
Not every police group was on board with the measure, including the Washington State Patrol Troopers Association. A representative for the organization did not respond to requests for comment Thursday.
Some lawmakers also opposed the change to the legal standard. State Sen. Doug Ericksen, R-Ferndale, said he is concerned law enforcement officers can't effectively do their jobs if they believe they could be held criminally liable for their actions in dangerous situations.
"We need to stand up against this and be very clear that we support people who are in law enforcement in our state," Ericksen said.
Besides changing the malice statute, HB 3003 orders new de-escalation and mental health training for officers, along with new requirements to provide first aid for injured people.
Typically with an initiative to the Legislature like I-940, lawmakers would have three options.
They could pass the initiative without changing it. They could amend it and send a competing measure to the ballot alongside I-940. Or they could not act, sending I-940 to the ballot alone.
Lawmakers instead chose a fourth route. They approved I-940 unamended but also passed HB 3003 to alter the initiative as soon as it becomes law, effectively circumventing the normal process.
Sen. Mike Padden, a Spokane Valley Republican, said he believes amending I-940 in such a manner is unconstitutional. He argued the Legislature should let HB 3003 and I-940 go to the November ballot.
"While I agree that it may be divisive, it may be troubling, it may be inconvenient, it may cost a lot of money for both sides to get their message out to people, that's what the initiative process is all about," Padden said.
But Goodman said he believes the effort is legal — and worth it.
"We've reached this historic agreement to make more clear how we're going to change the law, to get the training rolling sooner and to begin the healing process sooner so that we don't have to have a contentious adversarial battle at the ballot, which nobody wanted," he said.
In a news release issued by the I-940 campaign Thursday evening, family members of several people killed by police in Washington said HB 3003 will hold police accountable and save lives.
One who praised the bill was Lisa Earl, the mother of Puyallup tribe member Jacqueline Salyers. Salyers was fatally shot by Tacoma police in January 2016 as she drove toward an officer, according to Tacoma police.
The killing was ruled justified by Pierce County Prosecutor Mark Lindquist, a decision Salyer's family disagreed with. It's unclear if the legal result would have been different under the legal standard for deadly force in HB 3003.
But in her written statement, Earl said the legislation is "such an important step towards building bridges between communities and the police."
©2018 The News Tribune (Tacoma, Wash.)
McClatchy-Tribune News Service