Judge OKs petition to recall Wash. sheriff over COVID-19 response
A Superior Court judge ruled that a recall effort against Sheriff Adam Fortney after he stated he would not enforce the statewide stay-at-home order could proceed
---
Zachariah Bryan and Caleb Hutton
The Herald
EVERETT, Wash. — A Superior Court judge ruled Friday afternoon that a recall effort may proceed against Snohomish County Sheriff Adam Fortney, weeks after the sheriff stated on Facebook that he would not enforce Gov. Jay Inslee's stay-home order, based on his belief that it was unconstitutional.
Cowlitz County Superior Court Judge Stephen Warning oversaw the telephonic hearing in Snohomish County Superior Court, where Monroe resident Lori Shavlik filed her recall petition.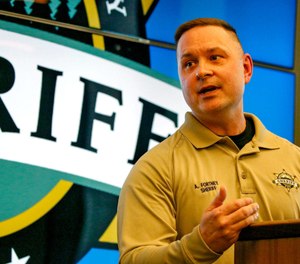 Through a sheriff's spokesperson, Fortney declined to provide a comment to The Daily Herald. He wrote on Facebook Friday afternoon that he stood by his comments.
"This afternoon a court determined that an elected Sheriff can be subject to recall for expressing political disagreement with the Governor's policies," he wrote. "...Although I did not ask for this fight, I will not shrink from it."
Two recall efforts have now been sparked by Fortney's social media post. On April 21, just after Inslee gave an address outlining how the state planned to repoen the economy, Fortney publicly criticized the plan as too vague and inconsistent, taking an extra step of labeling the order unconstitutional. Within hours, Fortney's comments went viral, drawing a highly polarized response — including criticism from the governor and state attorney general.
Shavlik moved quickly to file a recall petition against Fortney on April 23, alleging he "used his position as an elected official to encourage citizens to defy the law and violate the Governor's Emergency Proclamations," as well as local health directives.
Judge Warning said Friday that the governor's order is presumed constitutional, and it would remain so unless a court finds it unconstitutional.
"The sheriff's oath of office requires him to uphold the Constitution and laws of the state, and certainly the statements that are at issue here could be read and heard to say, 'I will not enforce a law that I disagree with, or that I think runs afoul of the Constitution,'" Warning said.
The judge ruled Shavlik may begin gathering signatures in an effort to get a recall on the ballot later this year. If enough people sign, voters would then decide if Fortney violated his statutory duties; performed his duties in an improper manner; or neglected or knowingly failed to perform his duties faithfully as required by law.
Shavlik asked the judge if the signatures could be gathered online, in light of the extraordinary circumstances of the pandemic — as well as the very order that brought about Fortney's post in the first place. Judge Warning said he did not have the authority to rewrite the law, and denied that request. The judge asked that both sides file any additional motions by 4 p.m. Monday.
Fortney's attorney, Mark Lamb, asked the judge to clarify what it was that allowed the recall to move forward: the sheriff's words, or the implied policy behind them? Warning said he didn't make a distinction, and that the voters would have to decide.
Meanwhile on Friday, a separate group of four attorneys, in diverse legal practices, filed another petition to recall the sheriff, citing the Facebook post and other controversies since Fortney took office.
The second petition argued Fortney committed several acts of "malfeasance and misfeasance" and has violated his oath of office since becoming the county's top cop in January. The petition noted Fortney's handling of the jail during the virus outbreak; his decision to reinstate three deputies who were fired by the previous sheriff for alleged policy violations; and his unusually quick turnaround time in clearing a deputy of wrongdoing, after tackling a woman accused of jaywalking.
The second petition was drafted by a group of residents called the Committee to Recall Snohomish County Sheriff Adam Fortney. It was filed Friday, signed by public defender Colin McMahon, criminal defense attorney Samantha Sommerman, immigration attorney Terry Preshaw and civil attorney Brittany Tri.
Fortney is not alone in his stance that police should not actively patrol for violators of Inslee's order. Since the order was first enacted in March, police brass around the state have said they would not arrest people for public gatherings, instead opting for an educational approach outlined by the Washington Association of Sheriffs and Police Chiefs. According to the governor, the majority of Washingtonians have complied voluntarily. A violation of the stay-home order is considered a gross misdemeanor.
Snohomish County Prosecutor Adam Cornell denied the sheriff's request that the county pay legal fees to fight Shavlik's recall effort. In a letter to the sheriff, Cornell said he too interpreted the post as a call to defy public health officials and the governor.
"By directly or indirectly encouraging people to disobey data-driven, science-based lawful orders handed down expressly to limit the spread of COVID-19 and to protect our health and well-being during this pandemic emergency, your statement is fairly construed to support behavior that puts all citizens at greater risk of harm and death," Cornell wrote. "Put simply your words were akin to yelling 'fire' in a crowded theater."
Fortney has denied that he ever asked people to rebel against the order.
"I have never encouraged defiance of the law," he wrote in a May 4 Facebook post. "To the contrary, I have encouraged residents and business owners to exercise their rights under the law by reaching out and contacting their local leaders and state representatives."
McMahon said he was aware of the first petition submitted by Shavlik, but had no plans to change course. He hoped the additional charges that his group brought would make a stronger case. There also is the possibility of merging the two petitions if they both reach the signature-gathering stage, he said.
"I believe we have a strong case and we believe it will be up to the voters very soon," said McMahon, chair of the recall committee. "It is clear the law is on our side. Sheriff Fortney has refused to protect our health and safety."
McMahon's group said Fortney's public statements went "beyond merely declining to enforce Governor Inslee's order" and "were designed to, and in fact did, incite members of the public to willfully violate" the law.
Bob Martin, owner of The Stag Barber shop in Snohomish, said he felt emboldened by Fortney to reopen. He continued to defy the stay-home order this week, even as the state suspended his cosmetology operator license, and as the sheriff's office served him with a cease and desist letter. Shavlik, acting as her own attorney, cited the barber's position in her arguments Friday.
Last August, when he was still a night shift patrol sergeant aspiring to elected office, Fortney held a campaign event at The Stag.
"Sheriff Fortney is prescribing active rebellion against a legitimate public health order and, in doing so, has abdicated his right to hold the office of Snohomish County Sheriff," the second petition states.
McClatchy-Tribune News Service