Calif. mayor warns of immigration raids in rare move
Oakland Mayor Libby Schaaf said it was her "duty and moral obligation" to warn families
---
By Olga R. Rodriguez
Associated Press
SAN FRANCISCO — The mayor of Oakland warned residents of large-scale raids by immigration agents in the San Francisco Bay Area, marking the latest escalation of tensions between California officials and the Trump administration.
Calling it her "duty and moral obligation" to warn families, Mayor Libby Schaaf's unusual alert this weekend also follows months of criticism of her decision to allow Oakland police to direct traffic during an Immigration and Customs Enforcement raid in August.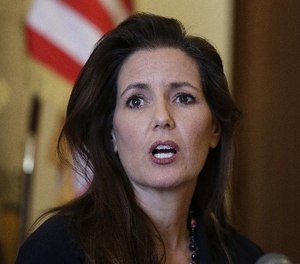 Schaaf, a Democrat seeking re-election this year, has been trying to demonstrate her support for the immigrant community ever since. The mayor said "credible sources" told her ICE would be targeting immigrants being sought for living in the country illegally and not those wanted for crimes.
She said she shared the warning not to cause panic but to protect immigrants in a city and a state with "sanctuary" policies that limit cooperation with federal immigration agents.
The warning prompted hundreds of phone calls and social media messages, mostly from out of state, accusing the mayor of treason and obstruction of justice and calling for her immediate removal, spokesman Justin Berton said Monday.
Schaaf made the decision after consulting with local community leaders, who agreed she should go public so people could prepare, Berton said.
Father Stephan Kappler of St. Jarlath Catholic Church in Oakland, who was among those consulted, said his parishioners, who are largely Latino, expressed gratitude for the warning. He said "there was no sense of panic."
"If people had known we had sat on this information, I think that would be a loss of trust, so I thought it was important to let them know," Kappler said.
Immigration attorney Luis Angel Reyes Savalza, however, said groups that help immigrants in the San Francisco Bay Area had to scramble to reach out to immigrant communities and remind them of available help.
"When this sort of information about ICE enforcement actions is widely distributed in such a haphazard manner, it creates panic instead of informing them of the resources available to them and their rights," Reyes Savalza said.
He said that if Schaaf wants to protect "the immigrant community, she needs to do it in a responsible manner and tap into the networks of community organizers and attorneys that have been doing this work for more than a decade," he said.
Schaaf's message comes days after President Donald Trump said he was considering pulling ICE agents out of California in what was seen as an empty taunt and marked the latest threat to immigrants in recent months.
In the San Francisco Bay Area, reports have swirled that federal agents are planning to arrest as many as 1,500 people in the country illegally, and officials recently delivered immigration inspection notices to 77 restaurants and other businesses in Northern California.
ICE spokesman James Schwab said enforcement operations happen every day in Northern California.
"While the vast majority of cities in America do cooperate with ICE, others force ICE to assign additional resources to conduct at-large arrests in the community, putting officers, the general public and the aliens at greater risk and increasing the incidence of collateral arrests," Schwab said in statement Monday.
Jessica Vaughan of the Center for Immigration Studies, a Washington organization that advocates for decreased immigration, said it's unusual for a public official to issue such a warning. She knows of one other case in Massachusetts, where a state legislator posted on social media about an upcoming ICE operation in her district.
"It's very inappropriate," Vaughan said. "I can't think of another scenario where an elected official or any kind of government official would leak information that may or may not be accurate about a federal law enforcement operation."