Slain Nev. deputy just arrived from Afghanistan
Nye sheriff's deputy on duty for two days killed during domestic violence call
Duty Death: Deputy Ian Deutch - [Nye County, Nevada]
---
Las Vegas Review-Journal
LAS VEGAS — In Afghanistan, soldier Ian Michael Deutch survived nine months of enemy combat as a fire support specialist with Nevada's 221st Cavalry Wildhorse Squadron.
On the second day after his return to the Nye County Sheriff's Office, the 27-year-old deputy was shot and killed in the line of duty. He was shot five times -- once in the knee, once in the pelvic area, and three times in the upper chest.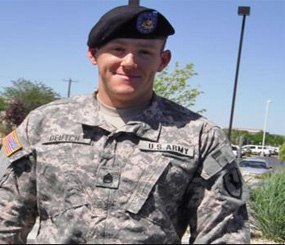 "It's horrible," said his mother, Suzy Deutch, speaking by phone from her Las Vegas home. "He was finally safe. In our country. And somebody here kills him."
Nye County Sheriff's Office identified the shooting suspect as 30-year-old James Chaffin.
Lt. Col. Scott Cunningham, Deutch's squadron leader, added his sentiments of disappointment.
"The greatest feeling I have is frustration, and a little bit of anger about the whole thing," Cunningham said. All 730 soldiers in Cunningham's squadron returned alive from their tour of duty.
"This was a great soldier, a great police officer and just an all-around fantastic guy. It's just a waste."
Deutch died after undergoing emergency surgery at University Medical Center on Monday night. He was shot three times by a man wielding an assault rifle Monday afternoon in the parking lot of Terrible's Lakeside Casino & RV Park in Pahrump. The sprawling town 60 miles west of Las Vegas is home to about 38,000 people, which is roughly 82 percent of Nye County's total population.
Suzy Deutch, 57, said hospital staff called the family into the hallway outside his room at 9 p.m. to explain the extent of his injuries.
It would take a miracle for her son to recover, doctors told Deutch.
"We stood in the hallway, watching the doctors jumping on his chest, trying to get him to come back," she said, crying as she recalled the event. "And he couldn't come back. He couldn't come back. They tried so hard."
The gunman, whose name and age were not released Tuesday morning, was shot and killed by another deputy, whose name has not yet been released.
More than 100 friends, family and fellow soldiers were stationed outside of UMC Monday night awaiting updates on the fallen deputy's condition.
One of those was his brother, Nye County Sheriff's Deputy Richard Jason Deutch, who served alongside his sibling in Pahrump and Afghanistan -- one of nine sets of brothers who served together in Nevada's squadron.
Suzy Deutch said Richard wasn't involved in the casino shootout Monday because he hadn't yet returned to work.
"His brother is devastated," she said. "They'd been together as deputies and as soldiers."
Cunningham described Ian Deutch as a soldier who never shied away from risk.
"He put himself right up front. His whole personality was, 'If somebody has to do it, It'll be me, I'll do it,' " he said. "For a guy like that to end up getting killed is tragic."
Deutch found himself on the front lines of risk again on Monday, when he and fellow deputies responded to a woman who called 911 to report being shot at.
The woman told police that about 3:45 p.m., she tried to retrieve belongings from a home on Cajon Lane, a block away from Terrible's Casino.
The suspect, who was at the home, immediately fired a weapon at her, she told police.
Sheriff Tony DeMeo said she fled and called 911. While on the phone, she told dispatchers she was going to the casino to be safe.
The suspect followed her, DeMeo said, and the two entered the casino. The gunman walked outside carrying an SKS rifle just as two deputies were pulling up in a department pickup, DeMeo said.
"The deputies were actually exiting the vehicle, and that's when he opened up on the deputies," he said.
Deutch was hit three times. The protective vest he was wearing did not stop the rounds, DeMeo said. The other deputy was not injured.
A third deputy who pulled up behind the first two witnessed the shooting and fired four rounds at the gunman, who was struck and pronounced dead at the scene.
The woman who called police was not injured.
Suzy Deutch said her son left behind a wife, Vicky, a 5-year-old daughter, Savonya, and an 18-year-old stepson, Jon.
Ian and Vicky had wed in March of 2009, shortly before his deployment to Afghanistan, she said.
"He wanted everything to be set, so that if something happened to him, she was OK," she said.
He was a 2001 graduate of Chaparral High School who signed up for the National Guard when he was 17, between his junior and senior years, Deutch said.
He loved his family, he loved law enforcement, and he loved his police dog, Chico, she said.
She said she wished she'd been able to spend more time with her son, especially after his safe return from Afghanistan.
"We only had him home for 27 days," she said. "And then he was gone."
The gunbattle was the second for Nye County sheriff's deputies at the casino since 2008, when a deputy was ambushed by an Iraq war veteran in the casino's RV park.
Deputy Eric Murphy was shot twice by Joseph Patrick Lamoureux and recovered. Lamoureux's lawyers intend to argue that the 47-year-old Army Reserve sergeant's shooting spree was triggered by post-traumatic stress disorder.
Deutch also was one of the first deputies to respond to the 2008 incident, according to police reports. Lamoureux fired multiple rounds at Deutch, but the deputy was unharmed.
Deutch was the first Nye County law enforcement officer to die in the line of duty since 1992, when Deputy Gary Raymond Downs, 47, suffered a fatal heart attack during a struggle with a suspect in Tonopah.
The last time a Nye County deputy was shot to death on duty was in 1952, when William Maroon was killed by a prisoner who stole his gun during an escape attempt.
Eight Nye County officers have died on the job since 1867, according to several websites dedicated to fallen law enforcement personnel.
Cunningham said injury or death is part of the job description for soldiers and police officers.
"He was just out doing his job, and he was shot by this guy who was just out having a bad day," he said. "I hate to say it's just one of those things that happens, but sometimes it does."
Copyright 2010 Las Vegas Review-Journal