ILEETA 2014: Honor the fallen by training the living
As the ILEETA 2014 conference got underway, I connected with Travis Yates to hear his reflection being associated with Police1 for a decade, and learn about his new training company, SAFETAC
---
Today begins the ILEETA 2014 Conference in Lombard, Ill.  ILEETA — the International Law Enforcement Educators and Trainers Association — is an amazing organization comprised of the best police trainers in the world, and this annual event draws all those amazing people into one place.
One of the countless people I look forward to seeing every year at ILEETA is my friend and Police1 colleague Travis Yates, who writes our police driving column. Regular readers of this space know that I've written about some of Travis' efforts to help victims of natural disasters, and help outfit police officers with body armor. These "side projects" are in addition to his work as a full-time officer and trainer.
This year is a fairly special one for Travis — he is entering his tenth year as a Police1 columnist, and he's founded a training company focused on increasing officer safety behind the wheel — so as the ILEETA 2014 conference got underway, he reflected on his 10-year milestone, and talked of his new training company.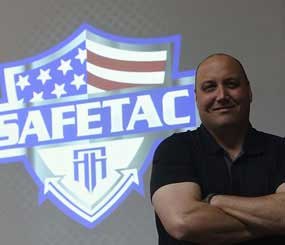 10 Years with Police1
In 2001, Yates was tasked to revamp his agency's driver training curriculum, and was given a good amount of latitude in doing so. Finding very little information on the topic, Yates spoke to a lot of smart folks that helped him out.
"Our agency was able to make a lot of positive changes. Almost immediately, we saw our collision rate decrease and as news about this spread, I started to get a lot of inquiries about what we had done. Back then, I would just field phone calls, place everything I had on a DVD and ship it out to them."
He had the idea to put up a website — PoliceDriving.com was to simply make that process easier and more economical.
"I figured if I could put all of the information on a website, I can refer anyone that asked to the site and it would make things easier.
He laughs a little at himself now. "The website actually backfired on me. Instead of saving me time, more and more folks found the site and started to contact me. I enjoyed doing what I could to help them and this is where the articles began. I would post recent EVOC related news on the site and I would post Officer Down notices and I decided to put up a few articles."
This is how Yates came onto the radar at Police1 — a few of those early articles ended up on our site, and in 2004, Travis began to write his monthly column.
"Ten years ago, no one had monthly space dedicated to police driving. Police1 saw that need and I know for a fact that if it wasn't for that decision, I would not have had the opportunities I have been blessed to have. I would have always been involved in training but Police1 gave me a national audience."
One of the reasons Travis has been so successful — as a columnist and as a police trainer — is that he's unafraid to speak unpopular and uncomfortable truths. As he puts it: he's sometimes been harsh.
"I called out law enforcement leaders and told them they had to train and there is no doubt I alienated some but it had to be said. We were losing officers so needlessly. I've seen such a tremendous change of attitude in the ten years since Police1 started to run those articles. I have no doubt in my mind that Police1 is responsible for saving lives through this information and it was information that for many years no one was discussing," Yates said.
A Pair of Pivotal Events
Travis explained that two separate — and unrelated — events helped him more-fully understand significant and far-reaching his efforts have been. The first was an email from a grieving father in Fla.  and the second was a visit to the library at the FBI National Academy in Va.
"Jim Phillips' daughter, Sarah, was tragically killed in a pursuit. She was an innocent third party and Jim had taken that pain and turned it into something positive by trying to increase training and improve policies. He had taken a lot of heat from some in the profession and when we spoke, I knew this was important. It wasn't just the lives of officers we could save but it was civilians. I had the honor to write about Jim and it was such an honor to know him. He passed away several years ago, but I'll never forget him and his daughter."
In 2006, while attending the FBI National Academy (227), Travis went to the library to pull up information on EVOC issues. He discovered they had his articles from Police1 and his own Policedriving.com website as their references.
"That was an odd day," Travis said.
One of the most recognized driving trainers in the world — and author of "Professional Driving Techniques" — Tony Scotti calls the training by Travis Yates "state-of-the art" and Utah DPS EVOC Sgt. Doug Larsen calls his work "unprecedented" but Travis is more than a little reluctant to accept the label of "expert."
"This 'expert' label has always left me feeling uneasy. I know a lot of experts and I'm far from it. I'm just someone that saw a need and pursued it. I just happen to have an outlet to express what I think and I'm humbled to do that but I also understand I have a responsibility,"
Starting SAFETAC Training
Yates has almost 20 years of training experience and he's been teaching across the country at conferences and agencies for several years but he didn't even think about starting his training company — dubbed SAFETAC — until recently.
"There are many excellent companies out there and the whole idea of a business for training was always kind of foreign to me but after a couple of decades in law enforcement, I came to the conclusion that I wanted to make a generational impact on the profession. I want to do whatever I can to get the message to the masses and not just my message but important messages from others that haven't had the opportunities I have had," Yates said.
Yates said he's developed one-day courses on driving, violent encounters, and wellness and has recently added courses on leadership and tactical medicine. Yates told me that all of his trainers are still on the job, bringing "a very timely perspective to what we are trying to do."
Interestingly, he has stayed away from multiple-day seminars — although he remains open to doing them in the future — because he knows how tough it is to get away from work for multiple days. He also is aiming to keep the cost of his seminars down.
"I'm confident that we have made it possible for the majority of agencies to have our training. We will work with anyone and are committed to always putting the message in front of the finances. No one involved with SAFETAC needs it for the money. We are all still on the job so I'm hopeful this along with the quality of training will make us stand out from others. My training philosophy has always been to honor the fallen by training the living so we have placed a HTH at the bottom of our logo which stands for "honor the heroes." We want to honor in all that we do and all of our trainers have agreed to donate a portion of their proceeds to charities that support these heroes."