Cop shot 15 times at Sikh Temple says, 'Never give up'
Meeting Lt. Brian Murphy was a major highlight during my time at ILEETA 2013
---
It's rare that a speaker at a conference gets a standing ovation before he's even said a word — then again, not every speaker is named Lieutenant Brian Murphy. 
Last August, Murphy was shot 15 times when he was the first officer responding to the shooting rampage at the Sikh Temple in Oak Creek, Wisconsin.
At ILEETA (International Law Enforcement Educators and Trainers Association) last week, Murphy gave a debriefing of the incident in what turned out to be a major highlight (among many great memories) from the weeklong conference.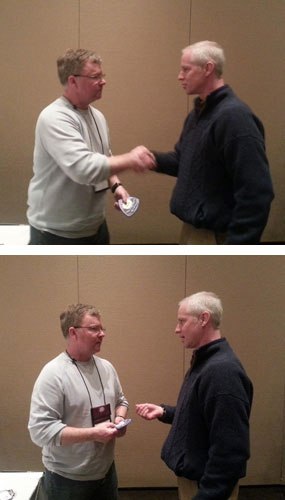 Starting Out... A 'Standing O'
In a room overflowing with some of the very best law enforcement trainers in the world, Lieutenant Murphy required no introduction. But such things are protocol, so Matt Davis of Armor Express — manufacturer of the vest that probably saved Murphy's life and sponsor of the presentation — was asked to do the honors.
Before the sound of Murphy's name had even reached the back of the room, everyone was on their feet in applause and appreciation of the man who took on the white supremacist who brought murder and mayhem to a peaceful place of worship.
In a raspy, whispery voice, Murphy held the audience rapt in attention as he recounted the events of that "beautiful Sunday morning" in Oak Creek. 
Augmenting his own comments with 911 call center and dispatcher audio, we listened to Murphy's retelling of the rapidly unfolding event. Using dash-cam video as well as aerial imagery and graphical diagrams, Murphy illustrated how the incident developed. 
He described his approach to the temple, and the moment he knew he'd be first on the scene.
He spoke about exiting his patrol vehicle, seeing two bodies — one lying atop another — and calling for the ambulance before seeing the suspect exit the temple. 
He told of shouting commands to the suspect, moving toward him with his duty weapon drawn and ready, and how the first bullet to strike him "felt like a solid punch."
He explained how for weeks after the shooting, he was "pissed" because he "got outflanked" by the gunman. Murphy later learned that the gunman was trained in enough military tactics to have the idea to circle around his opponent's flank while still firing over Murphy's position of cover. 
He talked about the moment in the gun battle when he found himself asking the question, "When is this guy going to stop shooting? ...Enough is enough!"
The debriefing was serious, but not without some moments of levity one might expect from an Irish cop named Murphy.
Describing his thought process when a bullet took off the tip of his thumb, he said, "This sounds funny, but I thought, 'That's gonna leave a mark'."
Describing what was going through his head as he tried to crawl away on his elbows, he said, "My wife and I had tickets to go on vacation in Florida, and I was thinking, 'We're not going to Florida anytime soon, and she's gonna be pissed."
And his reaction to news from the doctors that a bullet had struck his skull, turned around in a full 180, and come to rest in his shoulder: "So, you know, I've got that going for me."
Training and Support
Turning serious again, Murphy talked about the importance of training. He described how even when things were at their worst, he remained calm. He kept doing his autogenic breathing. He literally willed himself to remain alive. 
He went on to describe how supportive the Sikh community has been toward him — the day after the shooting, he said, there were more than 3,000 emails from Sikhs around the globe, thanking him for his actions that day.
"That tells you something about the Sikhs," Murphy said, adding that he found it of particular interest to learn that "to protect and serve" is actually one of the tenets of the Sikh faith. 
Lt. Brian Murphy was shot 15 times and not only lived to tell about it, he fought back to active duty. He ended his presentation with a picture of him getting into uniform. Beside the photo were the words: "Never Give Up."
When the cheering and clapping ended, a line quickly formed — we all wanted to say hello and get our picture taken with him. 
Speaking with Lt. Brian Murphy is something I will never forget. 
Thank you, sir, for the tremendous example you provide.