The Up-Beat: Cops adopt abused animals, become superheroes, wear pink badges
---
By Police1 Staff
Lending a helping hand is part of the job for officers of the law — but their daily good deeds rarely make headlines. With our new series, we aim to bring some much-deserved attention to the little things our officers do for our communities every day. Check out this week's round-up of inspiring stories from around the country and send us your stories of cops being everyday heroes.
1. SD officer rescues, adopts abused animal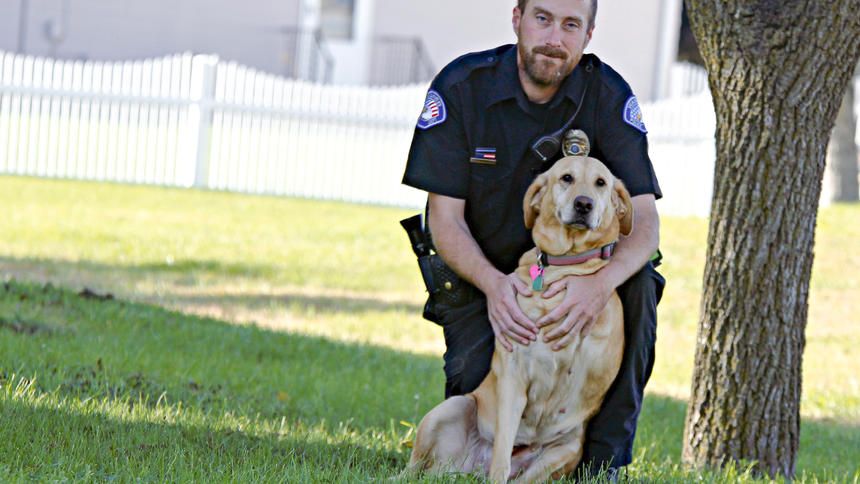 (Facebook Image)
WAGNER, S.D. — When Officer Brian McGuire was dispatched to a discouraging situation of uncared for animals, he didn't know one of the dogs he rescued that day would end up putting a smile on his face every day, The Daily Republic reported.
A 4-year-old yellow lab named Hope was close to death when McGuire found her. Hope remained calm while McGuire, along with other officers, used saws and wire cutters to set her free from a cable she was tangled in. She was unable to stand on her own due to dehydration, starvation and damage to one of her legs from the cable used to tie her up. McGuire wasn't sure the dog was going to live, but he knew he would adopt her if she did.
Hope spent more than a month at the clinic recovering — undergoing a leg amputation and learning to eat normally again. McGuire visited her every day to bring her treats.
"I think I got a pretty good dog out of the deal, I will say that," McGuire said. "It's just a reminder every time I see her that we went the extra mile to try and help her. It's rewarding to me to know that we saved her and that's a pretty nice reward to have.
2. Md. officer helps save baby's life
EMMITSBURG, Md. — Officer James Herman was on his way home when he pulled over a vehicle on the shoulder, WBLA reported.
The traffic stop was interrupted when a couple behind the officer's cruiser ran to him and said their child was unresponsive.
Firefighter Brody Channel was traveling home when he saw the 11-year-veteran officer pulled on the side of an interstate trying to save the life of the unresponsive 9-month-old girl. He stopped and assisted Herman in the rescue effort.
While the two performed CPR and waited for EMS crews to arrive, the child regained consciousness and began to cry.
"I am very proud that Officer Herman was in the right place at the right time to save this infant's life," said Bethesda District Commander Capt. David Falcinelli. "He followed his training and his efforts resulted in a positive outcome. He is an excellent representative of the dedication and professionalism that Montgomery County Police officers possess."
The child is expected to make a full recovery.
3. Officers help Okla. sergeant save man from suicide attempt
OKLAHOMA CITY, Okla. — A quick thinking sergeant saved a man from jumping off an interstate overpass when two cops passing by stopped to help him out, NewsOk reported.
Sgt. Jacob Cole responded to an Oct. 3 call of a man on a bridge.
"The first thing out of his mouth was, 'I'm going to jump off this bridge,'" Cole said to NewsOK.
As Cole approached, the man threw his leg over the edge, turned to Cole and said, "Do you think he'll forgive me?" Cole realized the man was praying and trying to slide away from the officer. Cole inched closer each time the man looked away.
Then the man swung his other leg over the rail and pushed. Cole grabbed onto him.
"I got a hold of his shirt and I was holding on," Cole told the publication. "I looked over, looking for somebody to come help me because I wasn't going to be able to get him up by myself."
Other officers approached and helped Cole bring the man back over the ledge. Officers Forrest Perry and Kyle Canaan were travelling on the interstate, saw the sergeant and stopped to help.
The 32-year-old man was sent to a hospital for an evaluation.
"It's always nice when you get to help somebody in that way, but if it wouldn't have been me, it would have been someone else. Any one of us out here would have helped him," Cole said in his interview.
4. Texas cop spends free time dressing up as superheroes, visiting kids with cancer
FORT WORTH, Texas — Officer Damon Cole is not an ordinary crime fighter. 
Cole has spent his last three years off-duty dressing as a superhero and travelling to homes and hospitals around the nation to visit children battling cancer, NBC 5 reported.
"If I can come in that life for that day, hours, however long I'm in their life and make them forget about having to do the chemo and how it wears them out, it's a big deal," Cole said to the news site.
Cole also converted his personal vehicle to resemble Superman's ride. It is a big hit for the children to see their favorite character jump out of the car, he told the publication.
He spends his vacation and personal time to travel and talk to the children. 
"It touches your heart knowing you have that kind of impact on a child," he told NBC 5.
5. Fla. department dons pink badges for breast cancer awareness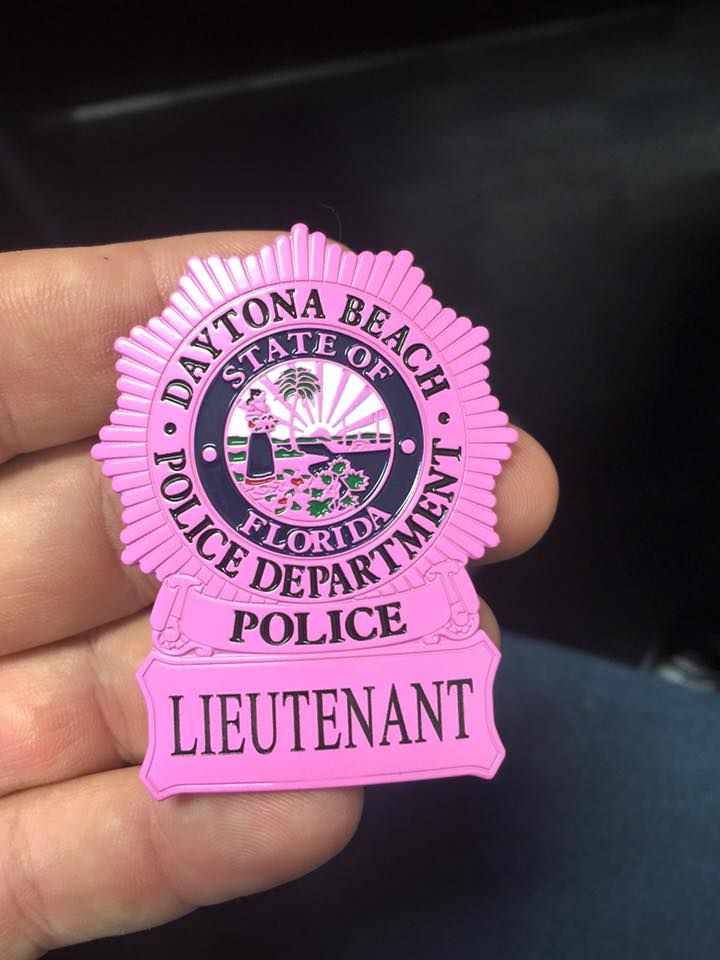 (Daytona Beach Police Deparment Image)
DAYTONA BEACH, Fla. — The Daytona Beach Police Department has teamed up with local businesses to raise awareness for breast cancer during the month of October.
"It's a personal mission of mine because we could be saving lives," Lt. James Brodick told Police1.
About 90 percent of the officers purchased the badges with their own money, Brodick said. They were at no cost to the taxpayer and part of the proceeds were donated to a local breast cancer fund.
The department hopes the badges will start conversations in the community and bridge a gap — especially in the lower-income communities, where access to healthcare and information can be scarce. The badges help support no cost mammograms to low-income women.
"It's critical to have that because we are formal and informal leaders," Brodick said. "When they see the badge, they say, 'I really appreciate you wearing that.'"
Brodick said all feedback from the public has been overwhelmingly supportive. He encourages other agencies to get involved and hopes one day the pink badges can be implemented industry-wide.