Why we are warriors, guardians and ambassadors
The ambassador philosophy gives credence to the work we have already been doing and should rightfully take credit for
---
By Gerald Modory
There is an ongoing debate in policing about whether cops are warriors or guardians or both.
The warrior philosophy focuses on the necessity for police officers to physically and mentally survive "the streets."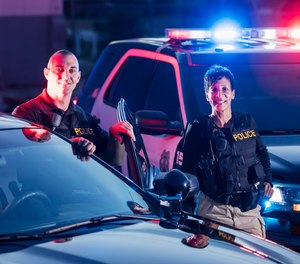 As human beings, we have the fight-or-flight response built into our sympathetic nervous system. However, many situations officers encounter do not allow for the luxury of flight. We can't run away from the danger. In fact, we actually have to run toward the danger. So the fight response is needed and even required to do the job physically, emotionally and psychologically. This warrior mindset can also play a part in helping an officer survive the heightened public exposure and personal stress involved in a use of force incident, especially in the present political climate.
The guardian philosophy focuses on the police primarily protecting the public and property. This takes the form of services that the police provide. These services depend greatly on the community needs and the resources of the department. Regardless of the size of the department, a great deal of police resources is expended in providing these services. The concept of community-oriented policing fits right in with this philosophy.
MOVING FROM A WARRIOR CULTURE TO A GUARDIAN CULTURE
There is also debate about how the profession should move from a warrior culture to a guardian culture. But should we give up one philosophy in favor of the other when both contribute to effective policing? A recent article in Police1 by Captain John Harrelson of the Horry County Police Department in South Carolina moves us a step closer to what we do and who we really are.
Captain Harrelson's article – Neither warrior nor guardian: Why we need a hybrid officer – suggests that rather than choosing to be a warrior or a guardian, we need to be both. We are ethical warriors when being a warrior is necessary. We are faithful, trustworthy and vigilant guardians in our daily patrols, duties and calls for service. But we are even more than this.
What do we do and who are we practically all the time?
The answer is that we are ambassadors. The ambassador philosophy gives credence to the work that we have already been doing and should rightfully take credit for doing. But before others see us differently, we need to see ourselves differently.    
THE AMBASSADOR PHILOSOPHY: A NEW THOUGHT
What is an ambassador? An ambassador is an official envoy who represents a government and is appointed for a special assignment. An ambassador represents the country in place of the president or leader. A good ambassador knows the language, people, culture and customs, and knows the values of the host nation.
Ambassadors also have an altruistic desire to help people from their own country. The term may also be used more liberally for persons who are known to represent certain professions, activities and fields of endeavor. Every day from the time roll call ends until you finish your tour of duty, you represent something important by wearing the police uniform. You represent the city, county, or state for which you work. You represent the department for which you work. And most importantly, you represent yourself and the police profession you have chosen.
What you do every day and how you interact with people every day reflects on all of this. You are ambassadors even when off duty or in civilian clothes. Everyone on your block or street knows you're a police officer. Put another way, you are an ambassador "all the time."
Ambassadors promote international and cultural relationships. Officers do the same by developing relationships with school personnel, business owners, social services and officers in adjoining departments.
Ambassadors assist travelers from their home country. Officers perform motorist assists, help with lockouts or get tows for disabled vehicles. We give proper directions when people are lost or misdirected. Ambassadors explain foreign policy and evacuate people from dangerous situations. Officers explain the law or their current departmental policy in mitigating a problem.
We are ambassadors of the laws we enforce and are the law personified. We also respond to people who are a danger to themselves or others. We call the Red Cross or Salvation Army to assist in providing individuals with food and shelter when their homes are destroyed by fire. We come to their aid when they are ill or injured, and we get them help during a family-related crisis.
Ambassadors carry out their duties with a diplomatic demeanor, with the goal of maintaining a positive relationship with the host country and home nation. In policing, this is referred to as having a "professional bearing." We talk respectfully, we act respectfully, and we try to maintain a positive relationship with the public.
One of the most important responsibilities of an ambassador is to notify their home country of economic and political developments in the host nation by writing detailed reports. Police officers notify their departments of what's going on by writing detailed reports of crimes, arrests, traffic crashes and other important events that occur. Some of their reports assist police management in dealing with a particular problem or issue.
Ambassadors try to smooth out the relationship between countries. They attend, for example, meetings relating to immigration or foreign aid. Police officers may also attend community meetings on an ad hoc or regular basis. These meetings are intended and designed to provide the community an opportunity to voice concerns or ideas and to attempt to smooth out any issues.
Though ambassadors are well-protected, they may encounter dangerous situations during the course of their stay. The same can be said of police officers.
IN THIS CASE, DON'T GO BY THE BOOK
To understand the importance of being an ambassador, I want to reflect on the antithesis of an ambassador. "The Ugly American" by William J. Lederer and Eugene Burdick was published in 1958. This novel was a satire and fictionalized the very real failures of American foreign policy in Southeast Asia during the Cold War. (It was later made into a movie starring Marlon Brando in 1963.) The book's premise was that communism in Southeast Asia could only be defeated by small-scale actions in the field, not by bungling bureaucrats.
In the novel, the initial American ambassador, Lou Sears, who ultimately leaves his post, is a political appointee who does not know or even care to know the language or culture of the fictional country of Sarkhan. He makes political and diplomatic blunders. Whereas the Soviet ambassador, Louis Krupitzyn, is fluent in the native language and knows the customs, traditions and religion of the Sarkhanese people.
As an ambassador, Krupitzyn has visited and made friends with local religious and government leaders. He is the opposite of Sears, and his efforts are effective, where Sears' are inept. Krupitzyn is something of an antihero by representing communism positively as a way of life. When considering a fictional character as a possible ambassador role model, it's better to be a Louis Krupitzyn than a Lou Sears.
A triune profession
Regardless of this debate, we know one thing for sure that we can agree on. Ours is a noble profession. Some say a "calling." I believe the law enforcement profession is truly triune: ambassador, guardian and warrior. All noble, all necessary, all equal in importance, and each one having its place. For officers not to include the ambassador philosophy in their professional persona is to leave out an integral and important part of who we are and who we are evolving into.
NEXT: Warriors vs. Guardians: A seismic shift in policing or just semantics?
---
About the author
Gerald Modory is a 28-year veteran of the Oak Park Police Department in Illinois. He holds a bachelor's degree in Administration of Criminal Justice from the University of Illinois at Chicago. He held various assignments while in Oak Park and retired as a field sergeant. He currently works as a police officer for Oakton Community College in Des Plaines, IL. He held the positions of field training officer and training coordinator along with other assignments over the years at Oakton Community College Police Department.