SHOT Show 2011: Revision introduces Sawfly ballistic eyewear in size small
---
For a man who stands six feet tall, I have an unusually undersized cranium. Ordinarily this presents no difficulty at all — although more than a few of my friends and colleagues point at my small, snow-capped skull and snicker — but I do have a difficult time finding eyewear that meets or exceeds ANSI Z87.1-2010 military ballistic impact requirements and also fits me properly.
So, I was pretty excited to learn that at SHOT SHow 2011 this week in Las Vegas, Revision Eyewear plans to showcase its Sawfly Military Eyewear System in a model that is 10mm narrower, temple to temple, than the "regular" Sawfly size.
John Fowler, Revision's Vice President of Products, said in a press release late last week that the Essex Junction (Vt.) company "strives to meet the needs of its customers" and that "personal protective eyewear needs to properly fit a wide range of head sizes in order to provide a comfortable, ergonomically correct solution."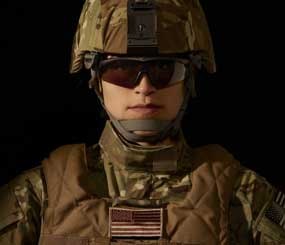 This new eyewear for law enforcers, military personnel, and qualified civilian firearms owners/users (like yours truly) features a tighter base curve lens that follows the contours of smaller proportions, providing greater lateral protection and improved retention.
Like its size regular and size large counterparts, the new small size Sawfly features things like "comms-compatible ear paddles, a new retention system, and "flawless optics for distortion-free vision."
You can learn more about Revision products on the company's website.

Request product info from top Police Eyewear companies
Thank You!