Hatch Gloves in Line With CE Certification
---
CE EN 388 Certification—Personal Protection in the Line of Duty
use if there is a picture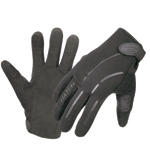 end picture
Safety for Everyday Tactical Situations
Cut-resistant gloves provide law enforcement, military and security personnel with the confidence to safely perform in routine and tactical situations, and help ensure the wearer's personal protection from a variety of common safety threats, including cuts from blades and needle punctures that can occur during frisks and searches.
However, not all cut-resistant gloves are created equal, as there are no mandatory certifications for cut-resistant glove manufacturers and their performance levels. The voluntary CE EN 388 certification tests, created by the European Committee for Standardization (CEN), are the world's most comprehensive measures of performance in a variety of applications, including resistance to cuts, punctures, tears and abrasion. Additionally, the National Institute of Justice (NIJ) conducts testing for standards of dexterity, cut resistance and tear resistance of gloves.  Also voluntary, NIJ testing provides a domestic set of regulations based on a comparative market analysis for quality and safety control.
Hatch Corp. voluntarily subjects its complete line of cut-resistant gloves to the rigorous CE EN 388 certification and NIJ testing, ensuring that its cut-resistant gloves are among the safest and highest quality gloves in the world. Hatch's Friskmaster™, Armor Tip™, Resister™ and Street Guard™ lines of cut-resistant gloves are all packaged with a CE certification logo and EN 388 performance level rating, clearly indicating the rigors for which each specific glove is best suited.
Officers concerned with trustworthy and consistent product performance should ensure the cut-resistant glove they choose has the CE certification logo and EN 388 performance level rating clearly marked on its label.  These markings provide an officer with the confidence that a product is in compliance with the stringent requirements developed by the CEN and the NIJ, and is thereby proven by a third party to have performed safely and effectively, so as to not fail in the field.
The CE EN 388 Certification Rating System
The CE certification logo is a clear indicator that a product meets external quality testing standards, while the EN 388 performance rating defines the cut, puncture, tear and abrasion resistance levels of each product.
Four simple numbers printed on each product label rate the product's EN 388 performance level in four separate tests, and is certified using a common rating scale – Level 1 offering the least protection to Level 5 providing the most protection – to evaluate the following areas:
Abrasion resistance
Cut resistance
Tear resistance
Puncture resistance
Every glove CE EN 388 certified is also tested and found to be free of hazardous pH and Chromium VI levels that can potentially harm the glove wearer.  Additionally, the updated CE EN 388 test requirements include the EN 420 dexterity test, measuring the tactility and dexterity of each glove. 
CE EN 388 Testing Procedure
EN 388 rigorously tests the response of protective gloves to the physical and mechanical requirements of tactical use:
Abrasion resistance: tests the resistance to abrasion on a material by measuring the number if cycles required for holes to wear through circular pieces of material under known pressure with a cyclic planar motion.
Cut resistance: piece of the glove palm is attached to a test bench and a circular rotating blade is used to test the resistance to cut, measuring the distance the blade travels across the test material until it cuts through.
Tear resistance: one side of a fabric sample is clamped on a stationary base, the other side is affixed to a movable pendulum with an attached scale to measure the amount of force needed to cause the fabric to tear.
Puncture resistance: tests material from the palm of a glove, using a nail-like puncture probe to measure the amount of force needed to push the probe through the fabric.
Dexterity: measures the smallest diameter of a pin that can be picked up three times in 30 seconds.
About CEN
CEN, the European Committee for Standardization, was founded in 1961 by the national standards bodies in the European Economic Community and EFTA countries.  Now CEN is contributing to the objectives of the European Union and European Economic Area with voluntary technical standards which promote free trade, the safety of workers and consumers, interoperability of networks, environmental protection, exploitation of research and development programs, and public procurement.  CEN is a non-profit making technical organization set up under Belgian law.  For more information about CEN, please visit www.cen.eu. 
About Hatch Corporation
A leading supplier of premium gloves and other protective gear serving the law enforcement, military medical and commercial markets since 1968, Hatch develops task-specific products by combining field test data and consumer feedback with years of design and fabrication experience.  Every Hatch glove is tested five times before it leaves the production floor, and is subjected to rigorous quality and safety assurance tests similar to those conducted by the National Institute of Justice and the European Committee for Standardization.
About BAE Systems
BAE Systems is the premier global defense and aerospace company delivering a full range of products and services for air, land and naval forces, as well as advanced electronics, information technology solutions and customer support services. With 97,500 employees worldwide, BAE Systems' sales exceeded $31.4 billion in 2007.