Ill. police get new patrol bikes
The bicycles can be used to enhance 'saturation patrols in problem areas of the city'
---
Chicago Daily Herald
CHICAGO — Des Plaines police officers assigned to bike patrol have new equipment to supplement the two 12-year-old bikes in the department's inventory. City officials showed off four new iForce bicycles Friday morning outside the police station.
The iForce bikes, manufactured in Butler, Pa., include emergency lights and sirens and customized graphics with the Des Plaines Police Department's identifiable shield visible.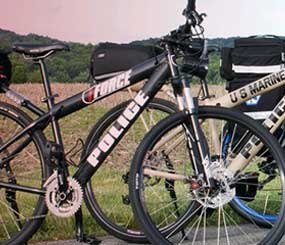 A recent police department memo explained the need for the additional bikes, which cost $1,850 each: "In order to effectively use a proactive approach to criminal activity, it is important to have as many resources available as possible."
The bicycles can be used to enhance "saturation patrols in problem areas of the city." And officers will use the bikes to work special events that are hosted by the police department, the mayor's office and the park district.
"During these events, the police department seeks to look professional in appearance and equipment - replacing our old equipment would facilitate this goal," the memo said.
Several officers already are trained in the use of bicycles, but the department to put more officers through a four-day training course, allowing the department to deploy bicycles any time of the day, seven days a week, the memo said.
"Bicycles enhance our officers' ability to more aggressively patrol targeted areas where it is difficult for a police squad to patrol. The targeted patrol areas will benefit from an enhanced police presence," Mayor Marty Moylan, a strong proponent of bicycle riding, said in a news release.
Copyright A© 2012 LexisNexis, a division of Reed Elsevier Inc. All rights reserved. Terms and Conditions Privacy Policy
Copyright 2012 Paddock Publications, Inc.
Request product info from top Police Bicycles companies
Thank You!