Iraqi women take aim at expanded police roles
---
By Anna Johnson
The Associated Press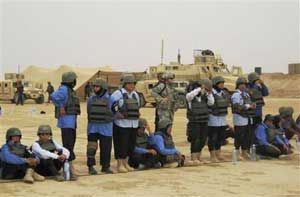 Iraqi female police recruits line up as they wait for target practice at an Iraqi police academy in Udaim, Iraq, north of Baghdad.
(AP Photo/Anna Johnson)
UDAIM, Iraq — The widow was nervous at first but smiled after she fired 160 rounds from a Kalashnikov at a black-and-white target.
She was wearing something rarely seen on an Iraqi woman - a police uniform of blue shirts and black pants.
"I felt like the practice was real - like I was part of the war - and I was protecting my country from terrorists," Wafaa Najah Abdalla said after her first target practice with live ammunition.
The 30-year-old recruit and 20 other women training at a dusty Iraq police academy north of Baghdad are a critical part of the U.S. and Iraqi response to the latest deadly tactic of al-Qaida in Iraq: female suicide bombers.
But the academy - the only one of its kind in Iraq - is taking that response one step further. For one month, the women stay and train at the academy in the volatile Diyala province with 680 male colleagues.
Unlike many other security programs for women, where they come only during the day and where classes are confined mostly to search methods, this academy offers women the same lessons as men - including weapons training.
Women have been serving as auxiliary members of Iraqi security forces in markets and during pilgrimages, but these recruits will be full-time policewomen once they graduate next week. They also will receive an official police certification from the Ministry of Interior.
There is still some resistance to women police officers in Diyala, one of the most violent pockets in Iraq. Some men believe the job is too dangerous. Others object to women leaving their families for a month to live at the academy.
Diyala police Maj. Raied Khalaf dismissed the idea of women officers: a "nightingale" who will be "a soft and easy target for abduction and murder."
But as the frequency of female suicide bombers increases, the need to include women in the police forces is overruling the opposition. Iraqi men are reluctant to search women and risk breaking social taboos, and al-Qaida exploits this by having them conceal explosives in long, flowing robes.
The number of attacks by female bombers in Iraq has tripled from eight in 2007 to more than two dozen so far this year, according to U.S. military officials.
Diyala has been particularly vulnerable. Women have carried out 12 suicide attacks this year in the strategic and ethnically diverse province northeast of Baghdad that was a former al-Qaida in Iraq stronghold.
Iraqi and American officials hope the women training at the academy can start closing that gap.
"We have many Iraqi police chiefs who say they need female IPs (Iraqi police) not just for suicide bombers but for women smuggling items into critical security areas," said Capt. David Castillo, 27, of the 728th Military Police Battalion, who oversees the academy, which currently is run by the U.S. military and Iraqi police.
During their month at the academy, the women learn how to tame riots, take apart guns, set up checkpoints and search for weapons. When not in the field, they get courses in first aid and policing ethics.
The recruits - a mix of Shiites, Sunni Arabs and Kurds - are told to place sectarian perspectives and politics aside and put their country first. The women recruits say it will be up to their individual stations on whether they can carry weapons, but many hope they can.
Some are widows whose husbands were killed by militants. Others have disabled husbands and relatives who can't work after being wounded in violence since the 2003 U.S.-led invasion. All need steady paychecks to support their children.
Abdalla's husband was kidnapped in 2006 in Diyala. She never saw his body but was later told he was killed.
"I must support my daughter, because I don't have anyone to take care of us," Abdalla said. "But I want to also prove that we have the right, as women in the society, to work as policewomen."
Under Saddam Hussein, there were no women police on patrol. Baqouba First Lt. Haider Hussein said younger Iraqis often welcome policewomen, but notes a generational divide.
"The older generation opposes it because they consider the profession demanding and risky," he said.
The training has not been without its glitches. During their first time at the firing range, some of the women were scared of the gunfire or couldn't hold the rifle correctly. After three weeks, they still hadn't mastered marching in straight lines.
"They have had to toughen up a little bit. But they are very motivated and very excited to receive this training because they want to be good officers and secure their communities," said Castillo, of Albuquerque, N.M.
For most of the women, the training program is the first time they've been away from home, and the military and Iraqi police have tried to ease those concerns. Their two tents, complete with bunk beds and air conditioners, are separated from the men. They have their own bathrooms and female U.S. soldiers guard their area. Some train in boots and others wear sneakers.
About 25 more women are set to attend the academy's next session before the U.S. military turns the center over to Iraqi control in November.
Though they spend most of their day training, they also have fun at the academy - an escape from their difficulties back home. During breaks, they hold impromptu singing and dance parties in their large tents or outside under the shade.
But they are serious when it comes to their future jobs as policewomen.
"We have joined the police so that we can defend our country, Iraq. And we've joined because we see so many female suicide bombers sneaking through checkpoints without being searched. We come to help our colleagues, policemen," said Asraa Jumaa Yaseen, 28-year-old mother of five.

Request product info from top Female Police Officers companies
Thank You!