Why the Explorer 3005 pistol case is the perfect traveling companion
When traveling, a locking gun box is essential, especially when airlines put "there's a gun in here" bright tags on the outside of one's luggage
---
I'm not much of a traveler. I really don't like flying. However, I can tell you I am particular about a few things when I have to travel. Foremost, I don't travel without a gun in my checked baggage.
Testing gun cases is not the most interesting aspect of writing. In fact, no one gets excited about them until their custom over-and-under is damaged in transit. After that, the gun owner is religious about their protective cases.
To that end, I tested the Explorer # 3005 single pistol case, a hard-sided, single pistol case made of Explorer's nearly indestructible copolymer polypropylene compound.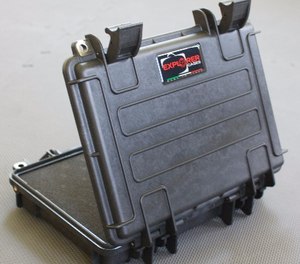 Despite the brisk treatment I gave it, it still looks new.
Short-term storage and transport of a firearm
When traveling, a locking gun box is essential, especially when airlines put "there's a gun in here" bright tags on the outside of one's luggage to alert every employee and passenger that this is the baggage that, when stolen, contains a bonus.
Explorer cases are made in Italy; the company is headquartered in Inglewood, California. The copolymer doesn't buckle in extreme temperatures and they have better strength-to-weight ratio than another brand I have used. This case is designed for short-term storage and transport of a firearm. It is completely waterproof and shockproof.
how i tested the case
The Explorer #3005 case uses corrosion-proof steel pivot pins for the hinges and latches. One of the things I did to test them is place straps on the edge of the product and try to close it using my body weight. This is a lot of force, considering the O ring seal system is recessed, and the lip of the bottom section is raised to engage the O ring.
The hinges and latches remained true, despite the abuse.
The case does lock, and the locking holes are steel reinforced. If you tried to punch the pins out, the design would prevent it.
Let's not be unrealistic, it's copolymer, not diamond-plate. It does have strategically placed reinforcement lines that protect the integrity of the case. The corners are reinforced and the walls are thick enough to be rigid. For this reason, you would have to use a good saw to defeat its security.
The contents are well protected. The interior is 11 13/16" x 8 1/4" x 2 5/16", perfect for a full-sized handgun and a couple of magazines. The interior is egg crate foam on the top and pick foam on the bottom. It has a manual pressure relief valve.
I dropped it with my gun in it. Not only was it well protected, the gun remained in place, even when dropped on the corners. Even jumping on it will not pop the one-piece, "claw like" latches open. The #3005 case will stack horizontally and vertically.
other considerations
I would pick a copolymer case over steel or aluminum because they are a bit quieter, and they don't dent.
Most of the metal ones I have seen aren't waterproof.  I like river rafting, and I wouldn't think twice about toting an extra gun in this case. For marine use, each side has material that stands it off of a flat surface enough so stuff doesn't accumulate under it. The material also makes it stackable. They are IP 67 and MIL-STD 810F-810G. It is easily tied down to other equipment.
The #3005 case weighs less than three pounds and is only a little buoyant.
Explorer cases are inter-stackable, which means that cases of different sizes and configurations can also be stacked. For photographers and 3-Gunners, this feature really makes a difference.
This case will take the Explorer Cases optional shoulder strap kit. It has a tamper-resistant name plate and a comfortable carry handle. Explorer cases have an incredible warranty.
What didn't I like about this case? The hinged lid opens just a little past 90 percent. I like my cases to open flat.
You may select any color you wish, as long as it's black. MSRP is $54.99.
P.S. Here's a tip: Never fly into NYC with a firearm. Pick somewhere else. You're welcome.

Request product info from top Police Firearms Storage companies
Thank You!