SHOT Show 2014: New from Springfield Armory, the 1911 Range Officer in 9mm
Irrational things happen in Las Vegas, but falling in love with the new Springfield Armory Range Officer 1911 in 9mm may very well be the most rational thing I've done in quite a while
---
SHOT Show 2014 is now fully underway. My friend — and Police1 colleague — Lindsey Bertomen and I roamed the length of the range at the Boulder City Rifle and Pistol Club for much of the day on Monday.
We saw dozens of excellent new guns and other products for police, both on and off duty. While I'll be writing about as many of those new products as possible, I have to choose one to start off my coverage.
Fortunately, this year the choice was relatively easy — the Springfield Armory Range Officer 1911 in 9mm may very well be my next pistol purchase.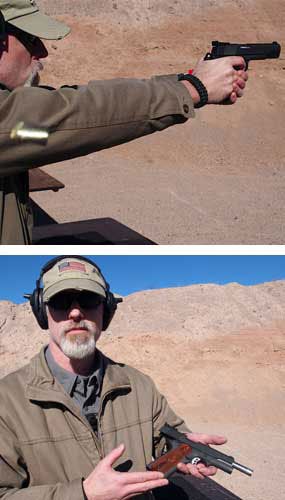 Spot On Target
The Springfield Armory Range Officer has all the quality of craftsmanship you would expect from a Springfield 1911 — that is to say, it's excellent, from the feel and the finish of the checker-pattern wooden grips, to the forged steel frame and slide, to the smooth reliability of the gun's mechanics.
The Range Officer weighs about 40 ounces (empty) and feels beautifully balanced in the hand. The trigger pull is like velvet at about five pounds.
The three most significant differences between the new RO 9mm and its .45 ACP brethren are as follows:
• Considerably less felt recoil than the .45 ACP 1911 Range Officer
• Consequently, higher accuracy for shooters who fight with a .45
• Comparatively lower cost of ammunition, allowing more practice
I can hear many die-hard 1911 purists moaning, "A 1911 chambered in 9mm? What's wrong with you?"
Well, plenty of things, but on this one I think I'm spot on target: The 9mm Range Officer is smooth, and it has ample pop.
In fact I know I'm on target with that statement, because the very first time I squeezed the trigger, I was dropping steel plates — missing none. It was as if I'd had the gun in my own safe for years.
All About Hits
To those who will argue — probably forever — that the 9mm "doesn't have the stopping power that larger rounds do," I concede, you're probably right.
There probably still is a difference, but with the rapidly improved — and still improving — kinetic energy of 9mm rounds today, that difference is practically negligible.
Besides, just as you can't miss fast enough, you can't miss big enough.
If you're a shooter who — for whatever reason — fights with a .45 but finds a perfect partner in the 9mm, then common sense says you should consider the 9mm (assuming your agency permits it, of course).
As I'd said to the folks manning the Springfield tent, it's all about hits. Hits are about practice and mindset. With this 1911, you can bring a couple hundred more rounds to the practice range, which will (hopefully) enable you to improve your skills, and subsequently, elevate your winning mindset.
All in, the Springfield Armory Range Officer 9mm — which I'm told will retail for about $1,000 — is a marvelous sidearm.
In fact, I may need to crack open the piggy bank and order one when I get home from Las Vegas.