PRESS RELEASE
ASP debuts new cuffs and batons at SHOT 2018
---
APPLETON, Wis. — Armament Systems and Procedures (ASP) is rolling out several new additions to its Handcuff and Expandable Baton lines at the SHOT Show in Las Vegas, January 23-26. Among the featured introductions are: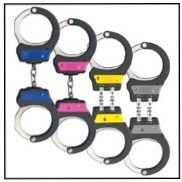 Identifier Ultra Cuffs and Training Ultra Cuffs
The company is adding color-coded handcuffs, along with quick-release training versions to its popular Ultra Cuff series. The Ultra Cuff's exclusive, forged construction provides increased strength, enhanced precision and faster application, yet at dramatically-reduced weight. MSRP $59.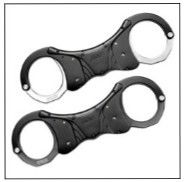 Rigid Ultra Cuffs
Also joining the Ultra Cuff collection is a new Rigid Cuff. This unibody style of restraint is favored by an increasing number of international law enforcement agencies, corrections bureaus, and others for whom maximum security and subject control is a priority. MSRP $95.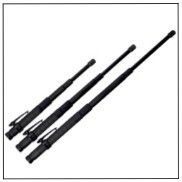 Steel Agent Batons
Concealable, lightweight batons are popular among undercover officers, detectives, plain clothes security and others who need a discreet but effective less-lethal weapon. ASP developed these new steel models at the request of a major national law enforcement agency that wanted a heavier, harder­-hitting baton while maintaining the compact, pocketable form factor. MSRP $125.50 to $135.50.
ASP Vice President of Marketing, Michael Hess, says that the company is introducing close to fifty new products in all at the SHOT Show. "We know that people come to SHOT to see what's new" says Hess, "and with expansion in all of our major product categories, we're excited that we have so much to show them."
All of the new products will be on display at ASP's booth, 11971, and all are either shipping now or expected to ship soon after the show. For more information, or to find a distributor or dealer, visit www.asp-usa.com.
About ASP: "Protecting Those Who Protect"
ASP is a leading manufacturer and supplier of Batons, Restraints, LED Lighting, OC and Training products to the law enforcement industry. The company has stood for Innovative designs, flawless function and an unmatched standard of service since Kevin Parsons, PhD, founded the company in 1976. ASP holds more than 150 product patents and provides almost $2 million in free training each year to law enforcement professionals. ASP is ISO 9001:2008 Certified, ANSI FL1 compliant, and is a founding member of the Portable Lights American Trade Organization (PLATO). All products are designed in the United States.