Product Review: Digital Ally Thermal Ally Mk II Camera
The Thermal Ally Mk II Camera is a handheld monocular, slightly larger than a full sized pair of binoculars, weighing slightly more than one pound
---
I recently tested the Thermal Ally Mk II Camera by Digital Ally, a digital thermal imaging device designed to turn thermal emission into visible images. With the Thermal Ally camera, officers can see in total darkness or in environments that would otherwise obscure the imaging devices. The model I tested had the focus free 10mm lens, which has a wider field of view than the 20mm lens model. It is a monocular viewer with a diopter adjustment that can even accommodate my bad vision.
The Thermal Ally Mk II Camera is a handheld monocular, slightly larger than a full sized pair of binoculars (7" x 2.5" x 3.75"), weighing slightly more than one pound. The Thermal Ally Mk II Camera has only a few simple controls, which are placed so the user can wield it one-handed. I found that I could easily swap modes or snap pictures, intuitively, without swapping my hand position. It can capture what the user sees in the viewfinder, simply by pressing the capture button on the top of the unit. It comes with a padded pouch and sturdy straps which affix at its balance point.
The Thermal Ally Mk II Camera cannot be weapon-mounted, which is a deliberate feature. I like weapon-mounted stuff, but it is inappropriate to point a firearm at non threats.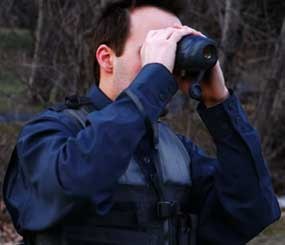 A thermal imaging camera is a device that measures levels of heat and translates these levels into an image. The technology uses a microbolometer detector, which is really more than you or I need to know about how it works. In night vision terms, microbolometer can render an image without the need to cool the device (early technology required that the unit used liquid nitrogen to stabilize temperature).When one turns it on, there is a rhythmic clicking sound where the image resets momentarily, but it is fairly quiet. This is called non-uniformity correction. It happens periodically to normalize the image. This freezes the image for a second or two.
Startup time is fewer than eight seconds and it seemed to take longer to shut down than startup.
I didn't use the video streaming function, but this feature could be used to capture video from the camera into the mobile data computer, which is a handy feature for a crime scene walk through.
The most prominent control is the mode button, which changes the color palettes in the viewfinder. There are standard palettes: White Hot, Black Hot, and Greenbow. The user picks the palette that gives the best image contrast. Black hot seems to work best for me during the daytime, rainbow worked best at night. Interestingly, the Rainbow and Ironbow palettes — which are unique to the Mark II model — add so much depth and clarity that images look like color photos with weird spectrums. The Rainbow palette gives the best vie when there are only subtle variations in viewing temperature. Considering the size and price, the Thermal Ally Mk II Camera has reasonable clarity.
The other two buttons on the top of the unit are the power button and the capture button, which trips the camera shutter. The images are captured in BMP at 360x 212 pixels, which means that 500 images can be captured on the provided card. It takes a few seconds to write the image to the card so one must time the image capture if one is doing a search.
A thermal imaging device is considered better when the image rendered outweighs the noise in the image. This, by the way, is what one pays for. The Thermal Ally Mk II Camera 10mm lens model is good for viewing closer images, and provides good focus depth within the 1-50 yard range. The other area that is critical is reliability. My tests in temperature extremes and damp environments suggest that this product has this down.
Generally, the image is monochromatic, meaning the rendered image is transmitted into a relative scale. On most products, it is either "black hot" or "white hot". Although some images from my Thermal Ally Ally Mk II looked like x ray images, they were simply heat energy that can get past opaque objects. For example, I looked at the outside of a building in near freezing temperatures one evening and was able to see the outlines of people (whom I didn't know were there) who were close to the outside walls. The other thing I learned quickly was a thermal camera does not see through my insulated windows well, but my heat reflection in these windows startled me.
Mind you, this kind of device cannot "see" through walls, but if an officer experiments a bit, its use can be a serious advantage. This is most easily demonstrated by having someone walk barefoot across a carpet, then following the footprints. This can be done outside if the temperature of the shoe or foot varies a bit from the ambient temperature on an ideal surface. It's not a tracking device and this only works during ideal circumstances, but it does illustrate a prominent use for a thermal device. If the suspect dumps a gun or the drugs, they can be found if they had it in their pocket or against their body. I was able to do this under dozens of circumstances and I can think of many times where this would have come in handy in the field. I'm pretty sure I could have found some of those bags I've seen tossed out the window in a pursuit.
For patrol use, its best employment is finding anomalies in a confusing background, like a camouflaged suspect or where someone recently touched a surface and may have left a print.
The Thermal Ally Mk II Camera was designed for use at the patrol level. Thermal Ally gave it finger grips and textured handholds, which add a little to its shock protection. It can withstand minor shocks and jars and is sealed for weather resistance. Since I tested this product in unusually disagreeable weather, it was fairly easy to test this quality. All of the ports have some weather sealing, including the rubber lens cap, video out and SD card slot, which are on opposite sides, where the palm rests.
The Thermal Ally Mk II Camera use 4 NiMH rechargeable AA cells. My unit came with a set of these cells and a 110v charger. Thermal Ally states that it gives approximately 3 hours of service using the rechargeable cells. I never could get it to exceed 3 hours of service. I have a lot of experience with rechargeable batteries however and these charged better and faster than most products I have used.
Compared to similar products, however, the Thermal Ally Mk II Camera is moderately conservative on power use.
A thermal imaging camera is a device that measures changes in temperature and turns it into a rendered image. Because they read heat, not light, users can see through things which will likely obscure other imaging devices. For example, an image intensifier type of night vision device can only process a dimly lit scene in to something the user can view. However, if the image is obscured by smoke or fog, smoke or fog is all the user will see. A thermal imaging camera will cut through obscurants and is not fooled by dark clothing. The user can also see in total darkness and, unlike other night vision devices, the Thermal Ally Ally Mk II Camera is useful in daylight.
The Thermal Ally Mk II Camera is a little too large for bouncing around in a cargo pocket, but there are several patrol scenarios where carrying one in a patrol car would be of great benefit. One can find or discreetly observe a suspect in total darkness. The "finding tossed evidence" feature makes it a "must have". I found I could scan a scene and see who just drove their car without touching the hood.
The Thermal Ally Mk II Camera is a lightweight and handy way to find and capture evidence. It gives the patrol officer a little edge for searching and observation. It can highlight information or evidence missed by the officer scanning the crime scene using only the visual spectrum. The Thermal Ally Mk II Camera is another asset for the law enforcement arsenal.

Request product info from top Police Thermal Imaging companies
Thank You!