PRESS RELEASE
New Havis Lockable Under-Seat Storage Box for Ford F-Series Trucks
---
WARMINSTER, PA. — Havis, Inc., a leading designer and manufacturer of in-vehicle mobile working solutions for the public safety and utility sectors, is pleased to introduce the new Lockable Under-Seat Storage Box for Ford F-Series trucks.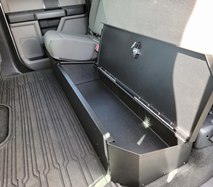 The C-SBX-104 features a 14-gauge steel box for secure storage that is compatible with an assortment of Ford trucks ranging from F-150 to 550, and supporting crew cab, cab chassis, and Special Service Vehicle (SSV) pickups.
Its dual lids align with the 60-40 split in the rear seat with low-profile latches that lock with included keys. "We are excited to release a unique under-seat storage option that allows mobile workers to securely store mission-critical items," says Brett Young, Havis National Sales Manager for Public Safety.
An easy, no-drill installation can be completed in minutes by mounting to the factory holes. Uses all have the option to attach the adjustable divider to pre-drilled holes, or to drill and mount where they prefer.
"Another key differentiating factor for Havis's Under-Seat Storage Box is the knock-out panels for wire routing and three sections of obround holes," adds Sam Barall, Havis National Sales Manager for Enterprise. "These features provide ventilation for safe equipment mounting and allow fans to be mounted for increased air circulation, thereby protecting the equipment while improving its performance."
For more information, contact media@havis.com, or visit http://www.havis.com.
ABOUT HAVIS
Havis, Inc., is a privately held, ISO 9001 certified company that manufactures in-vehicle mobile office solutions for public safety, public works, government agencies, and mobile professionals. For more than 80 years, the Havis mission has been to increase mobile worker productivity with industry-leading products that are built to the highest safety and quality standards and are designed with comfort in mind. Havis is dedicated to responsible intellectual property management, and fosters ongoing innovation. Havis's patent and trademark portfolio demonstrate a commitment to consistently researching and developing unique products and solutions for mobile industries around the world. With headquarters in Warminster, PA, and an additional location in Plymouth, MI, Havis currently employs more than 300 people. For more information on Havis, please call 1-800-524-9900 or visit http://www.havis.com.

Request more info from Havis
Thank You!