Cop creates customizable backpack line with ballistic shield option
Kids can express their individuality while parents can take one step further to protect them at school
---
Former San Jose police officer and school security officer Christina Thomas was looking for a way to become an entrepreneur and work closely with her daughter when the idea came to her to build a line of completely customizable backpacks for children.
It was while she was getting her business into place that she watched the Columbine massacre unfold and it became obvious that a ballistic shield would be a necessary option for her line.
Soon the AttachaPack was born, with customizable options that include an array of patterns, zipper pulls, clip-on accessories, water bottles, hitchers, attachable pockets in a variety of sizes, and the ballistic shield.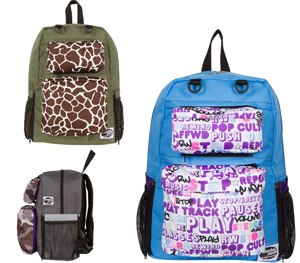 The shield inserts have a NIJ Level IIIA ballistic rating, are made in the U.S., and are composed of Dyneema, a high-performance polyethylene fiber that absorbs the pressure from multiple handgun and shotgun rounds. The shields are produced at Hardwire Armor Sytems. They weigh less than a pound each and are available in two sizes to fit the appropriate AttachaPack.
"They're cut to fit the AttachaPacks, but don't limit yourself. They can easily fit into a briefcase or another backpack," said Thomas, who said the Attachapacks were designed to be fun and let kids express themselves, while her 'police side' ensured the ultimate goal is safety.
Thomas and a fellow retired officer took the shields to the gun range to test the product, using several different handguns and shotguns.
Thomas says AttachaPack is just getting started. Many more customizations are in the works, including insulated pockets, solar panel pockets, specialized sport pockets to support specific functionalities, and a plethora of prints, patterns, and colors. Each pocket is attached using YKK separating zippers for durable, long-lasting hold.
You can build your own AttachaPack at attachapack.com or select a ready-made AttachaPack at Amazon.com.  Ballistic shields are available on both sites.
At checkout on attachapack.com, buyers have the option to donate a portion of the backpack's expense to a charity of their choosing.
"A guest can opt to donate a portion of their purchase monies to go directly to a school or non-profit in the drop-down list" said Thomas. "We are still in the process of adding to the list. If interested in being added to the list, email us at info@attachapack.com."
Backpacks start at $49.99 and ballistic shields start at $99.99. For more information, visit www.attachapack.com.