How virtual training is better preparing law enforcement for the field
Virtual training is offering options that were out of reach of most PD's budgets; now FTOs can train their new recruits in a realistic but safe environment
---
By Melissa Mann
Police1 Contributor 
Training law enforcement officers is both necessary to properly train new recruits and can also carry a large price tag. In this time of reduced law enforcement budgets and personnel shortages, the first item typically cut from the annual budget is, of course, training.
Cost factors will continue to be a challenge, but making training more realistic in order to better prepare officers may become easier with the advent of computer generated virtual training simulators. These 'video games' allow green officers to experience real-world scenarios in a safe environment.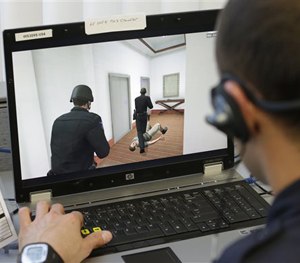 How the tech advanced
Until recently, training simulators were only found among military, aviation or NASA communities. With advances in microcomputer technology, the incredible graphics detail of the recreational video gaming console has been incorporated into law enforcement driving and situational virtual training simulators. The virtual simulator has evolved into exceptional reality experiences for the trainee with improved central processors and enhanced displays.
Tactical law enforcement training simulators can come in a variety of configurations, including multi-screen, 3-D and fully-immersive 360-degree perspective, which engulfs the officer in a world where a variety of situations may be presented for training purposes. Simulators surround the officer with sensations and street noises such as a dog barking, a plane flying overhead or a door opening.
When the officers take foot pursuit, the avatar takes foot pursuit. When the officers duck for cover, the avatar ducks for cover. The avatars can be programmed to match the height and weight of training participants. Taller officers must be aware of overhead obstacles. Heavier officers will have avatars that jump and run at a slower pace. Some virtual training simulators have the ability to deliver a low level shock to the participant when the officer avatar is shot during the training scenario.
Benefits to new recruits
Preparing new officers was once the sole responsibility of a seasoned training officer who was expected to share their years of experience. The journeyman approach can be limited to only on-duty experiences or techniques that the training officer saw fit to teach. Virtual reality training simulators have been created with the concept of immersing officers in a visual, auditory and physical experience which is known to enhance the learning curve. Using this format of training through sensory input stimulus and muscle action is very effective at improving officer reaction times, the critical decision making process and officer safety skills.
Law enforcement training simulators have included the use of force simulator and driving simulators. Recent technology has provided hybrid simulators which allow trainees to simulate receiving a call for service in their patrol vehicle, driving to the location, speaking to subjects in the field, making an arrest, possible use of less-than-lethal force and, if required, a vehicle pursuit.
The virtual simulators include options for firearms training which can include tetherless weapons with recoil. Some simulators include training with pistols, rifles and sub-guns in addition to less-than-lethal OC and TASERs training.
Emphasizing officer safety
As a tool to keep officers sharp and hypervigilant to their surroundings, virtual training simulators have the option of a belt device that delivers a very light, low voltage shock if the officer is shot during the training session. Officers are expected to perform under extreme stress and produce a trained response rather than a startled reaction to surrounding stimulus. Exposure to realistic situational scenarios is an effective way to train officers to exert sound judgement and make critical decisions under stress.
While field training is very effective when learned on duty, additional training with the use of reality training simulators is an exceptional tool to develop muscle memory, agility, critical decision making and overall precision use of firearms in a scenario specific, controlled environment.
Simulators are capable of recording recruits' responses while training and provide replay from several angles so recruits can review and witness their mistakes, self-assess and receive instructor feedback for specific remediation and practice in order to master their skills.
Virtual training simulators began as a product of the military and aviation training methods. Law enforcement as a whole continues to implement and benefit from these advanced technologies. Virtual simulators offer an avenue to make law enforcement personnel training more cost effective and efficient while delivering the most advanced training experience available to the participants.
Request product info from top Police Training Simulators companies
Thank You!