Wireless, exterior control of your car's emergency gear
Code 3's vLink puts you in control in or out of the car
---
It's been a while since there was any real innovation in public safety warning equipment. Every year, there are some new configurations of lights, a siren horn mounted in a new location, or a control head in a different design, but it's mostly variations on a theme. 
This year, Code 3 has come up with something truly new — the ability to control the emergency gear from outside the car, and even from a good distance away. 
The setup is called vLink, and it works with most of the Code 3 product line. The core is the VLink box, which is the interface between the remote control and the hardware in the car. The vLink module creates a Wi-Fi network that connects with the vLink wireless client. The wireless client is an iOS, Android or Windows Mobile smartphone supplied by the user.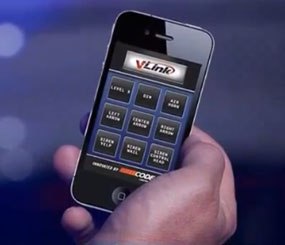 Users download the appropriate smartphone app from the Code 3 website (you won't find it in the iTunes, Google Play or Windows Mobile stores), and pair the phone with the vLink module in the car to be controlled. Only one mobile device can be paired with a vLink device, to prevent signals from affecting the wrong vehicle (but thwarting a whole new genre of cop practical jokes). 
The mobile app is highly configurable, with nine buttons and labels. Eight of the buttons can be configured to trigger actions of the user's choosing, and all nine labels are user-editable. Options include turning overhead lights, siren, and/or dashcam video on or off, locking or unlocking doors, releasing the spring-loaded door of a K-9 compartment, unlatching the trunk, or releasing the lock on a shotgun or rifle mount, among others. Most electrically controlled options on the car are programmable. 
It's not hard to imagine the utility of a setup like this. 
•    On a DUI stop, the violator complains that the patrol car's overhead lights are disorienting him. The officer turns off the strobes without leaving the violator's side. 
•    While inside a residence on a call, the situation turns ugly and reinforcements are called in. The officer inside the house can activate his car's emergency gear, creating a beacon for his backup units to get to him faster. 
•    While one officer is searching for a suspect in the brush, a backup unit arrives and wants access to equipment in the first officer's car. The first officer on scene can unlock the car without going back to it. 
Range of the device is around 300 feet, although terrain and building composition could limit this. 
Cost of the VLink module is advertised as "less than three tanks of gas." I suppose that varies quite a bit with gas prices and fuel capacity, but it probably translates to a price of $150-$200.