Spotlight: TruckVault is revolutionizing weapon security for police officers
TruckVault's custom in-vehicle storage goes far beyond theft prevention
---

Company Name: TruckVault
Headquarters: Sedro Woolley, WA
Signature Product: Drawer System Designs
Website: http://www.truckvault.com/

TruckVault management and employees take great pride in their products and the quality they represent. You will not buy a better "in-vehicle storage solution" than one manufactured by TruckVault. It was originally assumed that TruckVault would manufacture more products for pickups than for any other vehicle. Today, TruckVault is the most recognized name for vehicle equipment storage solutions in the sports, law enforcement and public safety markets. Now manufacturing in Sedro Woolley, Washington, TruckVault employs over 50 people internally and out-sources locally, further contributing to the U.S. economy.

Q&A Questions:

1. Where did your company name originate from?

Our founder and CEO, Al Chandler, owned a high-end residential contracting company in Seattle prior to the founding of TruckVault. One day, he noticed one of his employees unloading his work tools from a rudimentary drawer system out of the back of his work van. He took that idea and crossed it over to his pickup for use during his hunting trips to protect and secure his shotguns and expensive hunting gear. The rest is history!

2. What was the inspiration behind starting your company?

The product was born from a love of the outdoors and a need to securely store expensive hunting equipment while away from your vehicle. From there, the company began its expansion into law enforcement, commercial and other segments of the market.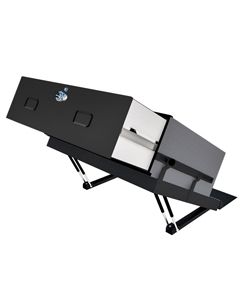 3. What is your signature product and how does it work?

Our signature (and very first) product was designed for pickups only, hence the name TruckVault. These were drawer system designs that run the entire length of the pickup bed for both covered and uncovered pickup beds. They are designed with heavy duty drawer handles with a variety of locking mechanisms and in literally countless configurations. Drawers are carpeted inside, are moisture proof and fire resistant and have reconfigurable dividers that allow for different in-drawer setups. We expanded into SUVs, sedans and vans shortly thereafter.

4. Why do you believe your products are essential to the police community?

Police officers are increasingly becoming targets of crime, including theft. Additionally, the first responder profile is changing; officers are now cross-trained for many different roles and need to carry higher level weapons in their vehicles. These weapons need to be secured while not in use – securely and out of sight. Any time a firearm is stolen, regardless of whether it's from an officer or a citizen, it's highly concerning; you do not know what is going to happen to those guns or where they will end up.

5. What has been the biggest challenge your company has faced?

We make a quality product backed by impeccable customer service and a second to none warranty. But our products are not cheap and agency budgets are becoming tighter. We are actively pursuing weight-saving measures and cost-saving manufacturing processes to help bring additional price leveled product to market to fit virtually any budget.

6. What makes your company unique?

We are one of the only companies in this market segment that still works heavily in the customization of our product. We build and treat each build uniquely just like the first day we started in business. We are still made in the good ole USA and the fact that we have been in business this long in this industry is a major feather in our hats.

7. What do your customers like best about you and your products?

The quality, our attention to detail, friendly staff and over the top customer service.

8. What is the most rewarding part of serving the first responder community?

It's hard to put into words. Our public safety community has a tough job, sometimes a thankless one. TruckVault holds a lot of the same core values as our first responders do: living to serve, a reverence for the law, a commitment to leadership, integrity in what we say and do, and respect for people and their jobs. The LE community is some of the most dedicated and tight-knit that I have ever had the pleasure of working with.

9. Do you support any charitable organizations within public safety?

We are involved in many at a local level here in Washington State and support many LE tradeshows across the country. We also donate generously to fundraising requests through our Frank Hagel print program. We donate annually roughly $80,000 worth of product to be auctioned off in many fundraisers primarily driven by our print giveaway program.

10. Is there any fun fact or trivia that you'd like to share with our users about you or your company?

We are a fun company in general. We are a down to earth company with great people. We have a great "can do" attitude when it comes to our products and our customer thoughts and input that is definitely infectious. Once you purchase a TruckVault product you definitely become part of our family.

11. What's next for your company? Any upcoming new projects or initiatives?

We are working on many new things. We are continually developing new thoughts and ideas with our sister company, ShotLock. We are working on bringing to market new lightweight composite builds. We are working on new patented locking technologies. We are working on additional metal product designs to include more lift system products. We are also moving to expand our manufacturing and office space as we position for great growth in our commercial pickup lines and Jeep products.