PRESS RELEASE
Monadnock debuts Praetorian Lightweight Modular Riot Suit at 2020 SHOT Show
---
Interchangeable design offers maximum customization in the premier Monadnock Riot Gear line.
ONTARIO, Calif. — Monadnock®, a brand of The Safariland Group, will debut its new Praetorian™ Riot Suit with enhanced characteristics for optimal comfort and protection in crowd control situations. The new modular design allows suit components to be donned and doffed easily and it can be interchanged with other suit models. The Praetorian Riot Suit will be previewed at the 2020 SHOT (Shooting, Hunting, Outdoor and Trade) Show , January 21 to 24, booth #12762.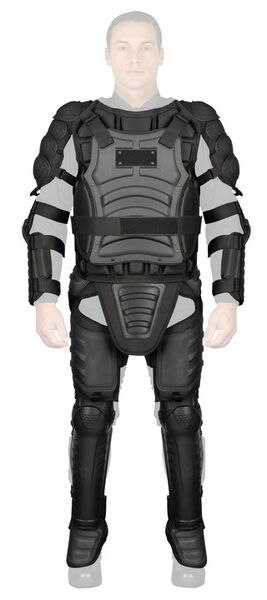 "Monadnock is committed to providing officers protective equipment with the highest level of functionality, performance, and comfort," said John Kapeles, category and engineering director for the Monadnock brand. "This lightweight suit is unlike any other suit on the market. With improved features, mobility, and modularity, it offers best-in-class coverage and usability, providing officers with the most versatile gear adaptable to field situations."
Made of a rigid polypropylene polymer with an EVA foam shock absorbing padded layer, the Praetorian Riot Suit provides high impact strength and dimensional stability for protection, while also offering excellent comfort and cushioning for the body. Both the exterior and interior of the suit provides long-term durability for the user.
The Praetorian Riot Suit features a quick-release buckle system that allows for quick attachment and detachment to meet the specific needs in various field situations. Articulating elbow and knee pads allow for greater movement, while suit ventilation and padding configuration incorporated in the shoulder, elbow, groin and knee, ensure optimal comfort. The enhanced shoulder coverage and form-fitting panelized chest protector provide next generation protection in a riot suit.
The Praetorian Full Suit will be offered in two sizes, Small/Medium/Large or X-Large/XX-Large/XXX-Large with an MSRP of $500. Suit components may also be purchased individually, in the same two size options. Prices for the suit components will be: Praetorian Chest Protector $300 MSRP; Praetorian Forearm Protector $75 MSRP; Praetorian Thigh and Groin Protector $105 MSRP, and the Praetorian Shin and Foot Protector for $95 MSRP.
The Praetorian Suit may be ordered now with an availability in the first quarter of 2020. See the Praetorian Riot Suit on display at The Safariland Group booth, #12762, throughout SHOT Show 2020 from January 21 to 24. For more information, please visit www.safariland.com/monadnock.
About Monadnock
Monadnock® has manufactured products of the highest quality for law enforcement since 1958. It has a rich heritage of pioneering baton design and development that has revolutionized the way law enforcement professionals operate, train with and purchase batons. Offering a complete line of batons, riot control gear and restraints, Monadnock products are made with the finest materials and state-of-the-art designs that assist officers in performing their duties. Monadnock is a part of The Safariland Group family of brands. For more information, visit www.batons.com.
About The Safariland Group
The Safariland Group is a leading global provider of a broad range of safety and survivability products designed for the public safety, military, professional and outdoor markets. The Safariland Group offers a number of recognized brand names in these markets including Safariland® Armor, Duty Gear and Communications, Bianchi®, Defense Technology®, Break Free®, Med-Eng®, Identicator® and NIK®. The Safariland Group's mission, "Together, We Save Lives®", is inherent in the lifesaving and protective products it delivers. The Safariland Group is headquartered in Jacksonville, Florida. The Safariland Group is a trade name of Safariland, LLC.
For more information about The Safariland Group and these products, please visit Safariland.com. Visit Defense-technology.com and Med-Eng.com for information on these brands.

Request more info from Safariland
Thank You!