Chief Gerald Garner on how to turn good chiefs into great leaders
"You can't expect your people to be doing something you won't do yourself."
---
Download this week's episode on Apple Podcasts, Amazon Music, Stitcher, Spotify or via RSS feed, and watch the video version on Police1's YouTube channel.
Front-line officers are the backbone of every law enforcement agency, and some officers have the ability to perform without second-guessing or unreasonable restrictions. Great leaders give those officers a degree of confidence and autonomy by providing them with the training and resources to lead every day. 
In this episode of the Policing Matters podcast, sponsored by Staccato, host Jim Dudley speaks to Chief Gerald W. Garner about how to turn good chiefs into great leaders.
Chief Garner has spent his 53-year career seeking to disseminate leadership training. He has authored several books including the "Basic Handbook of Police Supervision: A Practical Guide for Law Enforcement Supervisors," "Police Chief 101: Practical Advice for the Law Enforcement Leader" and "Making Sergeant: The Biggest Leap in Law Enforcement." His most recent publication is "Leading the Small Police Department." Read an excerpt from that book here.
About our sponsor
This episode of the Policing Matters Podcast is brought to you by Staccato. Choose the handgun trusted by over 900 law enforcement agencies across the country. With Staccato, you can feel confident knowing you aren't sacrificing incredible accuracy for reliability. Whether you're protecting your family at home or on duty, Staccato has your back. Military and law enforcement receive discount pricing through the Staccato Heroes Program. Visit www.Staccato2011/heroes-program.com to learn more.
Top quotes from this episode
It may sound corny, but I have found it to be true. Successful chiefs serve as excellent role models for their people. You can't expect your people to be doing something you won't do yourself."
The most common complaint from line personnel is that command staff, not just the chief, don't know what is going on and what the job is."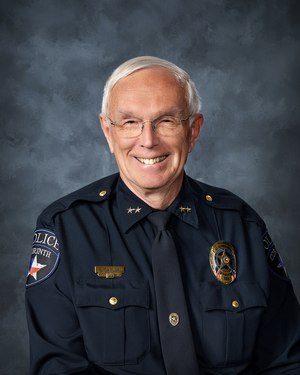 About our guest
Gerald W. Garner is the chief of police for the city of Corinth, Texas. A veteran of 53 years in law enforcement, he has served as chief executive officer for police departments serving 9,000 people, 26,000 citizens and over 100,000 residents.
Prior to retiring, he served for 30 years with the Lakewood (Colorado) Police Department where he worked in virtually every leadership rank and assignment available in a municipal law enforcement agency.
Chief Garner holds a master's degree in Administration of Justice. He has instructed for the FBI National Academy at Quantico and the International Association of Chiefs of Police in addition to numerous police academies, university classes, and law enforcement leadership institutes. He has authored 13 books and over 200 magazine and journal articles, all on various aspects of law enforcement leadership and officer safety.
RATE AND REVIEW THE POLICING MATTERS PODCAST