Quiet Warrior: How one patrol officer goes beyond the traffic stop to make a lasting difference
Austin PD Officer Jason Borne's passion for public service drives him to help citizens find long-term solutions that improve their lives
---
Sponsored by 5.11 Tactical
By Rachel Zoch for Police1 BrandFocus Staff
Every cop knows there's no such thing as "a routine traffic stop." But when Austin PD Officer Jason Borne responded to a call this summer about a pedestrian in a busy roadway, he had no idea it would become an opportunity to make a big difference for a struggling single mother of two.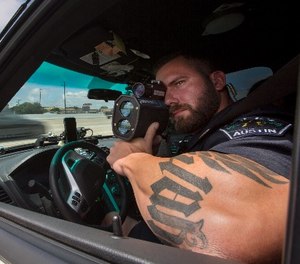 Drivers had called to report a woman walking on a busy stretch of highway frontage road in Borne's patrol area. They were having to swerve around her, creating a traffic hazard in addition to endangering her life.
Borne pulled up as the woman – who was pushing her 2-year-old daughter in a stroller – turned into a parking lot. He says he got out of the car "in 100 percent in cop mode," putting on a stern face and thinking of the potential for a pedestrian fatality.
"My first thought was, this is really stupid to be pushing a stroller with your back to traffic on a highway frontage road," he said.
He got out of the cruiser and began a conversation with the woman, Lisa, who was dripping sweat in the 95-degree Texas heat. She told him she was on her way to the grocery store after taking her little girl to the dentist.
Borne started by warning her that it was extremely dangerous to walk in the road, especially with her back to traffic – even more so with a child – and he suggested that she get a bigger stroller with all-terrain tires to manage the grassy areas where there was no sidewalk.
And then it hit him: She wasn't walking along the highway in August by choice. She was exhausted and trying to do the best she could.
"After saying that, I wish I could've taken it back, because it's really easy for me to say when I can afford to go buy a stroller," Borne said. "If she's in a position where she's required to walk, she's probably not in the best financial situation to have spare money to go buy a stroller."
GETTING TO THE ROOT OF THE PROBLEM
Borne gave Lisa and her daughter a ride to the grocery store and offered to buy her the all-terrain stroller, a short-term fix – but he was already thinking about how to help her find a long-term solution. The next day, he delivered the stroller to her apartment and asked her to tell him more about her situation.
She had recently earned a computer science degree and moved from Colorado to Austin with her two children because she thought it would be the best place to find a job with those skills. Her car had broken down shortly after arriving, she had been able to find only temporary work, and child support payments were spotty at best.
Borne then told Lisa the stroller was only a Band-Aid and that he wanted to help her achieve a more permanent solution. He had set up a GoFundMe page for her but wanted her blessing to launch it.
She agreed, and Borne went home, shot a video, posted it to Facebook with the link to the GoFundMe page and waited.
Within a month, the GoFundMe page he created for Lisa raised nearly $30,000.
"I can promise you I didn't expect this to raise $30,000," Borne said. "That was kind of shocking, but really cool."
Within a few weeks of receiving the money, Lisa was able to secure a vehicle, more temporary work and some job interviews, as well as options for subsidized child care. Borne also introduced her to a financial adviser to help her make plans for the future.
DRIVEN TO MAKE A DIFFERENCE
Borne could have simply responded to the call, chastised Lisa for being in the roadway, written her a ticket and gone on to the next call. That would be the easy thing to do, he says, but it would have solved nothing, and he takes his duty to protect and serve very seriously.
"Instead, I took 20 minutes of my life and was able to do something that could have an impact on a mother and two kids that had been treading water for years. Why wouldn't you do that?" he said. "I guarantee you if people knew that would be the result, they would put in 20 minutes, so why not put in the 20 minutes understanding that it could happen?"
Borne admits he might approach such situations a little differently because of his charity work. He even started a business to help him support causes he cares about. He believes that what he's learned about social media and marketing from running the business has helped him help others.
"I have an audience that allows me to have a bigger impact than the average patrol officer on the street, and I try to use that for good," he said. "That was the whole reason for starting the business. Why would I not use it as much as I can?"
Helping Lisa was Borne's second GoFundMe effort in 2017. In January, he and his partner bought new tires for a teenage driver stranded with a blowout – and eventually, through a GoFundMe page, secured him a safer, more reliable car.
Borne says that effort taught him some valuable lessons that helped make the fundraiser for Lisa such a success.
"It's not like I'm out shopping for people that need stuff, but I guess what I learned from Cody helped me market it better for Lisa, doing video instead of text. People don't want to read," he said, laughing, "but if a video catches their attention, they'll watch it."
FOLLOWING HIS INSTINCTS
Service is in Borne's blood. He enlisted in the Marines in 2003 and served in Iraq and enrolled in the Austin Police Academy in 2007. He says he always wanted to be a police officer, like his father.
"I wrote down on a postcard when I was 8 that I was going to go into the Army – I didn't know what the Marines was when I was 8 – and I was going to become a police officer because I liked their handcuffs," he said, laughing. "It's something I always wanted to do. I've always been really protective. Military and law enforcement was just the natural path for me."
Borne is quick to say he's not entirely comfortable with the attention he's received for his good deeds, because he knows he's not the only Quiet Warrior out there – far from it.
"Cops do stuff all the time," he said. "What gets the attention with Cody and Lisa is the scale of it, not because I'm doing anything better or more often than any other cop out on the street. I can promise you that the vast majority of cops out there have done similar things – buying strollers, buying car seats, buying meals, buying hotel rooms, doing stuff all the time out of their own pockets."
Most of these small acts of kindness go unheralded because it's done personally between the officer and the person, and Borne is happy to help shine a light on that.
"There's no shortage of negative stories relating to law enforcement out there, so if I can try to balance it out a little bit, I'm more than happy to do that," he said. "It's good for people to read about those examples and really see what their public servants are out there doing for their communities and the people they serve."