N.Y. governor hastens plan to get mental health workers in subways after fatal shove
The move will work in conjunction with more NYPD subway patrols, said Mayor Eric Adams
---
By Denis Slattery
New York Daily News
NEW YORK — Gov. Hochul's plan to deploy mental health workers in the city subway system is moving into high gear following a fatal subway shove in Times Square.
Hochul announced Friday that the state will be deploying approximately 20 public employees, contracted nonprofit provider staff and volunteers to assist homeless New Yorkers within one week, a precursor to her previously announced "Safe Options Support" teams.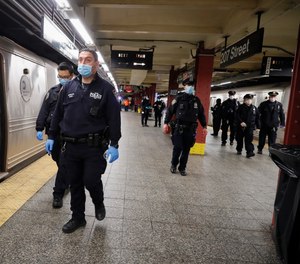 "Working with our partners in New York City, we're taking action to help make our streets and subways safer," Hochul said in a statement. "Too many New Yorkers are sleeping on our streets and subways - they need resources and support to get back on their feet.
"By deploying outreach professionals to targeted areas, we will help improve safety and ensure New Yorkers experiencing homelessness have the support they need," she added.
The move comes days after 40-year-old Michelle Alyssa Go was shoved in front of on an R train at the Times Square station last Saturday. Simon Martial, 61, a homeless man who police said has a history of mental illness, randomly targeted Go after trying to push another woman who escaped his grasp.
Hochul first announced her intention to deploy state-funded SOS outreach teams as part of her State of the State address earlier this month.
A Request for Proposals for nonprofit organizations to operate the specialized teams, which will consist of direct outreach workers as well as clinicians, was issued on Friday.
Members of the teams will canvas the subways and stations in an attempt to convince homeless people living in the system to move into shelters in the hopes that they can eventually secure permanent housing.
Overseen by the state Office of Mental Health, Hochul hopes to send out up to 20 teams of eight to 10 workers this year, including four in the city by early Spring. An additional eight teams will operate by the summer and another eight in "high-needs regions" throughout the state by the end of the year.
The program will cost about $11 million this year and ramp up to $21 million annually in future years.
Critics have noted that the city's already patchwork system of homeless outreach providers makes it harder to get people into shelters.
The city already has an $88 million contract with the Bowery Residents' Committee meant to supply similar assistance to homeless people in the subway system.
However, a December audit by State Comptroller Thomas DiNapoli found there was a lack of oversight and noted that workers "repeatedly" failed to do the job.
"Homeless outreach in the subway has been so shoddy and with so little oversight from DHS and MTA, that it should be no surprise the homeless population in the subways has grown," DiNapoli said at the time.
Mayor Adams praised Hochul's plan earlier this month and said it will work in conjunction with his own push to flood the subways with NYPD officers.
Adams said the additional cops will be instructed to not engage with homeless New Yorkers and instead contact SOS teams to conduct outreach and refer them to city-run shelters and services.
©2022 New York Daily News. Visit nydailynews.com. Distributed by Tribune Content Agency, LLC.
McClatchy-Tribune News Service