Trump's first 100 days: 2 big changes to policing
On Day One of his administration, President Donald Trump made several moves which indicate a White House far different than the past eight years
---
There were clear signs on the campaign trail that if elected president, Donald Trump would move swiftly to reverse some of the anti-cop sentiment which has gripped the nation during the Obama administration.
We didn't know it would take Trump less than two hours to make moves in that direction.
Almost immediately after taking the oath of office as the 45th President of the United States, the Trump administration posted a statement on the White House website entitled, "Standing Up For Our Law Enforcement Community."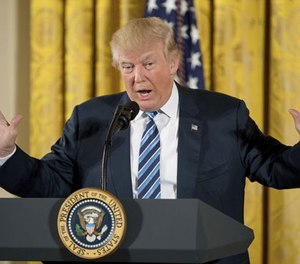 "One of the fundamental rights of every American is to live in a safe community," the statement began. "A Trump Administration will empower our law enforcement officers to do their jobs and keep our streets free of crime and violence. The Trump Administration will be a law and order administration. President Trump will honor our men and women in uniform and will support their mission of protecting the public. The dangerous anti-police atmosphere in America is wrong. The Trump Administration will end it."
The statement went on to say, "Our country needs more law enforcement, more community engagement, and more effective policing. Our job is not to make life more comfortable for the rioter, the looter, or the violent disrupter. Our job is to make life more comfortable for parents who want their kids to be able to walk the streets safely. Or the senior citizen waiting for a bus."
The statement concluded: "It is the first duty of government to keep the innocent safe, and President Donald Trump will fight for the safety of every American, and especially those Americans who have not known safe neighborhoods for a very long time."
A few hours earlier, police marching bands, motorcycle and mounted drill teams, color guard teams, and police pipe and drum corps from across the country were prominently featured in the inaugural parade.
One of the inaugural galas that Trump attended on the first evening of his presidency was the Commander-In-Chief Ball, which is typically only open to enlisted members of the military. This year however, the Trump team opened the event up to firefighters, EMTs, and police officers.
The statement issued Friday and the prominence of police being featured in the ceremonies throughout the day were essentially symbolic. The probable policy changes which are likely to happen in the next 100 days are anything but symbolic.
In fact, two very concrete changes are all but certain to happen almost immediately.
1. Trump will end DOJ consent decrees
Under Obama, the DOJ actively sought to conduct investigations on — and subsequently place stringent restrictions on — many police agencies. Attorney Generals Loretta Lynch and Eric Holder combined to investigate nearly two dozen police departments.
"Rather than reach informal agreements to correct misconduct, as the Bush administration often preferred, most of the cases under Obama ended up in court, either in settlements approved and monitored by a judge, or, in a few examples, with lawsuits filed by the federal government against police departments and officers," said a report in the Los Angeles Times.
The DOJ, under former President George W. Bush, issued zero consent decrees. Under Obama, the DOJ issued at least 16 such documents according to information made available toward the end of 2015.
Trump's nominee for attorney general — Senator Jeff Sessions — has called consent decrees "one of the most dangerous, and rarely discussed, exercises of raw power" and is highly unlikely to even issue a single one in the Trump administration.
2. Trump will reverse Executive Order 13688
The evisceration of the 1033 Program will almost certainly be reversed. Two years ago, Obama declared — by Executive Order 13688 — that local law enforcement agencies shall no longer be able to obtain certain surplus military equipment.
EO 13688 established the classification of certain types of equipment which had previously been available to police from military surplus stocks as either "controlled" or "prohibited" and required agencies which possessed the latter category to return those items to the Federal mothball lot.
The "controlled" items list included aircraft, UAVs, armored vehicles, command and control vehicles, as well as riot shields and helmets. The "prohibited" items list included "weaponized aircraft," despite the fact that no helicopter acquired under the 1033 program has ever been delivered with an M134 mini-gun for a door gunner.
By conflating armored vehicles with gunships — conflating ballistic helmets with grenade launchers — the Obama administration created a widespread bias among some people against the safety equipment that becomes necessary when ISIS-inspired attackers lay siege to a Christmas party in San Bernardino or a LGBTQ nightclub in Orlando.
These tools aid police agencies and keep officers safer when responding to a variety of incidents — from large-scale public disturbances to barricaded gunmen.
Some pundits have talked about an avalanche — a shock and awe volume — of executive orders in the very first days of President Trump's administration. With so many cabinet posts still to be approved by the Senate, that seems not just unlikely but imprudent. But one of the first will almost surely be an order nullifying EO 13688.  
45 will be tested in ways we cannot now fully predict
Despite the deep divide between people in this country, Trump's oratory during his inaugural address on Friday included soaring language about unity and bringing the country together.
"We must speak our minds openly, debate our disagreements honestly, but always pursue solidarity," Trump said. "When America is united, America is totally unstoppable. There should be no fear — we are protected, and we will always be protected. We will be protected by the great men and women of our military and law enforcement and, most importantly, we are protected by God."
Despite his calls for unity, the man who authored "The Art of the Deal" will have his work cut out for him to bring a polarized public together around common goals of safety and prosperity. The man who was a Democrat before he was a Republican will need to work with both sides of the aisle in the legislative branch to achieve populist victories for the American people.
His success will depend in large part on the willingness of those who oppose him to refrain from obstreperous opposition, and embrace a strategy of collaboration and cooperation. And it isn't news to anyone that there is a great deal of opposition — on Saturday, more than one million people marched on Trump's first day in office.
One more thing is certain: the 45th president of the United States will be tested in ways we cannot now fully predict. As Donald Rumsfeld once famously said, we just don't know what we don't know.
International issues from Trans Pacific-Partnership to Syria, China, and Russia, and domestic issues from the economy to securing the borders, are wildly unpredictable. Equally unpredictable is how President Trump will respond to the vagaries of the volatility of those and other issues.
We're in for a really interesting ride. Let's do our best to stay vigilant, be tactical, and watch out for each other.