2022 in review: The top police news of the year
A roundup of the biggest stories impacting law enforcement in 2022
---
The scars of COVID-19 and the civil unrest of 2020 were evident still in 2022 but fading. The concept of defunding the police faced the reality of crime and the depth of social problems with no easy answers. Meanwhile, hundreds of thousands of police officers bumped along in the alleys and backroads of America ferreting out criminals, comforting victims and trying to keep a positive focus. Many chose to leave law enforcement or find friendlier police employment, and few could blame them. 
Here's a roundup of some of the biggest news stories impacting law enforcement in 2022. What did we miss? Complete the box at the end of the article to let us know.  
January
There were 47 officers listed on the Officer Down Memorial Page (ODMP) for January. There were 34 COVID-19 deaths, 4 gunfire deaths, 2 training deaths, 4 crashes, 2 officers struck by vehicles in accidents and 2 struck by vehicles in intentional assaults. The National Law Enforcement Officer Memorial Fund announces that 2021 was the deadliest year for police officers in history. CNN reports the highest murder rate of officers since 9/11. Four officers died from lingering 9/11-related illnesses in 2022.
The U.S. Capital police were criticized for doing background checks on persons visiting lawmakers on the anniversary of the January 6, 2021 attack on the Capital.
NYPD started the year with the shooting of an officer before dawn on New Year's Day. Four other officers will have been injured by gunfire in January. Four other officers will have been injured by gunfire in January. After being sworn in as Mayor of New York City, former New York City Transit Police Officer and NYPD officer Eric Adams steps up patrols on subways.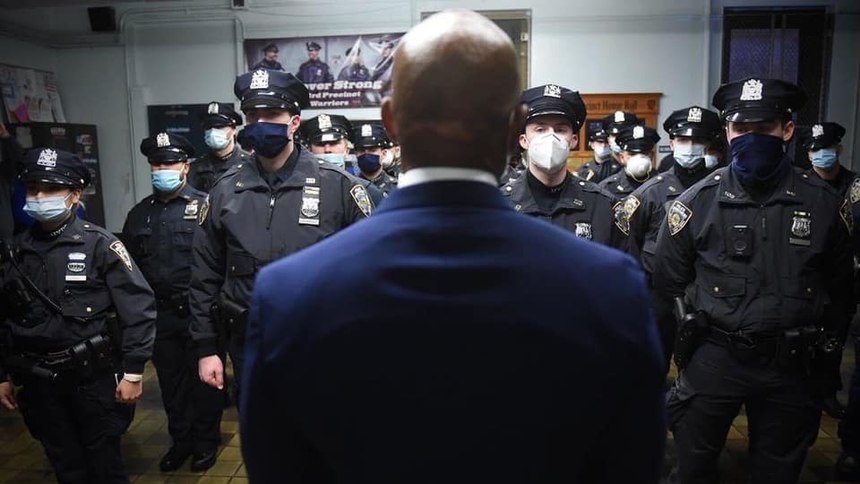 [Police1 analysis: An assessment of NYC Mayor Eric Adams' first day in office]
Republican senators condemn Biden's police reforms issued by executive order. "Police officers will face a grim reality if this EO is enacted and their lifesaving equipment is restricted from them. Violent crime will continue to skyrocket when police officers are unable to stop these crimes and save innocent lives. We cannot understand why any elected official would want to stop law enforcement from safely doing their jobs other than to be able to tell their base of voters they are defunding the police," the senators wrote. Law enforcement organizations express the same concern.
The PEW Research Center releases research showing most citizens express confidence in law enforcement, with lower rates of confidence among minorities, young people and Democrats.
Three officers on the scene of George Floyd's in-custody death go to federal court on civil rights violation charges.
Witnesses in Houston, Texas report hearing more than 30 gunshots as officers confront a suspect from a domestic violence call that resulted in a pursuit and barricaded suspect situation. Three Houston Police Department officers were shot and the suspect was taken into custody.
Top-read news article of the month: Ill. cop pleaded for her life, was killed with own gun
FEBRUARY
ODMP reported 36 law enforcement deaths in February. COVID-19 claimed 26 lives, other illnesses 2, 1 to intentional vehicular assault, 1 death from an aircraft crash, and 5 murdered by firearms.
Nine Phoenix police officers were wounded trying to rescue a baby at the reported shooting at a home where a subject was barricaded for several hours. The suspect was found dead in the home, where a woman was critically injured.
[Police1 analysis: How would you have handled the tactical decisions facing the ambushed Phoenix officers?]
Kim Potter, ex-Brooklyn Center police officer who shot Daunte Wright after mistakenly drawing her firearm instead of her TASER, is sentenced to 2 years in prison
Florida deputy Abigail Bieber, 30, was shot to death while vacationing with her boyfriend and other deputies. The boyfriend, Detective Daniel Leyden, 31, fatally shot her and then himself after others in the home heard the two arguing in a bedroom.
Most of the Cleveland (Ohio) Police Department bomb squad resigned over safety concerns when a new supervisor brought a live explosive to a training exercise. Three officers remained to assist other agencies in filling the gap until new officers are trained and assigned to the unit.
In Midvale, Utah, Sadaat Johnson, 27, brandished a gun at McDonald's employees working the drive-thru window during a dispute over his food order. He was arrested by police only for the officers to be shot at by a 4-year-old in the car. An officer wrote in his report "The male child told me, 'I grabbed my dad's gun and tried to shoot the police so he could be free and do what he wanted.'"
An agitated 21-year-old Asaahdi Coleman boarded a bus in Oroville, California and displayed a gun. When the bus pulled into a gas station and the passengers attempted to leave, he shot 5  persons, killing one. He was arrested naked at a nearby Walmart where he had fought with a customer.
In a first for the firearms industry, Remington agreed to pay $73 million to families of the Sandy Hook school shooting. Remington is the maker of the Bushmaster XM15-E2S semiautomatic rifle that was used in the 2012 mass shooting in Newtown, Connecticut. In another settlement related to a mass shooting, the Air Force was ordered to pay more than $230 million to survivors of the 2017 Sutherland Springs, Texas church shooting. The Air Force did not report the gunman Devin Kelley's previous assault conviction to the FBI, which could have prevented him from purchasing the semiautomatic rifle he used to kill 26 people.
A 12-year-old girl in Groveland, Florida reported to police that she found a threat of a mass shooting written in the girl's bathroom. The juvenile identified another girl as a suspect, but police noticed a blue marker stain on the witness' hand and matched her writing to the threat message. She was arrested and confessed that she was trying to get the other girl in trouble.
Nineteen Austin police officers responding to the 2020 riots in that city were indicted on charges of excessive force. The city agreed to pay $10 million to two protesters injured by bean bag rounds. Austin's police chief Joseph Chacon stated, "I am not aware of any conduct that, given the circumstances that the officers were working under, would rise to the level of a criminal violation by these officers." District Attorney Garza was elected on a reform platform, promising to prosecute police officers. No other city has had as many officers criminally charged in connection with the 2020 protests after the death of George Floyd.
The U.S. Government Accountability Office issued a report on the January 6, 2020, Capitol attack, declaring in the document that the Capitol Police needed clearer emergency procedures and that preparedness plans were inadequate.
Following a trial that lasted nearly five weeks, a federal jury in St. Paul, Minnesota, found three former Minneapolis Police Department (MPD) officers guilty of federal civil rights offenses arising out of the death of George Floyd on May 25, 2020.
NYPD whistleblower Frank Serpico got his formal Medal of Honor from NYC Mayor Eric Adams. Serpico testified on police corruption before the Knapp Commission 50 years ago. He was shot during a drug arrest shortly after his testimony and has contended that his lack of backup was a result of resentment over his disloyalty by testifying.
Top-read news article of the month: 9 officers wounded, including 5 shot, in ambush at Phoenix home
March
Twenty-three officers were listed on ODMP for March of 2022. Gunfire killed 8, COVID-19 killed 5, car crashes killed 5, 2 were killed in assaults by vehicle, 1 died in a fire, and 2 died from illness on duty.
Twenty-six people were wounded by gunfire, including five children ranging in age from 19 months to 11 years old, in a shooting at an outdoor car show in Dumas, Arkansas which is 90 miles southwest of Little Rock, state police said. Investigators believe that two people were involved in a gunfight with no intention to harm others.
A shooting near a Jacksonville, Florida high school left 17-year-old Kaleb Floyd dead during a mass shooting where four others were injured in the Oceanway neighborhood, according to the Jacksonville Sheriff's Office.
President Joe Biden pledges to fund the police in his 2022 State of the Union address.
East High School in Des Moines, Iowa was the scene of a coordinated drive-by shooting involving six teenagers, three vehicles and at least 20 rounds fired. Fifteen-year-old Jose Lopez was shot and killed in the attack. Two female students were seriously injured.
Top-read news article of the month: Video: Detective is knocked down by SUV, then shoots suspect in head
April
Eight deaths are recorded for April on ODMP. Two from COVID, 1 from gunfire, 3 from on-duty health emergencies, 2 from vehicular assault, and 1 died in a training accident.
Evaluation of Oregon's massive decriminalization of drugs shows mixed results In the first year after the approach took effect, only 1% of people who received citations for possessing controlled substances asked for help via a new hotline out of 2,000 citations issued for possession. The ticket for illegal drug possession carries a small fine that is waived if the person accesses services. A significant percentage of the citations are simply ignored.
The Nebraska legislature proclaimed itself law enforcement friendly, passing legislation to provide bonuses, scholarships, and incentives for the recruitment and retention of police officers amid a state-wide staffing crisis.
San Diego Harbor Police were lured outside of their headquarters by a man calling for assistance. When an officer approached a vehicle to render assistance, the occupant pointed a gun at the officer and was subsequently shot.
Six people were shot dead and 12 others were injured after bar closing time in Sacramento, California. The incident occurred after a large fight with multiple shooters suspected.
Top-read news article of the month: Watch: Men film themselves pointing guns at cop sitting in patrol car
May
Twelve officer deaths are tallied on ODMP's May stats. Two due to gunfire, 4 crashes, 4 illnesses other than COVID-19, 1 to COVID (the last COVID-19 death until November), and one training death.
In the wake of the failure of Congress to pass the George Floyd Justice in Policing Act, President Biden issues a major executive order outlining new use of force and reporting requirements for federal law enforcement. The order has no legal effect on local law enforcement but was designed to signal recommended changes at all levels.
Nineteen children and two adults were killed in a shooting at Robb Elementary School in Uvalde, Texas. A massive law enforcement response was marked by confusion and conflicting orders, resulting in the firing or resignation of a number of police and school officials. The shooter was killed by Border patrol officers after more than an hour inside the school.
[Police1 analysis: Police chiefs: Here's why you need to tell local media to not name the killer]
A heavily armed 18-year-old shot and killed 10 at a Buffalo, New York grocery store, wounding three others in what was determined to be a race-related attack. The shooter ultimately pled guilty.
Seattle's Office of Inspector General for Public Safety released a report on the Seattle Police Department's riot response. "Without working with protesters to understand their goals and work toward a mutually agreed upon solution, the department continued to make tactical decisions that did not de-escalate the situation" the report stated. Among the recommendations is that tear gas no longer be used in civil disturbances.
The murder suspect and his jailer who evaded authorities for more than a week after walking out of an Alabama lockup were carrying $29,000 in cash, four handguns and an AR-15 rifle and were prepared for a shootout when they were captured. A U.S. Marshal's task force engaged the two who were fleeing in a vehicle when marshals pushed the vehicle into a ditch. Vicky White, the assistant director of corrections for the jail in Lauderdale County, Alabama, escorted Casey White (no relation) out of the jail on April 29 and the two fled together. White was serving time for murder at the time of his escape. Casey White was arrested and Vicky White was found with a gunshot wound from which she died.
Police Officer Houston Tipping, 32, died May 29, three days after the training exercise at the Los Angeles Police Department's Elysian Park Academy. He was participating in a defensive tactics scenario with another officer when he fell and suffered a spinal cord injury. He had served five years with the LAPD.
Former Loveland, Colorado officer Austin Hopp was sentenced to five years in prison for a rough arrest of an elderly shoplifting suspect with dementia in 2020.
Top-read news article of the month: City boosting police OT as 100 cops leave in retirement buyout
June
June was an especially violent month with 13 officers murdered by gunfire of the 20 deaths on ODMP. Five officers were killed in crashes, 1 by vehicle assault, and 2 died on duty from illness.
A Texas escapee and convicted murderer attacked a family at a ranch near Centerville, Texas. After killing Mark Collins, 66, and his four grandsons ages 11 to 18, who died from gunshots and stabbing, the killer, Gonzalo Lopez was shot to death by police when contacted in the family's stolen truck 200 miles from the ranch.
A man armed with a handgun was killed by police Monday morning after he fired shots inside the Duncanville Fieldhouse, where about 150 children were attending a summer camp, according to Duncanville, Texas police.
A factory in Smithville, Maryland was the scene of a mass shooting that killed three and wounded others. A Maryland State Trooper encountered the suspect en route to the scene and was immediately met with gunfire by the suspect. Both the trooper and the suspect were injured in the exchange.
A former patient attacked the campus of the Saint Francis Health System in Tulsa, Oklahoma, killing two doctors, another employee and a patient. The killer purchased the rifle used in the murders just hours before. The man, Michael Louis, who had been complaining of continued pain after surgery, shot himself on the scene.
At least 150 officers have been shot, 24 killed, by June, according to the Fraternal Order of Police.
Top-read news article of the month: 911 audio: Suspect tells dispatcher to call off Seattle PD pursuit, citing new law
July
Of the 18 officers ODMP listed as killed in July, 6 were by gunfire, 4 from crashes, 4 from illness/injury on duty, 1 from vehicular assault, and 3 Bernalillo County, New Mexico officers were killed in a helicopter crash, along with a firefighter during wildfire operations. 
Spokane County Sheriff Ozzie Knezovich lashed out at politicians after a spate of drive-by gang-related shootings including the shooting injury of Spokane police officer Kris Honaker. "You passed laws that make it impossible for us to talk to young, violent thugs that are killing each other," Knezovich said. "You pass laws that are letting people out of jail without doing their time."
A 16-year-old Pascagoula resident is being hailed as a hero for his actions in helping save three teenage girls and a Moss Point police officer after a vehicle went into the Pascagoula River. Moss Point police officer Garry Mercer arrived at the scene and, after removing his police gear, began swimming out to the victims. As he was bringing one of the girls to shore, she began to panic, causing Mercer to go under and swallow water. Mercer was ultimately able to get the girl to the edge of the shoreline, where Corion Evans, a member of the Pascagoula High football team, helped Mercer bring the other two girls to shore.
Video recordings within 8 feet of police became illegal in Arizona under a bill signed into law by Governor Doug Ducey. Violators who refuse to step back or stop recording after a police warning can be charged with a misdemeanor.
Twenty Massachusetts State Police trainees suffered injuries after being forced to "bear crawl" across hot pavement during an unauthorized training exercise at the New Braintree academy. The incident triggered an internal investigation and transfers for supervisors and drill instructors involved.
The man charged with killing seven people at an Independence Day parade in Illinois confessed to police that he unleashed a hail of bullets from a rooftop in suburban Chicago and then fled to the Madison, Wisconsin, area, where he contemplated shooting up an event there.
[Police1 analysis: LE considerations after the Highland Park parade attack]
Three police officers were shot dead and others injured in Kentucky while trying to serve a warrant. Floyd County Sheriff John Hunt said the officers had faced "pure hell" when they arrived at the home of suspect 49-year-old Lance Storz in Allen with a population of just 166. The officers who died were Capt Ralph Frasure, Deputy William Petry and dog handler Jacob Chaffins along with K9 Drago. Storz was arrested by Kentucky State Police.
Top-read news article of the month: Deputy who moonlights as country singer honors LE in new song
August
Fourteen line-of-duty deaths were recorded by OMPD for August. Six were from gunfire, three from crashes, 2 from duty-related illness, 1 killed in training, and 2 Tennessee officers died in a helicopter crash.
A 51-year-old St. Petersburg, Florida woman called  911 more than 11,000 times since the start of 2022 to harass, belittle and "yell obscenities" at officers, according to a complaint/arrest affidavit filed in Pinellas County.
Metropolitan Police Department officers in Washington, DC responded to a ShotSpotter alert of at least four shots being fired near Saint Elizabeth's Hospital and found a Washington D.C. special police officer had been shot in the lower leg. The attacker approached the officer claiming he was a gunshot victim, then shot the officer in the leg. 
An Oklahoma woman detained in a police cruiser after she was reported to be behaving erratically was able to get her wrists free from her handcuffs and grab an AR-15 in the police vehicle. She was able to fire several rounds, grazing a deputy and a bystander.

[Police1 analysis: Vehicle-stowed firearms security]
The chief of the Uvalde, Texas School District's police department was fired for critical mistakes alleged during the Robb Elementary School shooting.
Kobe Bryant's widow Vanessa Bryant and her co-plaintiff, Chris Chester, were awarded $31 million by a Los Angeles jury because of the unauthorized sharing of photos by the Los Angeles County Sheriff's Department and Fire Department from the scene of the helicopter crash that killed Kobe Bryant.
President Joe Biden signed into law the Public Safety Officer Support Act, a bill that expands death and disability benefits under the Public Safety Officers' Benefits program. The PSOB now includes first responders who die by suicide or are disabled by traumatic experiences.
Florida's Governor proposes allowing retired police officers to become teachers with financial incentives and licensing waivers. "We believe that the folks that have served our communities have an awful lot to offer," DeSantis told the Orlando Sentinel. "We've got people that have served 20 years in law enforcement. They want to do something. So we want to provide a pathway. We want to incentivize them to be able to help."
A Special Prosecutor announced that Atlanta Police Officer Garrett Rolfe would not be criminally charged in the death of Rayshard Brooks. Rolfe was attempting to take Brooks into custody after 40 minutes of negotiation after Brooks was reported blocking a Wendy's drive-through. Brooks seized the officer's TASER and fired it at the officer who then shot Brooks. Atlanta's Chief of Police resigned and Rolfe was fired but reinstated after the 2020 incident.
Top-read news article of the month: Video: Woman escapes handcuffs in cruiser, shoots deputy with AR-15
September
Thirteen ODMP entries for September include 5 officers slain by gunfire, 2 died in crashes, 4 were lost to duty-related illness, and 2 were killed in assaults by vehicles.
A gunman who live-streamed himself driving around Memphis, Tennessee shooting at people, killing four and wounding three others in seemingly random attacks sending the city into lockdown, was finally arrested after crashing a stolen car. 
Two Sachse, Texas police officers were injured when a man fired a shotgun into their parked patrol car during an ambush. One of the officers returned fire, striking the gunman.
As many as five law enforcement agents were hurt when an explosive device unexpectedly detonated during a training exercise conducted by the Montgomery County, Pennsylvania bomb squad at a correctional facility. Three members of the Montgomery County Sheriff's Office, a Pennsylvania State Trooper and an FBI agent were hurt in the blast, some with significant injuries.
Richmond, Indiana Police Department Officer Seara Burton died at a Reid Health facility surrounded by her family, the department said in a statement posted to Facebook. Burton was shot in the head during a traffic stop in August and died two weeks after she was removed from life support.
Washington Department of Fish and Wildlife Police Officer Jacob Schrader was honored for rescuing four people within a year. Schrader revived an unconscious adult who was found not breathing, later drove an infant to emergency care while simultaneously administering CPR, used an improvised stretcher that he and a deputy used to carry a stroke victim to EMS through deep snow, and saved a choking victim at a restaurant.
The Chico, California Police Department's SWAT unit apprehended a suspect plotting to kill police officers and others as part of "a Las Vegas style mass shooting with a specified deadline." Dallas Marsh was arrested at a motel and later assaulted officers while being interviewed, making threats to kill them and their families.
A man entered a Chicago police facility through a fire escape while officers were undergoing a SWAT training exercise. He grabbed at least two guns before he was shot and wounded by police.
A woman arrested by Platteville, Colorado police was handcuffed in a police car that was parked on railroad tracks and was struck by a train. The woman, Yareni Rios-Gonzalez, 20, of Greeley, was being investigated for a road rage report involving a weapon and was hospitalized with multiple injuries.
Nearly four dozen Alameda County, California sheriff's deputies were wrongfully hired over the last six years despite unsatisfactory scores on their psychological exams – a revelation that forced the deputies, about 10% of the force, off active duty. Some deputies have already retaken the test and been placed back on duty.
Top-read news article of the month: Dallas officer on leave amid investigation into challenge coin
October
ODMP reported that 10 officers died in October, half by gunfire, 2 in crashes, and one each due to illness, vehicular assault, and a training accident.
In Raleigh, North Carolina a 15-year-old suspect on a shooting spree killed officer Gabriel Torres, 29 who was on his way to work, along with four other persons shot dead and two others wounded including a second Raleigh police officer. The shooter was in custody 4½ hours later and hospitalized with injuries.
With 30,000 vehicles of the largest federal law enforcement agency, the Department of Homeland Security has selected the Ford Mustang Mach-E as the first electric vehicle to be fielded for law enforcement use.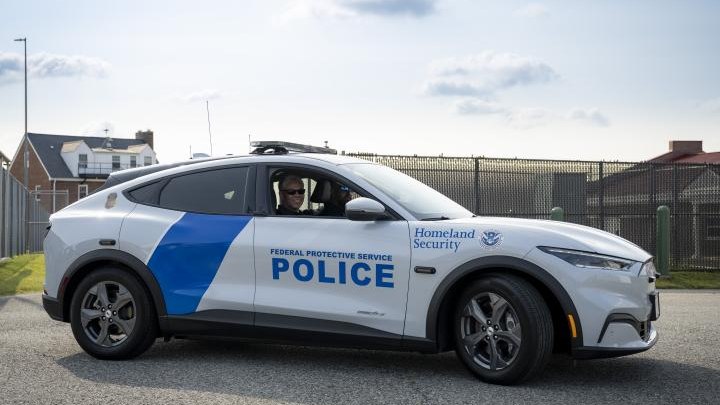 [Police1 analysis: How to stand up an electric police fleet]
Two Connecticut police officers fatally shot may have been "lured" into a deadly ambush. Bristol Police Sgt. Dustin Demonte and Officer Alex Hamzy were killed, and Officer Alec Iurato was wounded. It was a deadly month for law enforcement as 56 officers have been killed by gunfire this year.
A now-former San Antonio police officer was charged with two counts of aggravated assault by a peace officer in the shooting of a teen eating a hamburger in his car in a McDonald's parking lot. James Brennand, 25, was charged in the Oct. 2 shooting of Erik Cantu, 17, who Brennand reportedly suspected of driving a stolen vehicle and attempting to assault the officer while fleeing.
A Jacksonville, Florida elementary school was placed on lockdown after a man wielding an ax attempted to break into the facility before being shot by police.
President Joe Biden is pardoning thousands of Americans convicted of possession of marijuana under federal law.
Orlando Harris, 19, is accused of a shooting at Central Visual and Performing Arts High School and Collegiate School of Medicine & Bioscience that left two dead and seven injured. Police said he entered the St. Louis campus with about 600 rounds of ammunition. Harris was heard saying, "You are all going to (expletive) die." He was killed by police after the attack.
Santa Cruz, California officer Francisco Villicana was cleaning his personal gun when it fired, wounding him and killing a bystander.
Top-read news article of the month: 'Your chief worked for me!": Ga. chief faces criticism for treatment of LEOs during traffic stop
November
November saw the fewest officer losses of the year with 2 crash deaths, and 1 each by gunfire, vehicular assault, and the final recorded COVID-19 death of the year.
The Michigan State Police published its annual police car testing results. The fastest unit tested was 148 mph from the Ford Police Interceptor Utility 3.0L EcoBoost AWD.
The family of an El Monte police officer Michael Paredes who was slain this year has filed a notice of claim seeking millions in damages against Los Angeles County Dist. Atty. George Gascón and the L.A. County Probation Department blaming both Gascón's criminal justice reform policies and lax supervision by the probation department for putting the suspected gunman, Justin Flores, in the officer's path.
The city of Portland, Oregon will pay $250,000 to settle a federal lawsuit by the nonprofit Don't Shoot Portland that challenged the force used by Portland police against protesters in 2020. The city also has agreed not to use "flash bang" rubber ball distraction devices for crowd control and get rid of its remaining inventory, according to the settlement filed in court.
Two Colorado sheriff's deputies needlessly escalated a fatal standoff with a 22-year-old man experiencing a "mental health crisis," leading him to brandish a knife in "a state of complete panic and self-defense," according to grand jury indictments. The death last June of Christian Glass drew national attention and prompted calls for police reforms focused on crisis intervention. Glass was shot after calling 911 for help getting his car unstuck in the hamlet of Silver Plume, an hour west of Denver.
Twenty-five Los Angeles Sheriff Department recruits were hit by a wrong-way driver during a training run. Sheriff Alex Villanueva said the range of the most serious injuries included head trauma, broken bones and "loss of limb." Many of the recruits rendered aid to the injured. The driver of the vehicle had been arrested on suspicion of attempted murder of a peace officer, but was released. His lawyer claimed he crashed into the recruits because he fell asleep.  
[Police1 analysis: What are the risks to recruits when training in public?]
Two U.S. Customs and Border Protection agents were injured and a third was killed during an early Thursday morning high seas shootout with suspected smugglers 14 miles off Puerto Rico's southwest coast.
Art Acevedo, who previously served as a police chief in Austin, Texas, Houston and Miami, was appointed as interim chief for the Aurora, Colorado Police Department, despite the low morale in the Austin Police Department and controversy during his short tenure in Miami. Aurora PD is under a consent decree and has been the target of criticism for use of force incidents.
Richland County South Carolina sheriff's deputy Sarah Merriman suffered head and body injuries after being struck by a stolen vehicle that had been stopped by deputies. Jamon Cheatham, 17, the alleged driver of the vehicle, is being charged with attempted murder.
Top-read news article of the month: Multiple Maryland State Police challenge coins prompt disciplinary actions
December
Corning Police Department, California officers investigated a loud banging noise coming from outside their headquarters and attempted to contact a man later identified as Cassidy Russ, 32, who was walking away from the station. Russ refused orders to stop and show his hands as he lit a Molotov cocktail and threw it toward an officer where it exploded nearby. Russ violently resisted arrest but was placed in custody on attempted murder and arson charges.
"The brazenness of criminals in today's society is just overwhelming to me," Rialto Police Chief Mark Kling said during a press conference. "I've been doing this for 37 years and in 37 years, I would never, ever think that somebody would come in armed with some type of weapon and assault our police officers, and I think what is so concerning is it's just not here inside Rialto. We're talking everywhere." Kling was commenting on an armed man in a black Dodge Charger following an officer into a police station parking lot, exiting his vehicle and raising an AR-15 at the officer who then shot and wounded the man.
A message from Chief Mark Kling regarding an incident that occurred at our police department on December 5, 2022 at approximately 4:27 p.m. pic.twitter.com/saJtnurWhM

— Rialto Police Department (@RialtoPolice) December 6, 2022
Austin Walsh, a 23-year-old Broward County, Florida deputy was playing an online game with his roommate. The roommate was holding a gun he thought wasn't loaded, "jokingly pointed the gun in Austin's direction and pulled the trigger," Sheriff Wayne Ivey said. The accused shooter was identified as fellow deputy Andrew Lawson. Walsh died instantly from a single gunshot.
Border Patrol Agent Raul Gonzalez died from injuries sustained in an ATV accident while pursuing subjects illegally crossing the border near Mission, Texas.
San Francisco supervisors voted to put the brakes on a controversial policy that would have let police use robots for deadly force, reversing course just days after their approval of the plan generated fierce pushback and warnings about the militarization and automation of policing.
[Police1 analysis: Should police be permitted to use robots to deliver lethal force?]
What news did we miss? Complete the box below to let us know. 
What do you think were the biggest police news stories of 2022?