Gunman fatally shoots 2 officers, 3 others at Mo. city council meeting
---
Officer Down: Sergeant William Biggs

Officer Down: Police Officer Tom Ballman

Read more about Active shooter incidents and response tactics

P1 special report on school-based active shooters
The Associated Press

KIRKWOOD, Mo. — A gunman with a history of acrimony against civic leaders stormed City Hall during a council meeting Thursday night, killing two police officers and three city officials before law enforcers fatally shot him, authorities said. The mayor was critically injured in the rampage.

The victims at the meeting in suburban St. Louis were killed after the gunman rushed the council chambers and began firing as he yelled "Shoot the mayor!" according to St. Louis County Police spokeswoman Tracy Panus. Two people were wounded before Kirkwood police fatally shot him, she said.


Panus said the names of the victims would not be released until a news conference Friday morning. But several city officials leaving St. John's Mercy Hospital late Thursday said Mayor Mike Swoboda was among the wounded and that he was in critical condition.
The shooter killed one officer outside City Hall, then walked into the chambers and shot another before continuing to fire, Panus said.
Janet McNichols, a reporter covering the meeting for the St. Louis Post-Dispatch, told the newspaper that the 7 p.m. meeting with about 30 people had just started when the shooter rushed in and opened fire with at least one weapon. He started yelling about shooting the mayor while walking around and firing, hitting police Officer Tom Ballman in the head, she said.
Public Works Director Kenneth Yost was shot in the head, and council members Michael H.T. Lynch and Connie Karr also were hit, she said.
The gunman also fired at City Attorney John Hessel, who tried to fight off the attacker by throwing chairs, McNichols told the newspaper. The shooter then moved behind the desk where the council sits and fired more shots at council members, she said.
"Tonight our fellow Missourians in the city of Kirkwood were terrorized by a senseless and horrific crime at an open government meeting," Gov. Matt Blunt said in a statement. "I join Missourians tonight in praying for the victims, their families and friends, and everyone in the community of Kirkwood."
Police have not named the victims or the shooter, but McNichols identified the gunman as Charles Lee "Cookie" Thornton, a man she knows from covering the council. Thornton had previously disrupted meetings, she told the Post-Dispatch.
Thornton was well-known at City Hall, often making outrageous comments at public meetings, according to a 2006 article in the weekly Webster-Kirkwood Times.
The newspaper quoted Swoboda as saying in June 2006 that Thornton's contentious remarks over the years created "one of the most embarrassing situations that I have experienced in my many years of public service."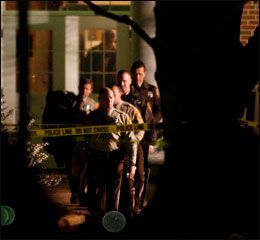 (AP Photo/Jeff Roberson)
Swoboda's comments came during a council meeting attended by Thornton two weeks after the man was forcibly removed from the chambers. The mayor said at the time that the council considered banning Thornton from future meetings but decided against it.
"The city council has decided that they will not lower themselves to Mr. Thornton's level," Swoboda said at the meeting. "We will act with integrity and continue to deal with him at these council proceedings. However, we will not allow Mr. Thornton, or any other person, to disrupt these proceedings."
Thornton said during the meeting that he had been issued more than 150 tickets.
Kirkwood is about 20 miles southwest of downtown St. Louis. City Hall is in a quiet area filled with condominiums, eateries and shops, not far from a dance studio and train station.
Mary Linehares, a teacher who lives about four blocks from City Hall and who walked down to the scene with her husband, described the town as quiet and eclectic.
"It's like a small town in St. Louis," Linehares told The Associated Press. "You can call it Mayberry."
Despite its reputation locally for serenity, Kirkwood has grappled in recent years with crimes that have brought it unwanted attention.
Just down the street from City Hall is the Imo's pizzeria once managed by Michael Devlin, the man who kidnapped Shawn Hornbeck when the boy was just 11 in 2002 and held him for four years before authorities rescued him from the home in January last year. Also rescued was Ben Ownby, another teenager Devlin abducted just days before Devlin's arrest.
Those crimes got Devlin life terms on state charges, as well as 170 years behind bars on federal charges that he made pornography.
City Hall also is about a block from a park now named for former Kirkwood police Sgt. William McEntee, who was a 43-year-old father of three when he was slain in 2005 by a man who witnesses said blamed police for the death of his 12-year-old half-brother two hours earlier.