What to expect on patrol during the COVID-19 pandemic
A BOLO for five call types officers may respond to during the current national emergency
---
Working a patrol assignment is stacked with challenges, even without a COVID-19 pandemic. As the world throws a serious virus into the mix, policing professionals have learned – once again – to be agile as we manage a crisis. However, this hurdle may be the most challenging of our careers.
Lexipol's mantra is, "If it's predictable, it's preventable." Currently, we may be able to predict several things that might happen, and while we may not be able to prevent them, we can prepare to respond more effectively. This article identifies five call types that might change your patrol work and responses to these calls that might make you more effective.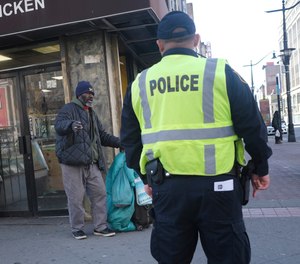 As first responders, you've likely received reminders regarding personal protective equipment (PPE), handwashing, face touching and social distancing. We won't revisit these practices, except to acknowledge that your job may make it difficult to strictly adhere to these practices.
Thinking of these routines in terms of officer safety may provide some motivation. Besides caring for yourself and your family, every patrol member we lose to quarantine affects the safety of the remaining members out on the street. We need as many of you as possible to outlast the coronavirus; please help yourself so you can continue helping the rest of us.
GETTING ON THE RIGHT CHANNEL
We've already seen an increase in tension and fear throughout the country. Families are concerned about food security and anxious to know if they can meet their needs. They do not know how long they might be out of work or stuck at home. Fear and tension make people act unpredictably and out of character. You may have already seen increased incidents of arguments, fights over household items and complaints about the behavior of strangers.
In addition to your normal duties, you should be prepared to honestly and accurately answer questions, demonstrate empathy and convey confident reassurance. Civilians look to patrol personnel as a symbol of strength and stability. If you never felt like a leader in your community before, now is your chance to step up and be the pillar your neighborhood needs.
Consider expanding your bandwidth to be more effective. If you are accustomed to specializing in a particular patrol task (for example, narcotics or traffic enforcement), you should consider becoming a generalist. Your specific skills are still useful, but to a lesser degree than typically required. In these times, officers capable of effectively responding to anything that comes along will be highly valued.
Situational awareness during 'routine' calls for service
Minimizing or eliminating proactive enforcement work may be useful to control the spread of the virus. Reducing unnecessary contact with potentially infectious people is the underlying premise of social distancing. Although this is ultimately up to each agency to decide, this practice would not account for routine calls for service requiring an in-person response. In fact, as a result of the widely accepted virus protocols, including social distancing, staying home and non-essential business closures, we might experience an increase in certain calls. In addition to others you might think of, let's identify five:
1. Domestic disturbance
As we often see during major holidays or in times of economic uncertainty, stress levels within households rise dramatically. For some, the pressure boils over and triggers unwarranted outrage. Unfortunately, as a result, we might predict an increase in domestic abuse cases.
In response, we must follow the law, agency policy and regional operating procedures. When making a legally required arrest, do so safely, wear PPE and attend to personal hygiene as soon as possible afterward. We have no option to alter our response to these incidents. Knowing the law, our policy and prosecutorial SOPs will provide a good foundation for your response. Updated and accurate victim assistance resources will also be highly valued during this time.
2. Vehicle collisions
Have you noticed how empty the roads are lately? Even Los Angeles freeways – typically parking lots most of the day – are empty. This may offer temptation for drivers who aren't staying home. We can anticipate collisions resulting from speeding vehicles and red-light runners. While we may not see a greater number of collisions, we may see more violent collision scenes.
Because proactive traffic enforcement is discouraged, prevention strategies are the way to go. Traffic calming efforts, including high visibility on streets you know to be potential high-speed roadways, might save you a complicated collision investigation, as well as someone's life.
3. Home and business break-ins
During emergencies where businesses are shuttered, we can reasonably anticipate break-ins and looting. In the case of COVID-19, entire school districts have shut down. Experienced patrol officers know residential, day-time break-ins increase during school holidays as teens have little to do and increased opportunity.
We may see fewer groups of teens out, but when we do, we should keep a watchful eye. Normally, we would advocate teen activity groups to occupy their time, yet we cannot do this based on social distancing procedures. In this time, we have to hope our community policing efforts – getting to know the families and kids on our beats – come in handy. In some situations, such as teens checking out empty homes or businesses, proactive patrol work may be unavoidable.
4. Suicides
The COVID-19 pandemic and subsequent calls for self-isolation or quarantine have been accompanied by a volatile stock market. Many people have seen their savings vanish from bank accounts, business owners have been directed to shutter and unemployment claims have skyrocketed. This kind of upheaval is unprecedented and likely to cause enough psychological strain that we might see an uptick in suicides.
This is a condition for which we should continue to be proactive. People who are in crisis may not reach out for help, but when they do, they should be able to easily find the resources they need. Agencies should use their websites and social media to post suicide prevention messages and resources. Patrol personnel should be equipped with handouts and be ready to provide resource information or referrals when necessary.
We are always attuned to what people are saying, and now we must be hypersensitive – listening to hear the meaning beneath the words distraught people speak. Genuine empathy combined with relevant suicide prevention resources and appropriate referrals are all effective proactive strategies we can continue to safely employ in suicide prevention efforts.
Currently, arrangements are being made in many states to accommodate COVID-19 positive homeless people in hotels and motels. Knowing which ones are available, their locations and the contact information will make you a valuable first responder. Quarantine and self-isolation are impossible for those without a place to go. A small dose of your compassion, combined with solid advice and resources, will help all the citizens you serve get through this crisis.
THE STRENGTH OF PATROL
Patrol is the backbone of any law enforcement agency. Patrol officers represent our profession and local government to the public. This is another time to shine. The public will remember whether we behaved like heroes, or otherwise. A little patience and empathy, plus delivery of valid information will go a long way in these trying times. Continue to be on the lookout for ways you can be safe as you help your community in these difficult times.