Texas police search for gunman who killed 3, wounded 2
Police have charged Johnathan Sanchez with capitol murder, he is still at large
---
By Juan A. Lozano
Associated Press
HOUSTON  — Investigators are looking for a 25-year-old man they allege is the gunman responsible for fatally shooting three people and wounding two others inside a suburban Houston apartment.
The Harris County Sheriff's Office said Thursday that Johnathan Sanchez, also known as "J Boi," has been charged with capital murder in connection with the shootings.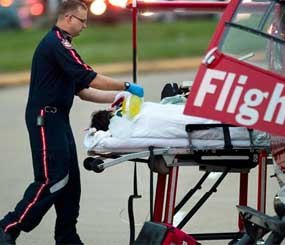 Authorities say a young man and two young women died Wednesday after each was shot multiple times, including in the head, at the Peppermill Place Apartments in an unincorporated area 25 miles northwest of downtown Houston.
The two survivors of the gunfire remain hospitalized at Memorial Hermann-Texas Trauma Institute. A hospital spokeswoman declined to release their conditions. The names of those killed and injured in the shooting have not been released by authorities.
Copyright 2013 The Associated Press