Calif. governor signs police accountability laws
The measures include more independent investigations, oversight boards and a ban on carotid restraints
---
By Hannah Wiley
The Sacramento Bee
SACRAMENTO, Calif. — Fresh off a summer of national protests against police violence, Gov. Gavin Newsom signed into law on Wednesday a handful of accountability measures that will ban officers from using chokeholds, increase independent investigations into officer-involved killings and establish sheriff oversight boards.
The list of new laws Newsom approved builds on legislation he signed last year to limit when officers can employ deadly force, considered one of the nation's strongest restrictions on how police do their work.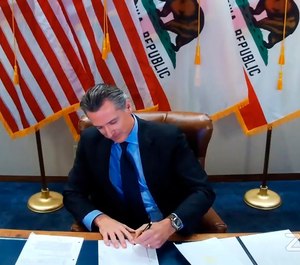 But after George Floyd was killed at the end of May while in Minneapolis police custody, and amid outrage over Breonna Taylor's death in Louisville, state lawmakers pledged this summer to tighten regulations on police departments and agencies in California.
Newsom said it was up to California to answer the "call to advance leadership" on police accountability and to "improve oversight and accountability" in law enforcement.
"We are just getting started in this state," Newsom said.
But activists were disappointed by some of the bills that did not reach his desk. One would have provided a process to decertify officers with misconduct records, and another would have banned tear gas as a crowd control tactic. Those high-profile measures failed in the late days of the Legislature.
Here's what Newsom signed:
Banning chokeholds
Newsom already promised to sign Assembly Bill 1196 this summer, clearing the way for the carotid artery restraint and chokehold ban to make it to his desk.
The high-profile bill was partially inspired by Floyd, a Black man, who died by asphyxiation after an officer kneeled on his neck for several minutes.
Newsom said in June that officers shouldn't use such tactics that are "designed to stop people's blood from flowing into their brain," and called for banning life-risking "strangleholds." He pledged to sign a bill banning these tactics if the Legislature passed such legislation.
Assemblyman Mike Gipson, D-Carson, said the bill "represents change in California."
"This bill is in response to the murder, the execution of George Floyd by the people who took an oath of office to serve and protect their community," said Gipson, who is a former law enforcement officer. "Law enforcement must now use alternative methods to restrain a subject instead of these life-threatening holds."
More investigations, oversight
Another bill Newsom signed mandates state prosecutors investigate more officer-involved deaths instead of assigning that work to local district attorneys.
Assemblyman Kevin McCarty, D-Sacramento, sponsored the bill and cited Attorney General Xavier Becerra's review of Stephon Clark's death in 2018 at the hands of Sacramento police officers as a model for other cases. McCarty said AB 1506 would normalize local law enforcement agencies requesting state review of these incidents.
Proponents of the measure said it would increase trust between the community and law enforcement because if something goes wrong, there's an independent body to review an incident. The legislation also mandates, beginning in July 2023, the Department of Justice review a police department's deadly force policies, if requested by that agency.
"You knew it was always an inherent conflict of interest for police essentially policing themselves," McCarty told Newsom during a press conference. "When an officer does cross the line, there needs to be an investigation and accountability and, potentially, prosecution."
Newsom signed another bill by McCarty that allows voters and county boards of supervisors to establish sheriff oversight panels with subpoena power.
What's next?
After the police decertification proposal failed on the final night of the 2019-2020 session at the end of August, Sen. Steven Bradford, D-Gardena, vowed to reintroduce a version of Senate Bill 731 next year.
Police unions worked hard to block SB 731, which they called a "flawed bill that would have had debilitating repercussions for police officers."
In a joint statement, Bradford and Senate President Pro Tem Toni Atkins, D-San Diego, said they would "continue pursuing legislation that would restrict officers from returning to duty after being fired or disciplined for serious misconduct."
"Two things are true regarding SB 731: cops guilty of misconduct should be held accountable, and good bills sometimes hit unnecessary roadblocks," the two said. "This year's constitutional deadline for the bill has passed, but the Senate's commitment to improving public safety and protecting our communities, particularly communities of color who face such disproportionate impact, remains strong."
Assembly Speaker Anthony Rendon, D-Lakewood, also announced on Sept. 21 a Select Committee on Police Reform. "While California has made significant strides in police reform," Rendon said, "there's still much work to do ensuring equality and justice."
NEXT: 5 steps to begin leading transformational change in your agency
©2020 The Sacramento Bee (Sacramento, Calif.)
McClatchy-Tribune News Service