Final charge dropped against Detroit cop in deadly raid
Judge has dismissed the last charge against an officer who fatally shot a 7-year-old girl during a raid in 2010 that was recorded by a reality TV crew
---
Associated Press
DETROIT — A judge has dismissed the last charge against a Detroit police officer who fatally shot a 7-year-old girl during a raid in 2010.
Assistant prosecutor Rob Moran said Friday that the misdemeanor charge against Joseph Weekley has been dropped in the "best interests of justice."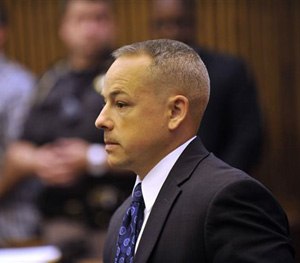 Two earlier trials ended without verdicts. During the second trial, Judge Cynthia Gray Hathaway dismissed the most serious charge against Weekley, involuntary manslaughter.
Weekley shot Aiyana Stanley-Jones as she slept on a couch in a Detroit home. He says he accidentally pulled the trigger after Aiyana's grandmother grabbed his gun. She denies that.
He and other officers were raiding the home to search for a murder suspect.
The raid was recorded by a reality TV crew.
Copyright 2015 The Associated Press
Copyright Associated Press. All rights reserved. This material may not be published, broadcast, rewritten, or redistributed.